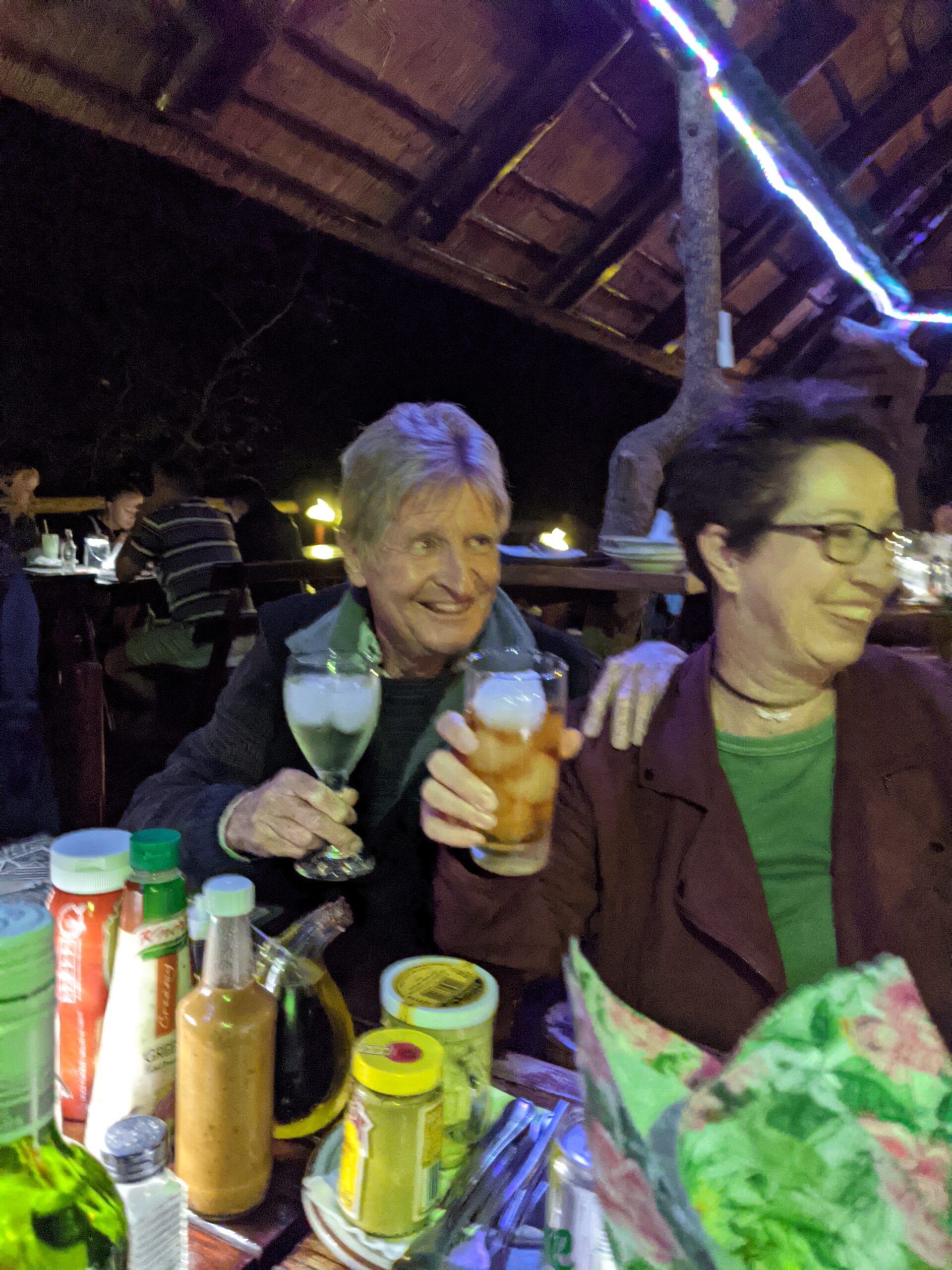 Last night, it was cold and dark on the veranda at Jabula Lodge and Restaurant, but the seven of us weren't hindered at all by the weather. The food and service, as always, were superb, and the companionship was over the top. Finally, Kathy and I were together once again and well as my friend Rita.
The three of us girls sat at one end of the table, and the boys, Tom, Don, Gerhard, and their friend from Germany, Achim, came to visit them for a few weeks. It was a celebration of Gerhard's birthday. He doesn't care for cake, but Dawn and Lyn have decorated the table for the occasion.
Our gift to Gerhard? Four bales of prepaid Lucerne from Daisy's Den, to be delivered whenever he and Rita decide.  On Wednesday, we stopped to purchase the bales, seeds for Frank and The Misses, hornbills, and a big bag of sweet potatoes for the wildlife. We included the receipt for the Lucerne in the birthday card with a note explaining the gift, included with Daisy's Den's business card, making the ordering as easy as a quick phone call.
Now, as I type this, we hear the funny little chirping of the mongoose who've arrived in a small band. Tom raced indoors to get his leftover rib bones from last night's dinner. Mongooses are carnivores, and they like bones, but hilariously, they try to crack them open on big rocks in an attempt to get to the marrow. It's rather funny to watch.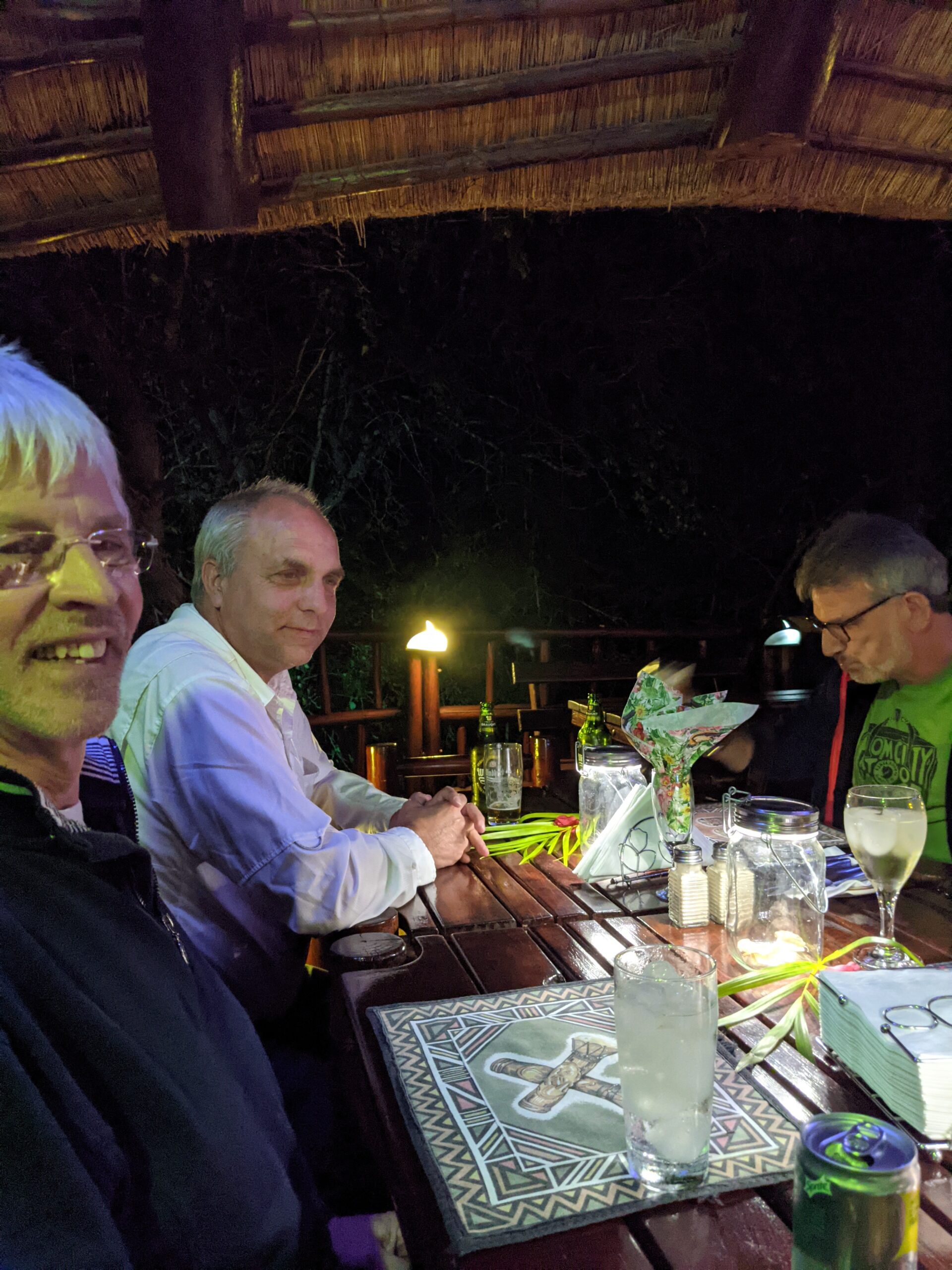 As for last night's get-together, the conversation was delightful among the group as a whole and in the male and female groups. We had so much catching up to do after being gone for four weeks. It was wonderful to be back with our friends once again.
Kathy and Don are hosting a goodbye get-together this upcoming Wednesday at their riverfront bush home. We're bringing our meat, the dessert; apple crisp served warm, topped with vanilla ice cream. Rita's bringing the salad, and Kathy and Don will host the side dishes.  We all bring our beverages, making hosting a dinner party so much easier when planned this way.
Today, another cool day with sunshine that will hopefully warm the day soon, we'll stay in. I have to get back to work on post corrections which I've ignored for the past week. This morning upon arising very early, I got to work organizing things around the house.
Before we'd left, I filled a large tote with items I'd planned to go through once we returned, mostly old clothes I had to consider giving the heave-ho. It felt good to empty this huge container and make the proper decisions about replacing old worn-out items. Also, I did three more loads of laundry, hung them on the clothes rack, and started chopping and dicing for tonight's dinner, homemade taco salad.
Since those flat little taco seasoning packets contain wheat and tons of chemicals, I found a good low-carb recipe for taco seasoning. It took only five minutes to measure and put together the various spices and shake them until blended. Soon, I'll cook the big package of mince (90% hamburger meat) in a large pot atop the stove, adding the spices after the meat is cooked and drained.
While we were in the US, both enjoyed taco salads, which aren't necessarily available in South Africa, other than in big cities like Johannesburg or Cape Town. When making these salads, we don't use prepackaged grated cheese, which also is infused with chemicals. Here's an article on why pre-shredded grated cheese is not worth eating.
Now, I have to finish working on dinner and then get to work on corrections. In the meantime, I'm on hold with United Airlines for the 10th time to find out where our bag is and when it will be delivered since it didn't arrive yesterday as promised. It's frustrating.
We'll be back with more tomorrow! Have a pleasant Saturday!
Photo from one year ago today, July 31, 2020:
From the year-ago post while in lockdown in Mumbai, India, on day #130.A surprising close-up of what appeared to be a blue stalk from afar. For more, please click here.