After leaving the beach, we drove to a high point in the area with this expansive view.
Note: To all of our readers visiting our site via a smartphone, please click the "View web version" tab under the word "Home" at the bottom of the page to access the web version enabling you to access all of our archives on the right side of the page. We'll be updating our site shortly, making these extra steps unnecessary. Thank you. 
Today's photos are from June 30, 2015, while in Trinity Beach, Queensland, Australia. See the link here for more details.
When we first decided to update our site a few years ago, I was dreading it. As no expert in web development, this daunting task, requiring a tremendous amount of work, kept me from moving forward.
We walked past a grove of palm trees and evergreens as we made our way to the beach.
As it's turned out, the company we're using now, located in many cities in India, works with many US and worldwide companies and is familiar with US-based needs as well as worldwide site features.
It wasn't as big of a commitment as I initially anticipated when I've only had to spend four or five hours each week working on my part of the process. However, during these quiet times in lockdown, it's on my mind all the time.
After crossing the dip down to the beach, we walked toward this crest, wondering if any crocs may be lying in wait. 
What's slowing down the process of "going live" with the new site is the necessary addition of our 2882 past posts (as of today), being moved over to ensure we have an easy transition. The web developers can only add so many per day as each old post must be added manually, one at a time.

The archives are of utmost importance to us as the number one most important feature we have. Many of our long-term and particularly new readers reference them regularly. Also, we use them many times each day to reference past information.
Yorkeys Beach in Yorkeys Knob was serene and pristine.
During my walk this morning, I recalled a fabulous resort where we'd stay in August 2018 in Chobe National Park in Botswana, thinking we could stay there again when we have to leave South Africa again after 90-days for a new visa stamp. 

Immediately, I asked Tom the dates (he's the expert in recalling dates while I'm better at remembering expenses, names of people, and locations), making it simple for me to look up the relevant post for details about this resort in Chobe National Park. Not only is it handy to review old posts, but it's crucial as we continue, day after day.
It felt more like the desert than the beach at specific points, with various vegetation shooting up through the sand.
Based on the time it's taken to upload each day's archive since March 15, 2012, it may not be until early August when you'll see our new site. At this point, we're excited about that day, not only to be done with this extensive process but also to be able to share the new site with all of you.

In addition, this morning, I was selecting some additional travel advertisers for our site and eliminating the frustrating duplicates that I was unable to remove without professional help. Our former web developer closed their business about three years ago, leaving us without any professional service until now.
This view was to our left as we faced the ocean.
As we move forward with the site, we're striving to increase our meager revenue from our advertisers, which doesn't cover the cost of maintaining our area annually. 

If our readers use some of our links, including Amazon, none of which cost you, the purchaser any additional costs for products and services will eventually increase the revenue. Using our links provides our readers with the same data and products found by visiting the site directly, resulting in our ability to generate enough revenue to cover yearly management expenses. 
To our right, this was the view we stumbled upon.
Thanks to those who have been using our links! We receive a small commission when our links are used. We do not receive compensation for most links we may mention in the body of most posts. If we do, we will always mention that fact.
One item important to mention now is that HomeAway, the holiday/vacation site we use almost exclusively, which is one of our advertisers, is changing their name to VRBO when they've purchased the majority of these types in the past few years of companies under one umbrella. Our new site will reflect this change.
We spoke with this woman from Sydney and traveled throughout the continent with her husband in their "caravan." She, like us, was enthralled with the number of shells on the beach, not often found on many beaches that we've walked throughout the world.
As it turns out, this period in lockdown was probably the best time to work on the site changes with few distractions such as preparing meals, shopping, sightseeing, doing laundry, and socializing are out of the picture.

By the time the lockdown ends, we'll have fine-tuned any necessary changes to the new site, and I'll have learned how to manage the day-to-day operations. Few websites/blogs prepare a fresh post daily, making the process all the more time-consuming and intensive.
Tiny wildflower growing on the beach.
Not much is new here. We see more and more new guests checking in and out when walking the corridors, all of whom are wearing masks. We hold back to let them pass. We remain upbeat and hopeful for times to come! Otherwise?


Stay safe.
Photo from one year ago today, June 30, 2019: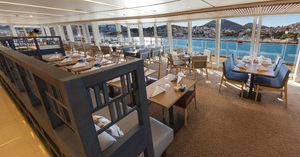 One year ago today, we posted photos of the Viking Sun from our cruise canceled for April 2, 2020, due to COVID-19. Buffet dining rooms such as shown here will be a thing of the past on cruise ships in the future. Hopefully, we sail on Viking sometime in the future. For more details, please click here.