When we packed that duffel bag while still in Nevada, we included five new pairs of shoes for both of us. I tossed all my old shoes in our hotel room that Id replaced with the three new pairs, leaving me with only two spare worn-out pairs of shoes. Tom did the same, and now he, too, has only two pairs of shoes left.
If we don't get that bag today as promised by United Airlines, we are up a creek when it comes to shoes. None of these brands and styles can be replaced here in South Africa. Our only option would be to buy them online in the US and have them shipped to us via DHL for more exorbitant costs.
We also had our toiletries, including two Braun electric toothbrushes, newly ordered boxes of our business cards, new insulated mugs, and drink koozies, all valued at over US $25, ZAR 365, each, none of which are available for purchase in South Africa.
Also included were several new clothing items and underwear we both desperately needed. Do we trust that the bag will arrive? Not really. We'll be pleasantly surprised if it does. We arranged for the bag delivered to Louise and Danie's Info Centre, where they will be all day since the roads to our house might deter a driver from bringing it directly to us.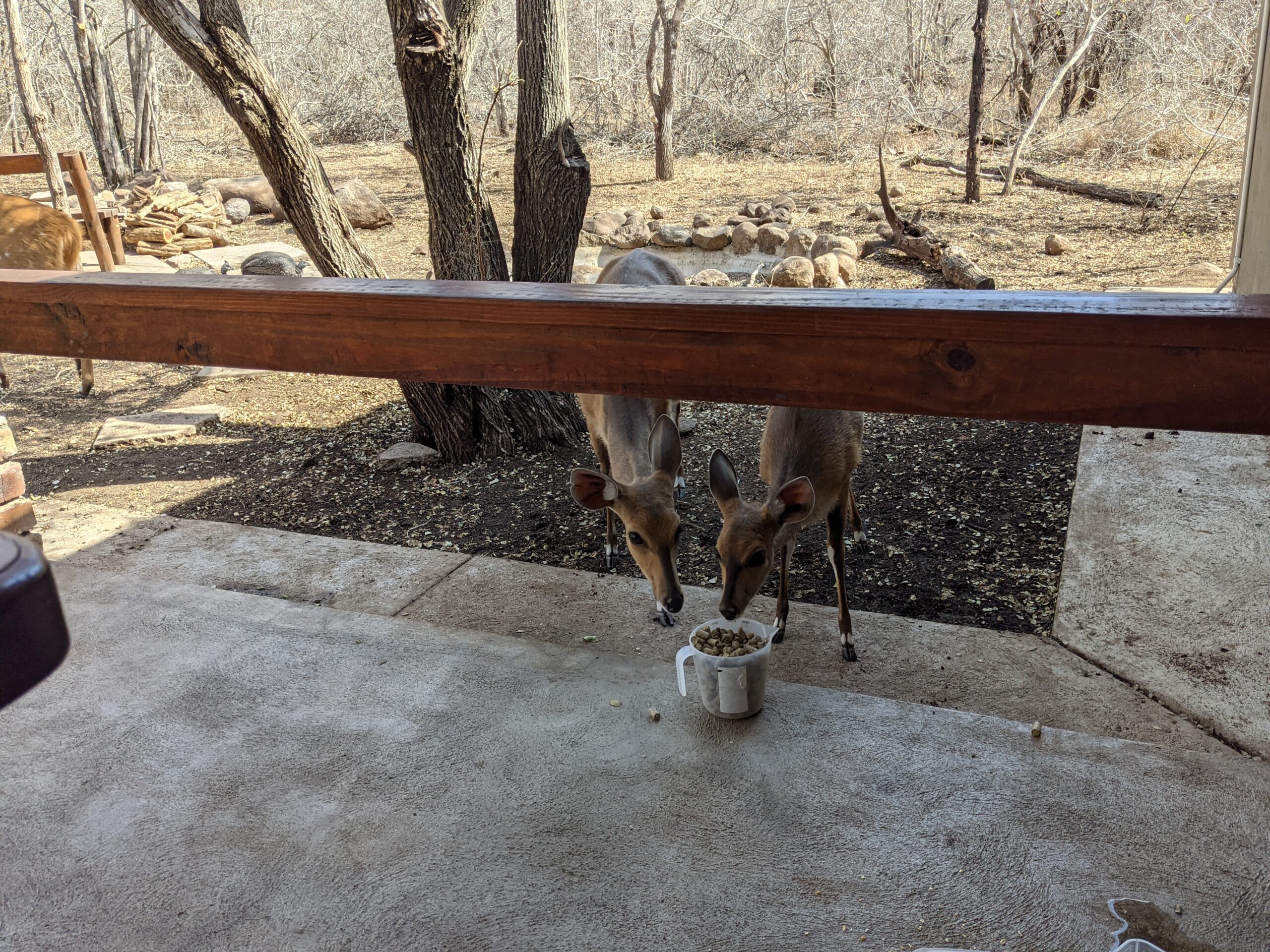 In the interim, we grocery shopped in Komatipoort. We had hoped to go to the liquor store for light wine for me and brandy for Tom but based on the current lockdown in South Africa, liquor sales were suspended from Friday through Sunday, in an attempt to inhibit heavy liquor use over the weekends. When people drink heavily, there are more accidents and injuries, resulting in more of a need for more emergency services and hospital visits during these times of Covid. At least the total ban ended the day after we arrived.
Today was the first time we shopped since our return from the US, although Louise shopped for us for basic supplies on Monday. But, we still needed many items and ingredients for recipes I'd like to make over the next week or two. After today's extensive shopping we're probably good for the next ten days, depending on how often we eat out.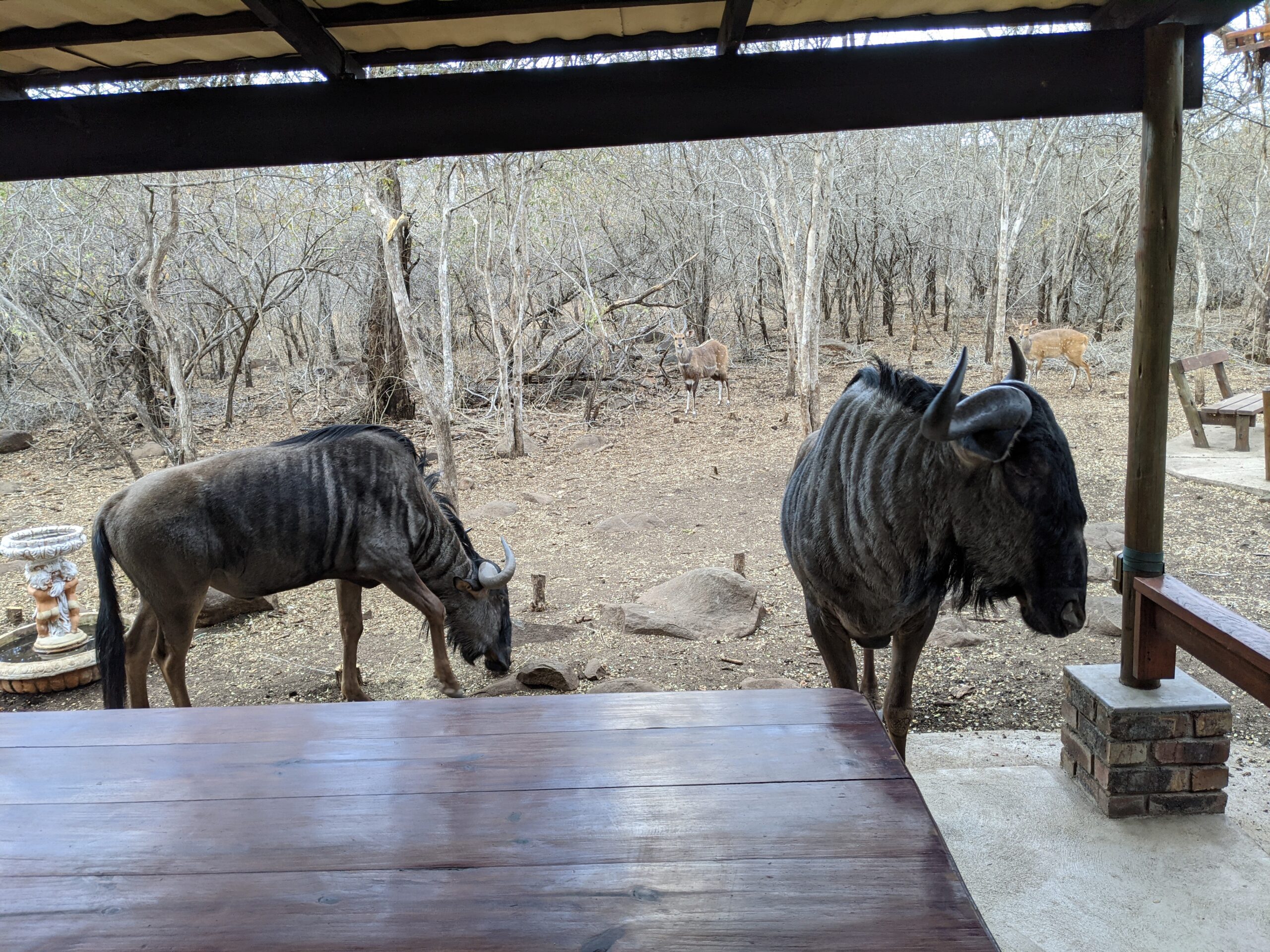 Now, that we're both rested and recovered from the long travel period from the US to South Africa, we can begin to socialize, starting tonight with a get-together planned for tonight at Jabula to celebrate Gerhard's birthday. It will be a small group of seven, but tonight, finally, I get to see my dear friend Kathy, who arrived here in the bush a few weeks ago, and Rita and Gerhard, whom we also missed during our time away.
I made a mistake about Tiny. We have not seen him. Instead, I'd mistaken a Tiny look-alike, whom we called The Imposter before we left. In my enthusiasm, I wanted to believe it was him. But, when The Imposter was here with his friend Narrow for quite some time, we both realized it wasn't Tiny.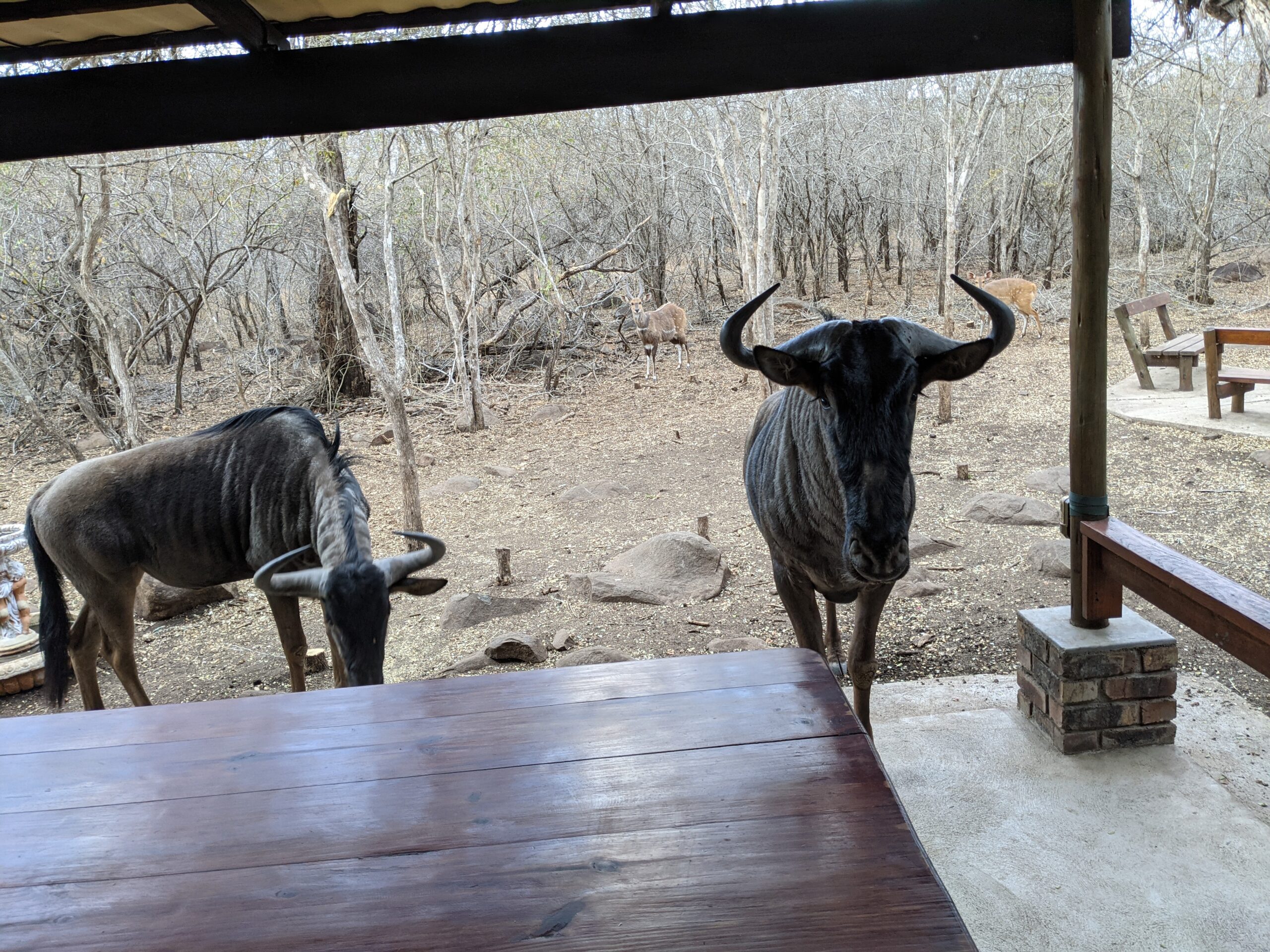 Good grief. Not to sound species-specific profiling, but many of the animals do look alike. Often it's the most subtle of markings and traits that enable us to determine who is who. Although massive, I should have picked it up that The Imposter wasn't as big as Tiny, nor were the size of warts on his temples.
Now, we wait with bated breath for the real Tiny to return to us. It could be days, weeks or months, or even never. We lost Tusker when we were at the Orange house, and he never returned after Basket scared him away, declaring his territory. A similar scenario could have transpired in the four weeks we were gone. Also, warthogs are often hit by cars on Olifant Road, the main paved road in Marloth Park.
We'll be sad if Tiny doesn't return, but we realize this is the bush, and anything can happen to these majestic animals living in the wild.
We hope all of our readers are safe from harm and still managing to cope with the throes of Covid, still facing all of us worldwide.
Photo from one year ago today, July 30, 2020:
This photo is from the year-ago post while in lockdown in Mumbai, India, on day #129. Check out the size of the fish and steak portions. Tom was craving peanuts, and we added a few packages to the stash. The brats in the bottom right of the photo are gluten, grain, and sugar-free. The total cost for this haul was US $109,38, ZAR 1595. For more photos, please click here.