Adorable baby Danie with his loving and attentive mom, Okey Dokey. He never stopped smiling and laughing the entire time they were visiting.
"Sighting of the Day in the Bush"
Kudus are spectacular animals.  They are gentle and never hesitate to make eye contact. But, those huge antlers can be dangerous for both humans and other wildlife. We stay back when offering food and taking photos.
There are so many people in Marloth Park right now; we're having trouble with the Internet. I tried downloading today's photos but wasn't able to do so for several hours. Now at almost 11:00 am, I'm still busy getting the post ready to upload.
The larger male of the Vervet monkeys troop sits in the tree next to the veranda where the bush baby house is located.
There are 12 national holidays in South Africa, resulting in Mondays as the official "off work" day. As for this current holiday, Tuesday is the official May Day holiday since it's May 1st. This link will provide you with a list of the South African holidays.

We've heard that people are being turned away to enter Kruger National Park during this busy period. Only 600 people are allowed into each of the eleven entrance gates throughout the massive wildlife area. 
He sat there for quite a while, watching us. 
According to our visiting friends Okey Dokey and family, yesterday, people were being turned away without a pre-paid reservation. And even many of those visitors with "reservations" were left waiting for up to two hours to enter the gate. The extra cost for booking a reservation, over and above the usual entrance fees (prices vary), is ZAR 38 (US $3.07) per person.
Once inside, every sighting is observed by dozens of vehicles. Oh, good grief. This enormous natural environment is taken over by commercialism during the holiday, returning to its quiet and enriching status that usually takes one's breath away.
Soon, he was distracted by the noise his troop-mates were making as they flew through the trees.
Of course, we aren't going to the park again until well after the holiday when most tourists have left the area. That's not to say there aren't others like us who are renting holiday homes during the quieter seasons who will still be here. Hopefully, they, too, like us, attempt to blend in and become a part of this magical place. 
As we enter the cooler winter season, beginning on June 21st, tourism in the area will taper off due to lower temperatures. This morning, both of us were outside on the veranda by 6:30 am bundled up to stay warm. Now, four hours later, we're back to shorts and tee shirts.
We tried for a better photo of this male bushbuck which is the darkest we've seen, but I was distracted with our company and never took the time for a good picture as darkest fell.
The cooler weather will not deter us from spending our days and nights outdoors.  We'll add more layers of clothing to stay warm. It doesn't get much below 10C (50F) during most winter months. But, after all of these years of warm weather (except for Antarctica), these temps might feel cold to us.
Before dusk, our dear friend, Okey Dokey, our driver here in Marloth Park four years ago, who remained a great friend these past years, visited us with her husband and baby, both named Dani, for snacks, wine, and beer. We'd never met the two Danis and adored them both.
His coloring was much darker, and he was considerably larger than other male bushbucks we've seen so far.
n. It was delightful to meet her two loved ones. It was as if we'd never missed a beat. How fortunate we are to have made such fine friends along the w A third Danie, of Louise and Danie, also joined us since they were also good friends with this extraordinary young woman.
We were sad to see them go. But, adorable little Danie, now almost eight months old, was ready for sleep after they spent a very long day in Kruger, as they explained above, regarding gaining entrance into the park.
I wish I'd taken better photos of our visitors, but sometimes, I'm just more interested in the people than the photos.  Louise is next to Okey Dokey, and Okey Dokey's husband Danie is seated to Tom's right.  Louise's Danie and I were at the far end of the table.
Who knows how long it will be until we see them again? They've invited us to visit them at the "farm," a five-hour drive from here. Perhaps, at some point during our remaining months in South Africa (immigration permitting), we'll visit them.
Soon we're off to the little market at Marlothi Centre for a few items for tonight's dinner and more carrots and apples for our wildlife friends. It will be a quiet few days for us with no plans to travel any further than the little market,  as the holiday season continues through Tuesday.
We hope you have a quiet and pleasant day wherever you may be! 
Photo from one year ago today, April 30, 2017: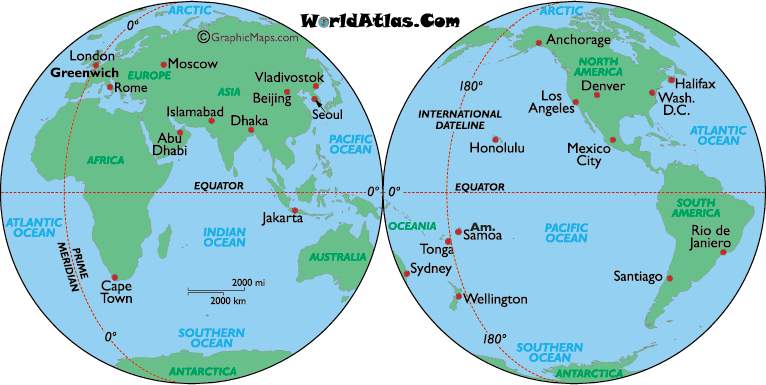 Map of 

the

world illustrating how the International Date Line affects each side of the line. One year ago, we crossed, and we had two May firsts. Please click here for details.