It was a busy morning, not in the way of animals since we've had few in the past two days, but in the household. Tom is finishing off the last of the blueberry muffins (not low carb) since he's decided to give them up for a while when they cause him acid reflux, a sure sign that eating sugar and flour is not suitable for him.
I had avocado toast using the keto bread I'd purchased online from local keto bakers with salad for breakfast, a weird combination but a delicious and nutritious way to start the day. I am full and won't eat another morsel until dinner tonight.  Tom will have bacon-wrapped filet mignon with rice and salad, and I'll have seasoned garlic prawns with green beans and salad. I don't mind making two separate dinners a few nights a week.
I've already prepped everything for tonight's dinner except cooking the steak and the prawns, which we'll prepare at the last minute. The salad is made, the green beans cleaned, and Tom's seasoned pan of purified water for his rice is ready. Since I make rice for him every other day (two batches at a time), I've got it down to a science. I can get everything ready in about 30 seconds, other than later, boiling the water, adding the rice with the lid, and cooking it for 20 minutes at a low temp. So far, he's not tired of rice with dinner since we don't eat potatoes, bread, or other starches.
After breakfast and some work online, we both got busy making our favorite breakfast, a crustless quiche with cheesy Russian sausages, mushrooms, onions, and hand-grated mozzarella cheese topped with parmesan cheese. The two big pans are baking in the oven now.
Once cooked and cooled, I'll cut the quiche into single serving squares and freeze them to take out one at a time to reheat in the microwave. There should be enough to last Tom for a month since I'm on this avocado and keto toast kick right now. Once I find something I love, I tend to eat it day after day until I'm sick of it and then switch to something new.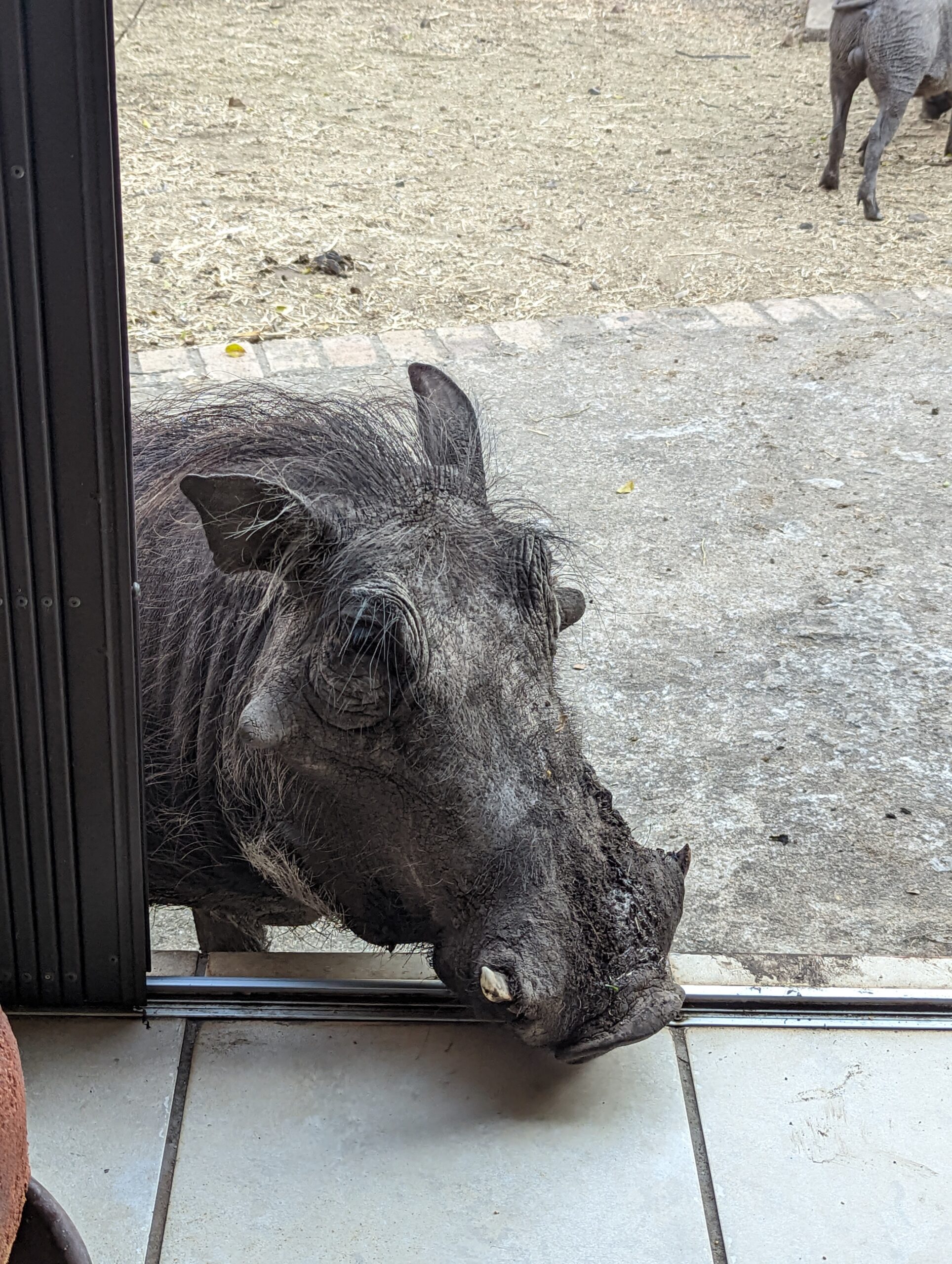 Right now, while I am not feeling well, I am focusing on good food, good sleep and rest, and a degree of exercise via steps in the house. I am taking the meds Doc Theo prescribed, but it could be weeks before I see any improvement. From time to time, the headache and facial pain are gone for an hour, and I get hopeful. But a short time passes, and even a single hair brushing my face hurts like an electrical shock, typical symptoms for trigeminal neuralgia, in this case, triggered from having Omicron in April.
With the increased dose of meds, my blood pressure is back to normal, which is a huge relief. Regardless of how I feel, we continue to live as we would, socializing, cooking, and spending time with the animals. Oddly, we haven't seen Norman and his family since Monday.
It's been cold and windy, and the animals tend to stay in the bush when the wind blows. Finally, this morning the wind stopped, so hopefully, they'll all return soon. Of course, Lollie, several kudus, our favorite bushbucks, and some impalas have stopped by. Now we wait for the rest.
We don't have big social plans over the next few days except for Jabula on Friday night, a visit to friends Sindee and Bruce's home on Sunday, and a group get-together again at Jabula on Monday evening. It will be the last time we'll see Rita, Gerhard, Lee, Marylin, and Gary for a while when they are all moving on to other adventures or back to their homes in the US.
The time we've all spent together has been fantastic, and we'll miss them all. Soon, in a little over two weeks, friends Connie and Jeff will arrive to spend two weeks with us. We'll undoubtedly be busy with game drives, bush dinners, drives through Marloth Park, dinners in and out, and enjoying time together in the bush. We are looking forward to their arrival. I will not let this pain in my head and face impact our time together while sharing this magical place with them.
Yesterday afternoon, I started receiving messages from many of our readers that they are now receiving the auto email with our daily posts again. I hope this problem is resolved once and for all. However, if you have an issue, please let us know, and we'll try to figure it out. Thank you for your continued patience through this tricky situation.
Be well.
Photo from one year ago today, August 31, 2021: