Our dear friend Sherry had arranged a reservation at Jimmy's Kitchen and Bar for 5:30 pm. Five of us arrived at 5:15, anxious to get the anticipated fantastic evening started. In no time, we were seated at a big booth/banquette for seven, and only Nelleke and Dave were yet to arrive, who appeared a short time later.
Sherry had planned the get-together at this excellent restaurant close to everyone. As it turned out, it was only about seven minutes from our hotel. This restaurant has been in business for 17 years, but neither Tom nor I had ever been there. It was only about 20 minutes from our old home.
Once we were seated, the conversation flowed easily. At times, we laughed when we were all talking at one time. It was not unlike 11 years ago when we often got together for drinks, food, and fun. In those times, I didn't drink alcohol but never failed to have a fantastic time sipping on my iced tea.
As mentioned in prior posts, I didn't drink alcohol/wine for 20 years for no particular reason other than thinking it was better for my health. On a cruise in 2016, when we both had the premium drink package included in our cruise fare, I decided to try drinking a glass of red wine, which I'd always preferred over white wine and found tasted good.
Once I had that first glass, I decided I could drink red wine in moderation, enjoying every sip. Since that time, I've pursued finding wines with lower alcohol than the usual 13% to 14%. In South Africa, many lighter wines were available, which I like with alcohol as low as 5%, which I particularly enjoy, along with another label at 8%. I cannot find similar wines here in the US, so when dining out, I drink regular red or white if I choose to have a glass.
Last night, they poured very little in the fancier restaurant in the fancy glass, so I ordered a second glass. Our dinner, with tax and tip, was $132. Wow! That's a lot. We aren't used to paying that much for the two of us. Everything is very expensive in the US.
Thank goodness, once we get to Ecuador in less than three weeks, we'll be able to play a little catch-up with comparable prices in South Africa. We look forward to that and other aspects we'll enjoy in South America.
At one point during last night's dinner, I found myself smiling from ear to ear and saw a similar smile on Tom's face as he conversed with Michael and Dave at the end of the table. It was more wonderful than words describe being with our old friends and neighbors again.
As neighbors, we were all so much more. Our lives were intertwined in many ways, especially when our dear Chip, Sue's deceased husband and our friend whom we dearly loved, He passed, only a few months before we left Minnesota. I had the honor of speaking at his memorial service. We all miss him terribly.
Sue sold her house in our old neighborhood on the lake and now lives in a retirement community near here. Sherry and Michael live nearby in Minnetonka, the city where my kids grew up before moving to the lake, and Nelleke and Dave still live in their house, which, as mentioned, was next door to us.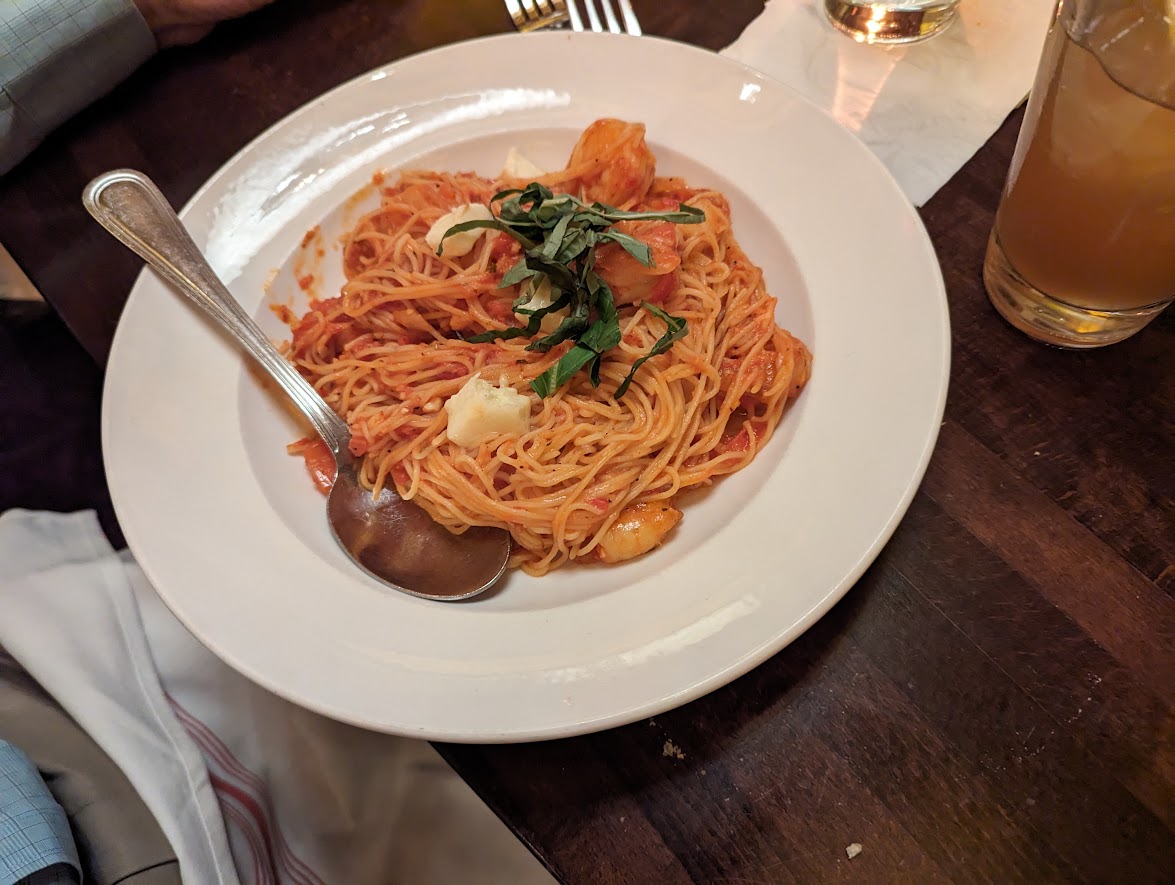 Before we knew it, our meals and a few desserts were savored at the lovely restaurant, and it was time to go. We'd enjoyed every moment with our friends and felt disappointed the evening was over. Tom and I talked about it one our way back to our hotel.
Once back at the hotel, we streamed two more episodes of Formula 1 on Netflix, which we binge-watch as time allows in the evenings. Soon, we're heading out to brunch with Greg and two of the grandkids, Madighan and Miles, since Maisie is away at school. Afterward, we'll return to Greg's house to watch the Minnesota Vikings game.
Have a pleasant Sunday.
Be well.
Photo from ten years ago today, September 24, 2013:
There were no photos posted ten years ago today. For the text for that post, please click here.