Yesterday, we decided to go out to dinner, even though we'd be out on Friday night, as always, at Jabula Lodge and Restaurant. Since we returned almost a month ago, we hadn't been to any other restaurants and thought a meal at Giraffe would hit the spot.
Their food isn't as good as Jabula's delicious dishes. Also, they only have one option on the menu that works for me, a salad with chicken and vegetables, which is tasty but not very filling. For an occasional bite to eat, it's an excellent place to eat and drink for most locals and visitors.
We left the house at 4:00 pm, 1600 hrs., thinking we'd better get there early due to the holiday weekend. We didn't plan to eat until 6:00 om, 1800 hrs., but it can be fun to sit at the long bar at that restaurant, too, especially when we run into people we know. Immediately upon entry, we found seats at the bar.
I ordered a glass of low-alcohol white wine, and Tom ordered a Castle beer. He prefers Lion beer, but it hasn't been available locally in the past several months, most likely due to the after-effects of the pandemic. There were several TVs, and they all were tuned to a cricket game. It was a little loud. The environment didn't fit our socializing goals, and an hour later, we were on our way to Jabula, where we knew we'd have a good time.
Well, of course, we did!  We were warmly welcomed by Dawn and David and felt as comfortable as we could be. The bar quickly became packed with every seat taken, and as always, we were included in multiple lively conversations. The evening flew by in a flurry of delightful interactions.
Around 6:30, 1830 hrs., we ordered our meals but gladly ate at the bar. It was too cool for our liking to eat on the veranda, and we often enjoyed continuing the banter while we ate our dinner at the bar, which many customers do. After dinner and more chatter, we decided to head back to our house to stream a few more episodes of Outlanders. We're well into season five with only one more season to go. The final season seven is in the works to be released in six to eight months.
By 10:15, 2215 hrs., we turned off our JBL speaker and the laptop and hunkered down for the night. We both slept well. Thank goodness, the nighttime coughing from having had Omicron has ended, and we're both able to sleep much better. Overall, we're both feeling great, a massive relief after being sick for over a month. In a few days, it will be two months since we first tested positive. It's hard to believe so much time has passed.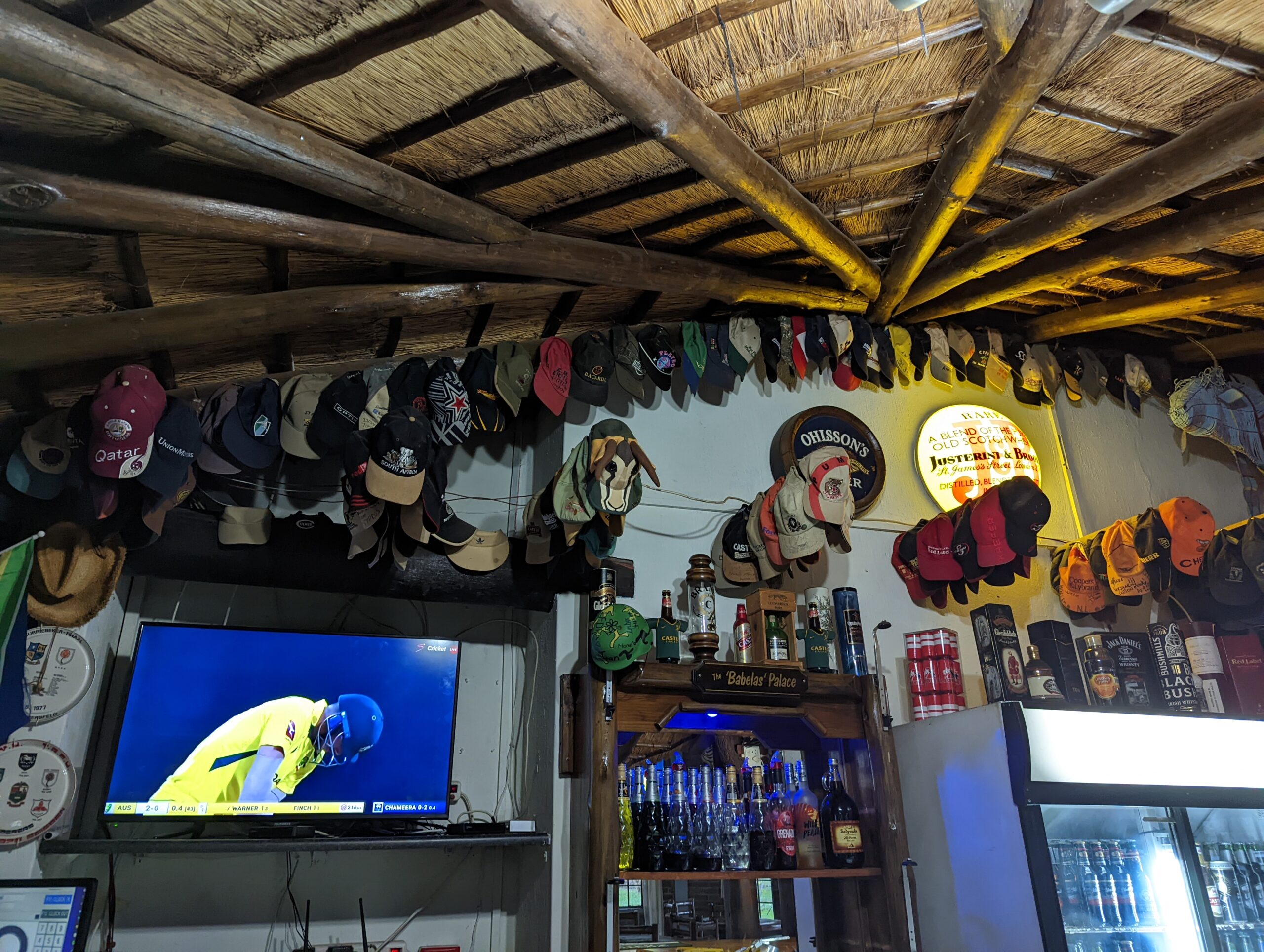 With the holiday weekend, we're seeing fewer animals in the garden today. But, we did get a lovely visit from the nyala family, with mom, Nina, Dad Norman, and baby Noah. It's so sweet the way the three of them are always together. This is not the case with bushbucks, duikers, and other species when we seldom see a dad with the mom and baby. But the nyala family is a unit. It's fun to see.
Often kudu moms and babies visit on their own, but occasionally we may see a group of kudus, known as a forkl, with moms, dads, and babies. We never see zebras or wildebeests with moms, dads, and babies, who group into a "dazzle." Warthog dads don't stay with the mom and babies. But, it's fun to see impalas, known as a herd, with moms, dads, babies, and more family members in large herds. This morning a large family stopped by. They bark. It's funny to hear.
Oddly, a group of wildebeest is called a 'confusion" which may include both parents for some time. Then, the young males wander off into male bachelor groups, not unlike male Cape buffalos.
Ah, nature, it's a wonderful thing. We feel blessed to be among it and all the wonderful people we meet along the way. And yes, although we went to Jabula last night, we'll be going again tonight per our usual schedule. More fun to be had.
Have a fantastic weekend.
Photo from one year ago today, June 17, 2021: