Yesterday morning, we left the house at 10:50 to arrive on time for the memorial service for our friend Bruce Barnes who passed away last week, only six days after our friend and houseguest Jeff passed away at our holiday home on his "dream visit to Africa to see the wildlife. We were shaken by losing two friends in such a short period.
Bruce and his dear wife Sinndee were long-time residents and homeowners in Marloth Park. Bruce owned a thriving electrical business serving the needs of Marloth Park and surrounding area residents. He was only 58 years old and sadly passed from the horrible COPD, which had taken the lives of other dear friends in the past 11 or 12 years.
We met Sinndee and Bruce at Jabula many moons ago and started an easy and delightful friendship with them. We spent last Christmas Day at their home with their family, Dawn, Leon, and a few other friends. It was a day we'll never forget. We were grateful for the opportunity to spend Christmas at their home and to feel so included.
The Sunday before our friends Connie, Jeff, and Lindsey arrived, we visited Bruce at their home, and it was apparent he was struggling to breathe. It was heartbreaking to see him struggling, but he and Sinndee had a good attitude and continued to make plans incorporating the oxygen equipment they'd have to take with them whenever they'd leave the house.
But, when we left their home a few hours after we arrived, we didn't feel optimistic about Bruce being able to travel. And then, only a few weeks later, Sinndee found him at home when she returned from work. He had given up the flight and succumbed to this dreadful disease while she was at work. We are heartbroken for her and her family.
A local pastor conducted the memorial service. It was beautifully presented with about 40 family members and friends in attendance at the outdoor braai at Jabula, which easily had ample room for everyone. Dawn, Leon, David, and their staff provided excellent service for beverages and casual lunch-type delicious food. I didn't eat anything since most of it was sandwiches and fried foods, but I had breakfast before we left the house, so it didn't phase me not to eat.
When the memorial ended and guests started wandering off, we headed to Daisy's Den to purchase two more bales of lucerne to be delivered next week on Saturday and Wednesday. Tom had to use the squirt gun to chase off the four zebras who were about to wipe it out if we didn't intervene. They left enough lucerne for other animals who will stop to eat the next few days.
After Daisy's Den, we dropped off the keys to Louise and Danie's place for the two guest houses on our property, where our guests stayed for two weeks. Before we knew it, after lively conversation ensued, we were sitting at the table on their veranda, having sundowners (it was 4:00 pm, 1600 hrs., by then), enjoying every moment with the two of them and the same visitors coming into their garden as do ours, which is only five houses away.
I must admit I was a little envious to see their francolin family who visited us last week but always returns to their home. It was a Frank and The Misses and one adorable fast-growing chick. Their other five chicks had been eaten by the genet that often visits at night, perhaps the same genet we get here. The parents were keeping a watchful eye on their remaining chick. It was interesting to watch their behavior. We do miss having Franks at our house.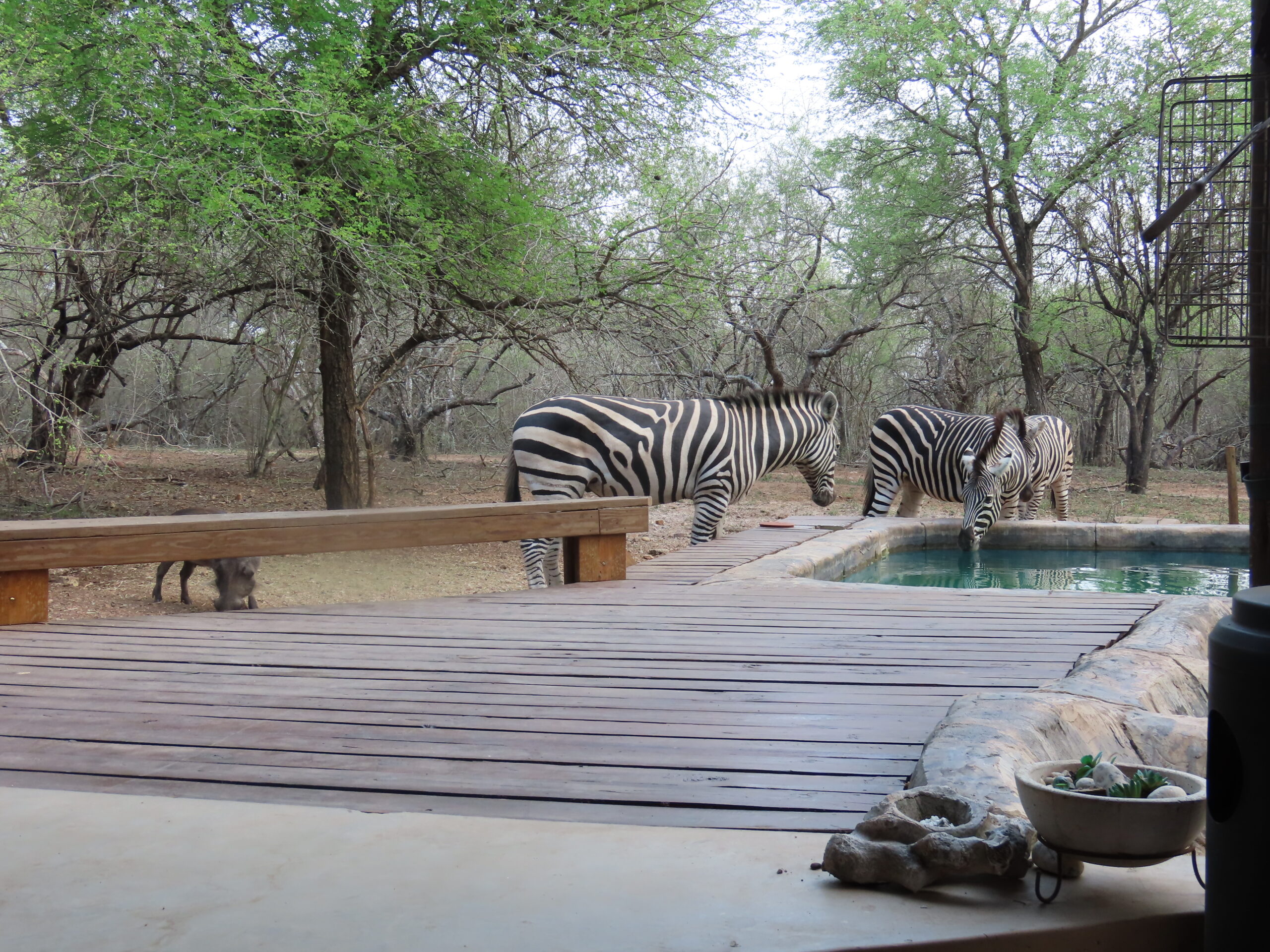 By 5:00 pm, 1700 hrs., we were back at our house with plenty of time to make dinner and enjoy a restful evening at our holiday home.
Be well.
Photo from one year ago today, October 5, 2021: