As of today, we've been married for 26 years. Last year in India, we celebrated our 25th, but now, that seems so long ago. We are blessed to have this great union, two people of opposites that somehow meet in the middle to find love, companionship, friendship, and harmony. Who knew we'd be able to travel the world together for over eight years and see so much joy in our everyday lives, regardless of where we may be at any given time?
If anyone had asked if we could spend ten months in lockdown in a hotel room in Mumbai, India, we may have laughed, uncertain if our usual state of harmony and love would survive. And, it did. Not only did we survive, emotionally intact, but all the stronger for it. Happy anniversary, Tom Lyman! May our lives together continue to be enriched in years to come.
Last night, we headed to Jabula Lodge & Restaurant for our anniversary dinner, dining outside on the veranda and enjoying, as usual, a fine meal. It's often surprising to us how affordable it is to dine out in Marloth Park. We dined at Jabula twice this week, on Thursday with Linda and Ken, and again last night.
The cost for each evening was approximately US $40, ZAR $615, which included taxes, tips, cocktails for Tom, and a bottle of my favorite Four Cousins Skinny Red Wine which I drank from on both occasions, with another glass or two left in the bottle that we brought home last night. There is nowhere in the world we've been able to enjoy such good food at such reasonable prices.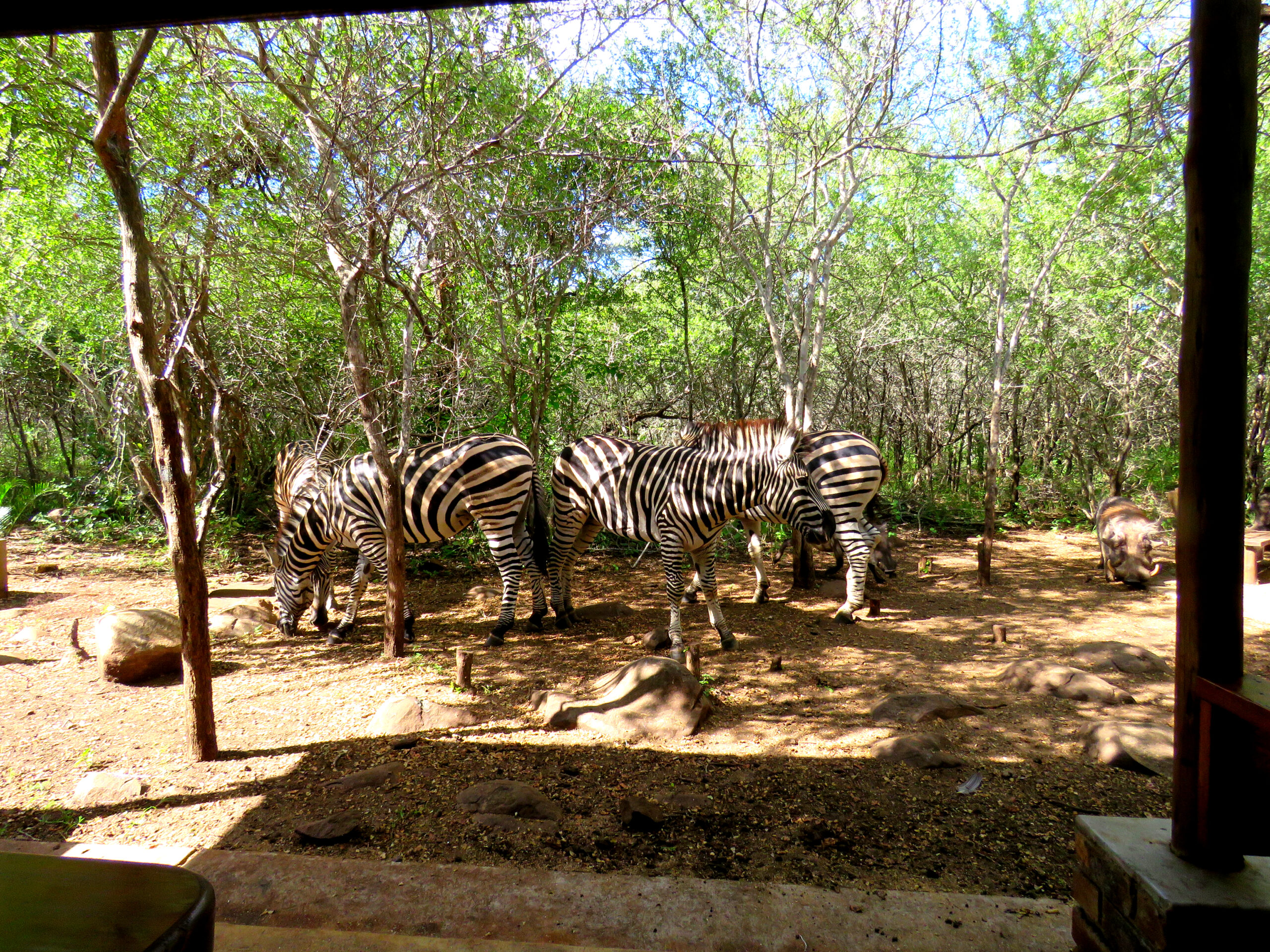 Our total grocery bill since we arrived here on January 13th with enough food to last us for another week was US $1081, ZAR 16609. This averaged US $136, ZAR 2074 per week. Our entire dining out bill for these eight weeks was US $251, ZAR 3856. The total for food thus far was US 1332, ZAR 20465, averaged US $167, ZAR 2566 per week.
When we lived in Minnesota, shopping for groceries in 2012, we spent an average of US $225, ZAR 3457 per week. Dining out typically was US $100, ZAR 1536, and thus we didn't go out to eat in the US as readily as we do here. As we've always said, it's good for our budget to be living in South Africa, let alone all the other beautiful reasons.
As you can see from today's photos, we were thrilled to see zebras in the garden finally. It was funny how it happened. One of the four zebras snuck up from the side of the house and peered out at us on the veranda, checking out the situation. Moments later, the four of them were busy munching on pellets, rarely taking a second to look up.
Zebras aren't like kudus, wildebeest, warthogs, and bushbucks, who make eye contact and respond to our voices. They never look us in the eye. Although it's pretty enjoyable to watch them interact with one another, pushing and shoving one moment and cuddling the next, they have little interest in us humans. Nonetheless, a visit from them is always welcomed.
Tonight, we are getting together with Linda and Ken to celebrate our anniversary. And, tomorrow night, their last night in MP, we're meeting for dinner at the Amazing Kruger View Restaurant, formerly known as AAmazing River View. The restaurant overlooks the Crocodile River for some often exciting views. Bubbly is on the menu for sure.
Today, it is sweltering and humid. It's so much so that I decided to stay inside in the bedroom to cool off for a bit while I finish today's post.
We hope you've been having a good weekend. We certainly have enjoyed this four-day run of social activities with our special friends in Marloth Park. We never tire of the people or the wildlife and can't imagine, we ever will.
Be well.
Photo from one year ago today, March 7, 2020:
In an old vehicle located at the Best Exotic Marigold  Hotel, Us is referred to as a Willy/Jeep. For that post, please click here.