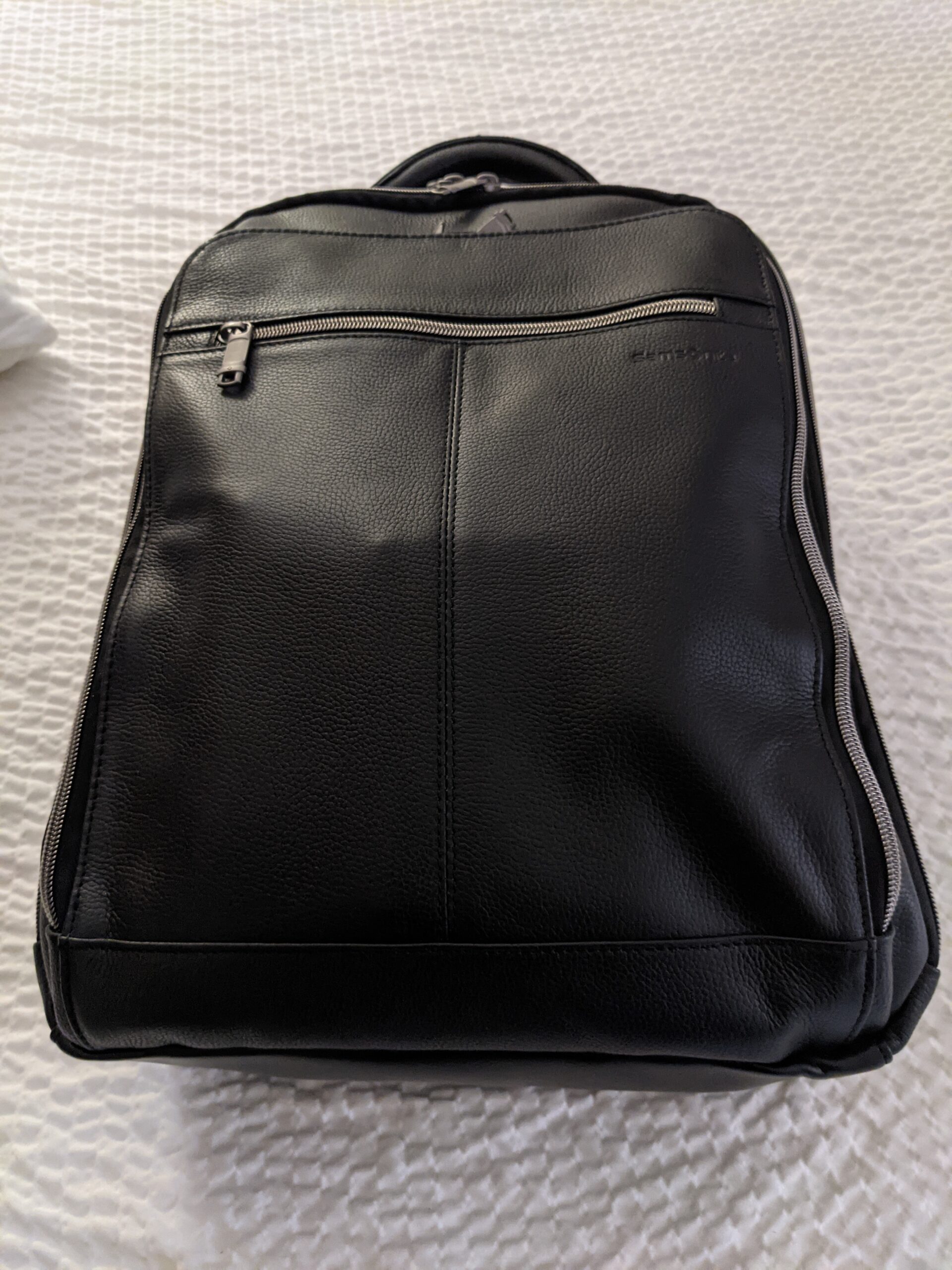 No, while we're in the US, our daily posts won't be exciting and exciting to our readers. Since we have lived in Minnesota most of our lives, we aren't going sightseeing and searching for fascinating photo ops. Also, without a camera and only my phone, taking photos isn't as fun for me.
Again, today's photos are not so exciting. Today, I will order the new camera to be delivered to our mailing service in Nevada, which we'll pick up along with other items awaiting us, including a few replacement credit cards for those expiring in the next 12 months. We also purchased Tom's new Cole Haan shoes and computer backpack at the Samsonite store in the Eagan Outlet Mall.
I had purchased a new travel bag for myself at the same store, but once we got back to the hotel, I noticed I'd made a terrible mistake. The bag has a hidden handle and wheeling feature, which I didn't want. It's a bag, not a suitcase. Today, we'll return it when the mall opens after 11:00 am. I don't know how in the world I missed this fact. I suppose my brain is still off-kilter from all the traveling and activity. I will select a more appropriate bag when we return it in a few hours.
Last night, Greg and the three grandchildren met us for dinner at Champs Restaurant in Eden Prairie. Afterward, we headed back to our hotel for a quiet evening with a plan to get some sleep. Alas, sleep was elusive for me, and I awoke again at 4:00 am, never returning to sleep. Once we return to South Africa in 19 days, we can get back to our usual routine. Most likely, it will be this way during the remainder of our time in the US.
I have been texting back and forth with our dear friend (and property manager) Louise in Marloth Park to hear how things are doing there and chat with one another as we often do daily. Hearing from here keeps me connected to the bush. Our dear friend Kathy, who soon returns to the bush and will be there when we return, had a birthday yesterday, and I had a chance to talk to her, much to my delight. Friends Linda and Ken and, of course, Rita and Gerhard stay in close touch too, all of whom and more, we'll see when we return.
But, it's lovely to spend time with family, although challenging at times to work our visits into our grown children's busy schedules. Just because we're here doesn't change the work and family responsibilities that keep their calendars full.
We are so used to a slow and easy pace. We're often surprised by how packed everyone's day-to-day schedule can be. But, we lived here, lived this life, and we know and appreciate how entire life can be with endless responsibilities and activities. We do our best to be available when family members are to spend time together.
We continue to feel relieved that we received the vaccine on July 1 and had no ill effects. Also, as each day passes, we are grateful that we didn't contract Covid during our three days of travel. Most likely, if we'd been exposed, we'd have symptoms by now, but we've heard it can present up to 14 days after exposure.
Are those stories we've read about people becoming ill from the vaccines, exaggerations, or facts? Then again, if one million people get any vaccine, some will become ill, and some will pass away. It's a sad reality. We were concerned when we had to get the yellow fever vaccine before we left the US in 2012. I was sick for a few hours, and Tom didn't feel up to snuff for a weekend.
I understand and appreciate the hesitancy by some over receiving the vaccine. On the other hand, the world will never reach herd immunity without more participants. Each person has to decide for themselves, considering the restrictions they may encounter without being vaccinated and the possibility they or their family members will become ill with Covid-19.
We decided based on our desire to continue to travel, which would be severely impacted if we failed to get the vaccine. Plus, I must admit, it will feel good to have less anxiety about either of us getting the virus, or if we do, the case would be less severe. I do not doubt that an annual booster will be necessary. Hopefully, there will be less confusion and difficulty in people getting the boosters. Only time will tell.
Off I go, folks. Have a pleasant day! There's "other fish to fry" on the agenda.
Photo from one year ago today, July 7, 2020:
"In Kauai, Hawaii in 2015, when this albatross, Nash, was preparing to fledge. This looks scary," says Nash. "It's a shame I'm having a bad hair day for my first journey." For more photos, please click here.