Although most of the items on the menu were seafood related, most of which Tom doesn't enjoy,
he was thrilled to find some options that would be pleasing to his limited palate.
When asking locals as to best the restaurants in an area to try, thoughtfully they will suggest their familiar haunts, in their preferred price range and with the food that satisfies their own palate.  Although, we take suggestions to heart, we have our limitations to consider; my food restrictions and Tom's somewhat limited taste buds.
For me, the menu was purely delightful.  It was difficult to decide
when
not a single option would be undesirable for me.
As a result, we have to be more creative.  With Tom's mindset that he likes "all-American food" with minimal spices, he never ceases to amaze me when he tries new items when dining out or in the past, aboard ship.
In Kenya and as is typical all over Africa, many of the meals are heavily seasoned, fried, barbecued and with ingredients unsuitable for either of us.  Thus, being a little more creative, researching local restaurants and their often posted menus gives us a better idea to avoid disappointment.
This photo, from the Almanara Resort's website is the lounge area adjoining
the dining area.  Our photo didn't turn out so well in the dark.  This area was empty
when we arrived but full by the time we left a few hours later.
Of course, there's a higher cost to more "continental cuisine," an expense we are willing to bear in order to be able to enjoy a night out.  After the glorious experience of Saturday night, we've officially decided on Saturday nights as our official date night to try the suitable restaurants in the area. 
Many of the establishments are within walking distance. However, as the sun goes down by 6:30, the dangers of walking on the highway in the dark are many. A local cab driver, Chris, picked us up at 7:00, waiting for the restaurant to call him for our return, picking us up later in the evening. The cost for the round trip cab ride was KES $1100, US $12.59 which includes the tip. Not too bad.
This complimentary appetizers presented by the chef was out of the question for me.
It was fried seaweed and stuff puff pastries, all made with flour.  However, much
to my surprise, Tom ate all of it, finding it very tasty.  I think his limited taste buds
"song and
dance" is purely psychological when I see him enjoy new items.
With no phone we could use Skype to call the cab.  But as we inquired to our nighttime security guard, Jeremiah, he immediately called a programmed number in his phone and shortly later cab driver Chris arrived to take us to Sails Restaurant at the Almanara Resort.  
Both Chris and Jeremiah seemed excited that we wanted to go to the Almanara Resort when recently, the Kenyan president stayed in one of their luxurious suites. After dining at their own Sails Restaurant we understood why. The property was exquisite, the food amazing, the service impeccable and the security, over the top.
After Tom ate the seaweed, he didn't want to spoil his dinner with another
appetizer.  I ordered this salad, gluten free and the chef made the sauce without flour
using a homemade mayonnaise base. There were no less than 8 large prawns
in this salad.  In reality, this could easily have been my entire meal and I'd have been satisfied.  Look below for the huge entrée I also consumed in it entirety.  Piglet.
As Chris drove up to the massive gates at the Almanara Resort, we were impressed by the crisp uniforms, muscular build and confidence of the guards. Approaching the cab, he asked our names and nature of our visit.  Having luckily made a reservation online for 7:00 PM, he carefully reviewed his list of reservations and waved us through, opening the massive gates by hand.
Once we entered the property, another guard approached and directed Chris where to stop to drop us off. Chris had begun to walk us toward the restaurant area, only to be dismissed by the new guard to stay put, while he would escort us to the restaurant, a short two minute walk, on a well lit but uneven road. Thank goodness, I was wearing flat sandals.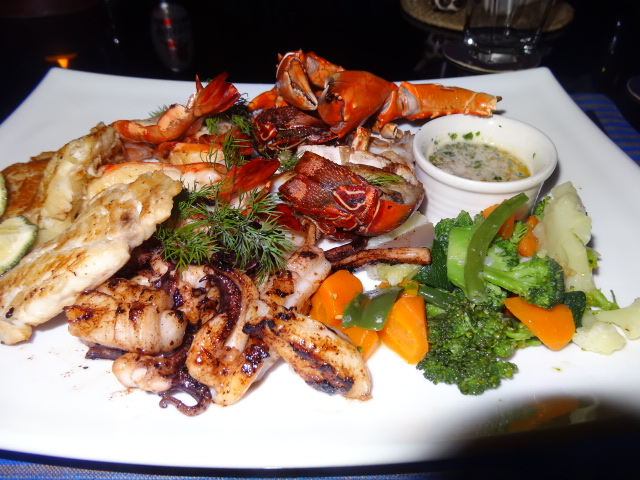 This amazing array of seafood was all grilled and seasoned to perfection. It
contained lobster, prawns, octopus, squid, snapper and a few  chewy wormy looking
items I didn't recognize but ate anyway.  Need I say that I cleaned this plate as well?
Based on the road, neither of us was expecting much.  In the dark with the soft lighting surrounding the resort, we could only see lush vegetation and the outline of several substantial bungalows. Apparently, their rentals are "house sized suites" at varying costs of $1000's per night. 
If the water stops running here, as it did in our first house in Belize, we won't be moving to Almanara Resort as we did to LaruBeya where we stayed for over two months (see posts from end of February, 2013 to April 9, 2013 for photos and details).
Once seated, at this exact table as depicted in the daylight photo below from their website, we couldn't have been more content, as shown by our lavish plates of epicurean delights.
 Tom's dinner consisted of Fillet Mignon, fries, grilled vegetables.  He kept
insisting that
I try a taste of his steak, finally taking a bite of tender
well seasoned meat. 
He also, ate every morsel.
A few hours later, stuffed "to the gills," we were ready to head back to our home to watch a movie on my laptop in bed under the mosquito netting. 
Apparently, we were told, our cab driver Chris waited for us in his original parking spot during our entire dinner. We tipped him well appreciating the great service for this short cab ride.
Our bill for dinner? Much less than one would pay in the US and other countries for fine food and service. Tom had a US $10 marguerite and a giant bottle of Pilsner beer while I had two bottles of fizzy mineral water. Add my appetizer and our two lavish entrees, the total bill was KES $5400, US $61.80, included VAT tax and 18% service charge (built in tip). 
We borrowed this daylight photo from the resort's website. 
It was dark
as we were seated at this table.  Our photo didn't do it justice.
Based on the quality of the service and Tom's lack of change, we gave the waiter an additional KES $1000, US $11.44. Dinner, cab fare, tax and tips totaled KES $7500, US $85.83.  Having budgeted US $100 per week for dining out, we were on target. If, we find other restaurants at a lower cost, we'll use the difference to offset the extra SIM cards we must purchase to be able to download our TV shows.
It was adult son's birthday prompting us to call him on Skype. The cost for the call is free but the data use is huge which now is monitored. He and the grandkids were in their pool in their yard.  Daughter-in-law Camille turned on the speakerphone enabling us to speak with both of them and the 3 grandkids.  
Of course, we miss all four of our children, their significant others and our six precious grandchildren. In fifteen months, we'll all be together again. 
Daughter Tammy's birthday was Sunday but we were unable to reach her last night and will try again soon. 
Later watching Ironman 3, we drifted off to sleep, safely tucked away in our comfy bed with the secure mosquito netting, the fan at full speed above the bed for yet another restorative night's sleep to arm us for the next day at home, batting off the mosquito.
We'd intended to write about the restaurant experience on Saturday night for Sunday's post.  When the monkeys ran through the yard, we couldn't wait one day to share that story so we flip flopped them. Makes sense, right