Today is Sunday of the National Women's Day Holiday weekend, and our garden is seriously lacking in any activity. So far today, we've only seen two duikers who were too shy to approach for pellets or apple peels, a few annoying Vervet monkeys that Tom shooed away, and a few loyal bushbucks.
On my feet in the kitchen for the last 90 minutes, I needed to sit on the bed with my feet up to recover from standing so long. Since I was still yet to fully heal from the virus (unknown), standing for so long was exhausting. We'd bought tons of apples with the intent of bringing a Gluten-Free Apple Crisp to Kathy and Don's house with me making an extra to keep at home for Tom.
The event at Kathy and Don's was canceled with Gerhard and I both being sick, and the apples needed to be used. Of course, I knew if I weren't feeling well enough to make Tom at least one apple crisp, we'd undoubtedly cut up the apples for the wildlife, who love apples. (Broken Horn and Little eat them whole).
But, with few visitors, I decided today was the day to make one of Tom's favorite desserts, which is baking in the oven now. He'd lost a lot of weight lately, and since he's easily able to maintain, he deserved a treat, which will last for several days in the refrigerator. Later, after dinner, he'll reheat a good-sized portion in the microwave and top it with a generous dollop of vanilla ice cream. I will be drooling watching him eat this tasty dessert which I also loved in my old life.
Suppose I have enough energy after resting comfortably in the bedroom while preparing today's post. In that case, I might make myself my favorite Low Carb Cheese Pie (yep, not a cake, but a pie, created inside a delicious almond flour crust). Usually, when I make one for me, I also make one for Louise and Danie, who eat like me, which Tom can drop off later. I decide if I am up to it after a while.
Tom is outside on the veranda, listening to his favorite podcast, Garage Logic from Minnesota. It's only on Monday through Friday, but often, on the weekends, he catches up. As mentioned earlier, his name is mentioned toward the end of each episode. He sends them a new story each day, entitled "This Day in Minnesota History," which they read on the air, always mentioning Tom's name and commenting about the "traveling Lyman's, currently in Marloth Park, Mpumalanga, South Africa."
It always makes us laugh! From time to time, Tom hears from listeners who think his daily contribution is fun. While we were in the US, Tom shared that we were in various cities during our visit including, Eden Prairie, MN, Milwaukee, Wisconsin, then Henderson, Nevada.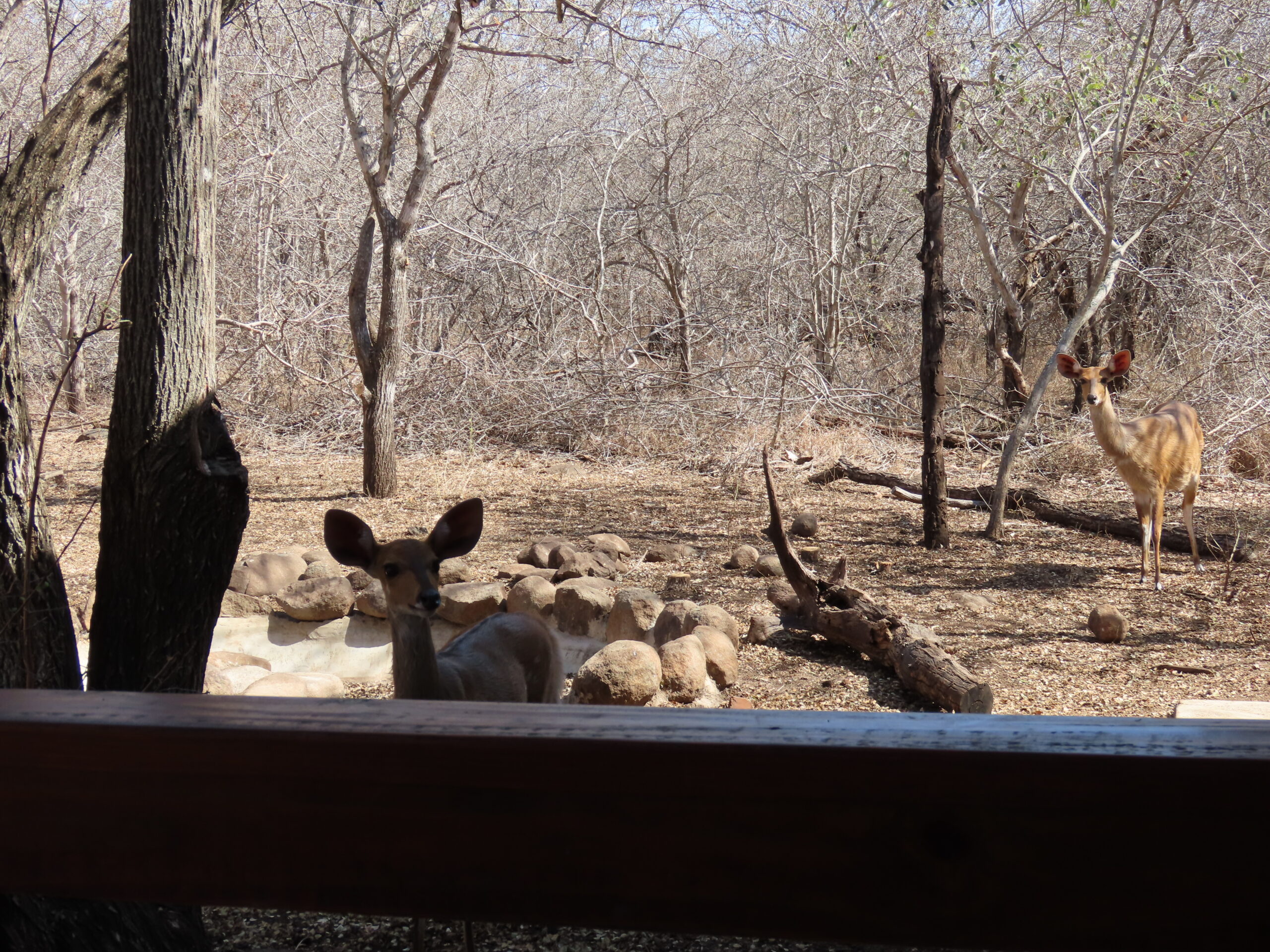 The show's hosts chuckled when they saw that we were back in Marloth Park, Mpumalanga, South Africa, four weeks later, as Tom diligently continued to send them the stories each weekday. These "mentions" on the show are a source of enjoyment for both of us, let alone the newsy information and opinions they share during each podcast.
The handy timer on my Fitbit Sense went off for the third time as I strive to get the baking done perfectly for the apple crisp. I made a big batch, and it's taking over an hour to bake, leaving the top a toasty brown. Below is a photo of the finished product.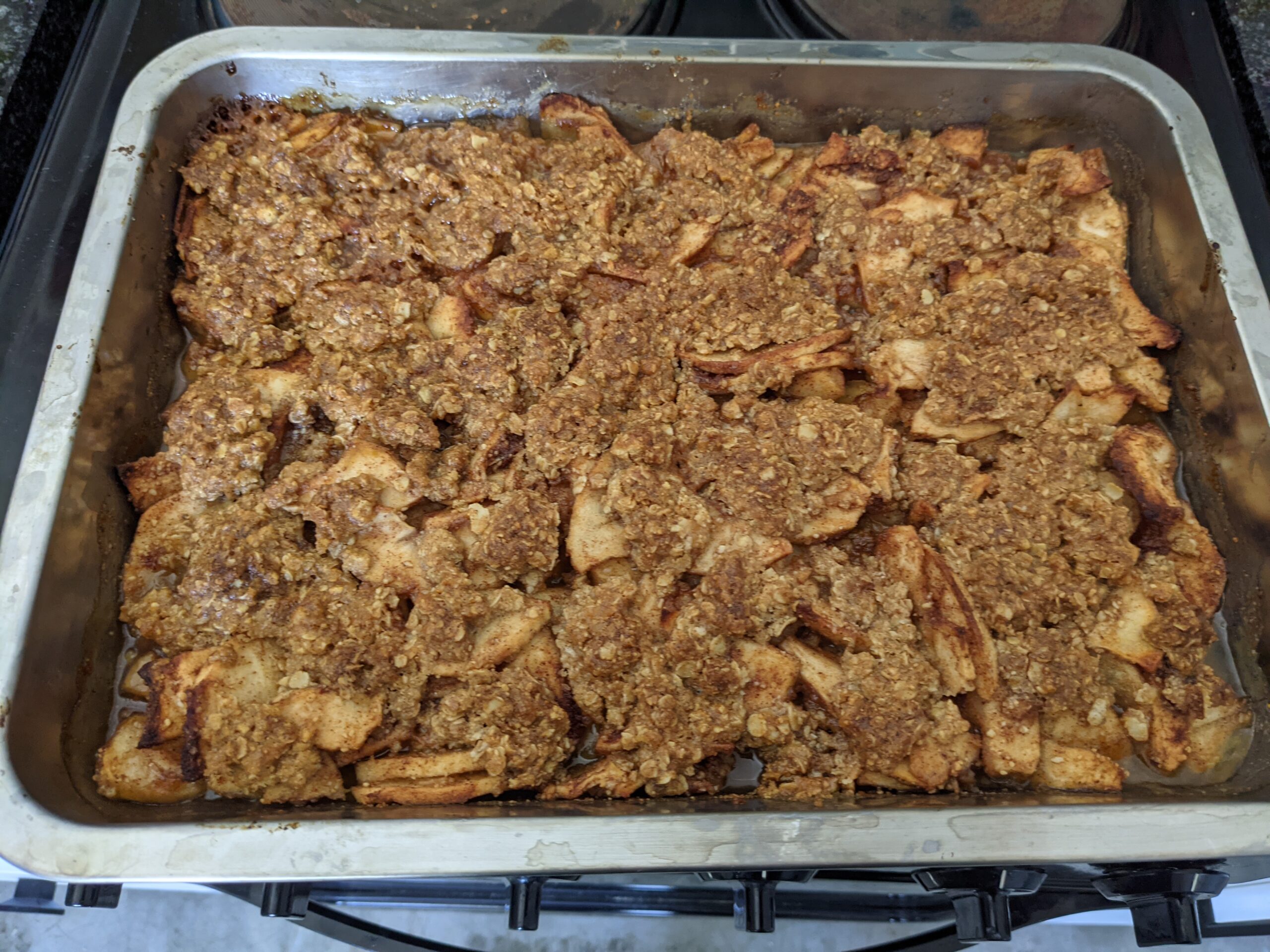 It felt good to be baking, which I prefer over making savory meals. But, with our usual eating method (always for me, less so for Tom), baking sweet desserts isn't something I often do. But, today, it felt satisfying and comforting in a way only an enthusiastic baker would understand.
Now that I've smelled and seen the result of my baking efforts with the apple crisp, I'm ready to tackle those two Low Carb Cheese Pies so that tonight when Tom eats his dessert, I'll have a slice of mine. Tom will drop off Louise and Danie's pie when they return home later today.
Happy day!
Photo from one year ago today, August 8, 2020:
This one-year-ago photo was posted while we were in lockdown in Mumbai, India, on day #138. There were many photo-taking tourists in the Hall of Mirrors at Versailles in Paris, France, in 2014. For more photos, please click here.