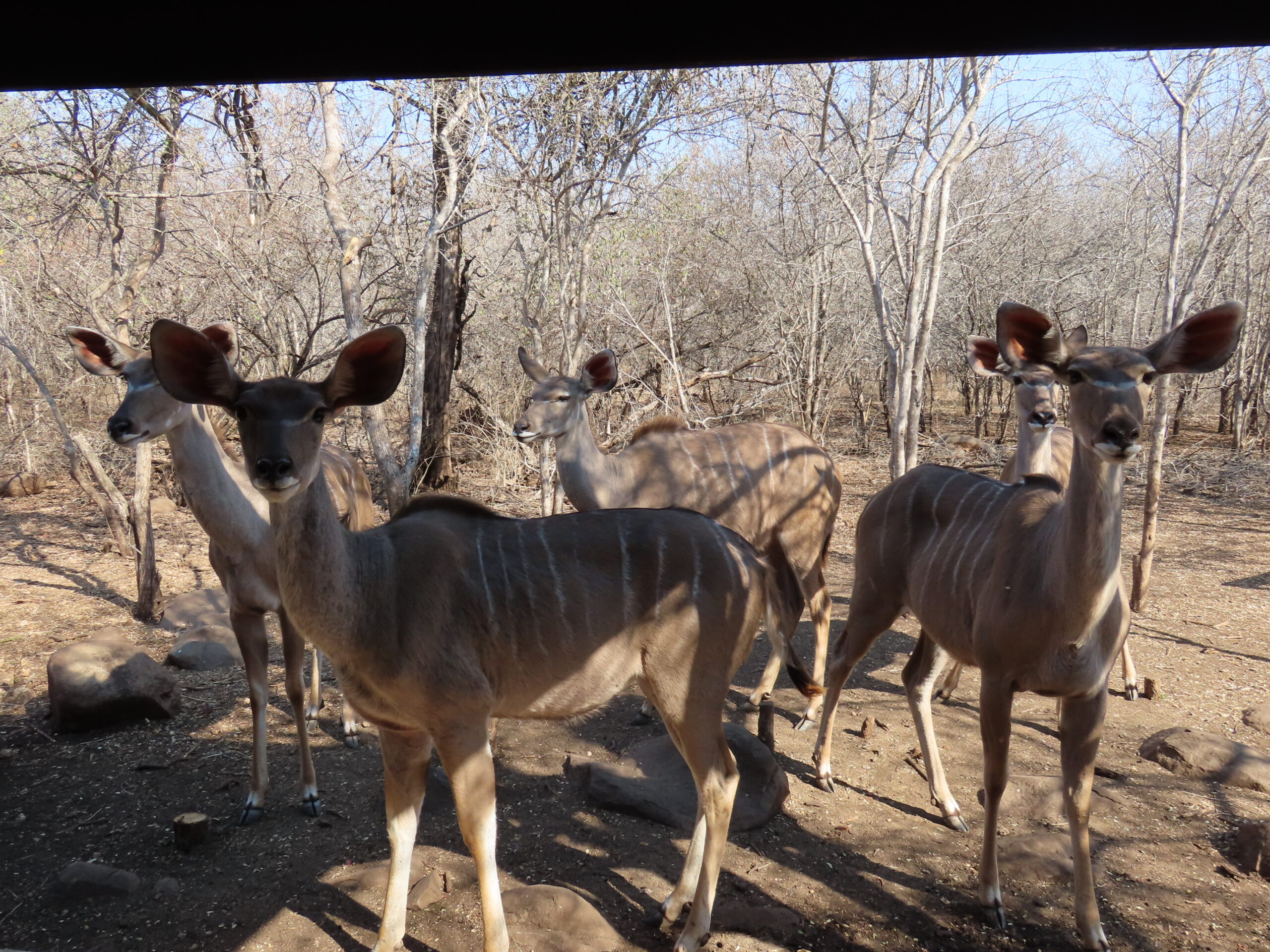 Most of the holiday homes in Marloth Park were rented this weekend due to National Women's Day, as described in yesterday's post at this link. As a result, there are few animals in our garden today. Sadly, as mentioned in previous posts, some visitors feed the animals foods that aren't good for them, which they may love. It could include;  chips (fries), potato chips, leftovers from meals, and even sweets and candy, which are not suitable for any wildlife's diet.
In that regard, they are like humans; bad-for-you foods are tasty and irresistible. And, animals don't know that these food aren't good for them, although humans do. And yet, they continue to feed these inappropriate foods while visiting Marloth Park.
Then, of course, those who care about the well-being of the animals have purchased pellets, Lucerne bales, apples, carrots, and fresh green suitable for the animal's diet. The bush is so dry there is barely a leaf on a tree or bush with the vegetation the animals usually eat. It's nearly impossible for many of us not to offer some sustenance during the drought-like months of winter.
The fire hazard is at its peak right now, with many restrictions in place regarding bonfires and open braais. We often wonder if holidaymakers correctly put out fires, even when confined to an appropriate container such as a wood-burning braai (grill). Right now, bonfires are forbidden.
Already, many animals have been killed on the road. Last night, after driving home from Jabula after a lovely dinner with Rita and Gerhard, we couldn't help but notice the road packed with cars, many of which were exceeding the posted speed limit. As Tom drove home, there was a speeding car dangerously close to the rear of our vehicle. If Tom had to stop suddenly for an animal, he mentioned we could have been rear-ended, and an animal could have been killed in the process, let alone potential injury for us.
Not all of them are like this, but many are, and on occasion, it may be locals failing to observe the speed limit. With little police presence in Marloth Park, many ignore the laws. Multiple security vehicles may be present at night, but they aren't able to arrest careless drivers. It's this type of behavior that makes us suspicious of holidaymakers.
Are we fully recovered? Not quite yet. Tom is healing nicely from his tooth extractions, and his cough is minimal. Mine is still lingering with a cough and significant congestion. I don't believe I am still contagious after, but I paid particular attention to steering clear of close contact with our friends and other diners at Jabula last night.
We'll continue to lay low over the weekend, not only to avoid contact with the huge tourist crowd but to continue to rest and recover from this dreadful virus. This morning, albeit still weak, I made a big pan of Low Carb Cheesy Chicken, Sausage, and Mushroom Casserole, enough to last for three nights. We prepped a pot of rice for Tom and a cabbage salad for me as side dishes. Tom cleaned up after me, which reduced my time in the kitchen.
All we have to do is mix the salad and bake the casserole in the oven about an hour before we're ready to eat. Most likely, we'll spend the evening indoors streaming a few shows on my laptop. Right now, we're wrapped up in an excellent British TV series on Hulu entitled, The Split. Once completed, we'll move on to a few others we're looking forward to, including newly added seasons of a few favorites, such as Line of Duty, Succession, and more.
Have a pleasing Saturday and be well.
Photo from one year ago today, August 7, 2020:
One year ago today, while in lockdown in Mumbai, India, on day #137, we posted photos from Versailles in Paris in 2014 during a rainstorm. Astounding view! The crane in the photo is in an area where the palace is under renovation. For more photos, please click here.