Youngsters of varying ages comprise an integral part of the elephant family.
"Sighting of the Day in the Bush"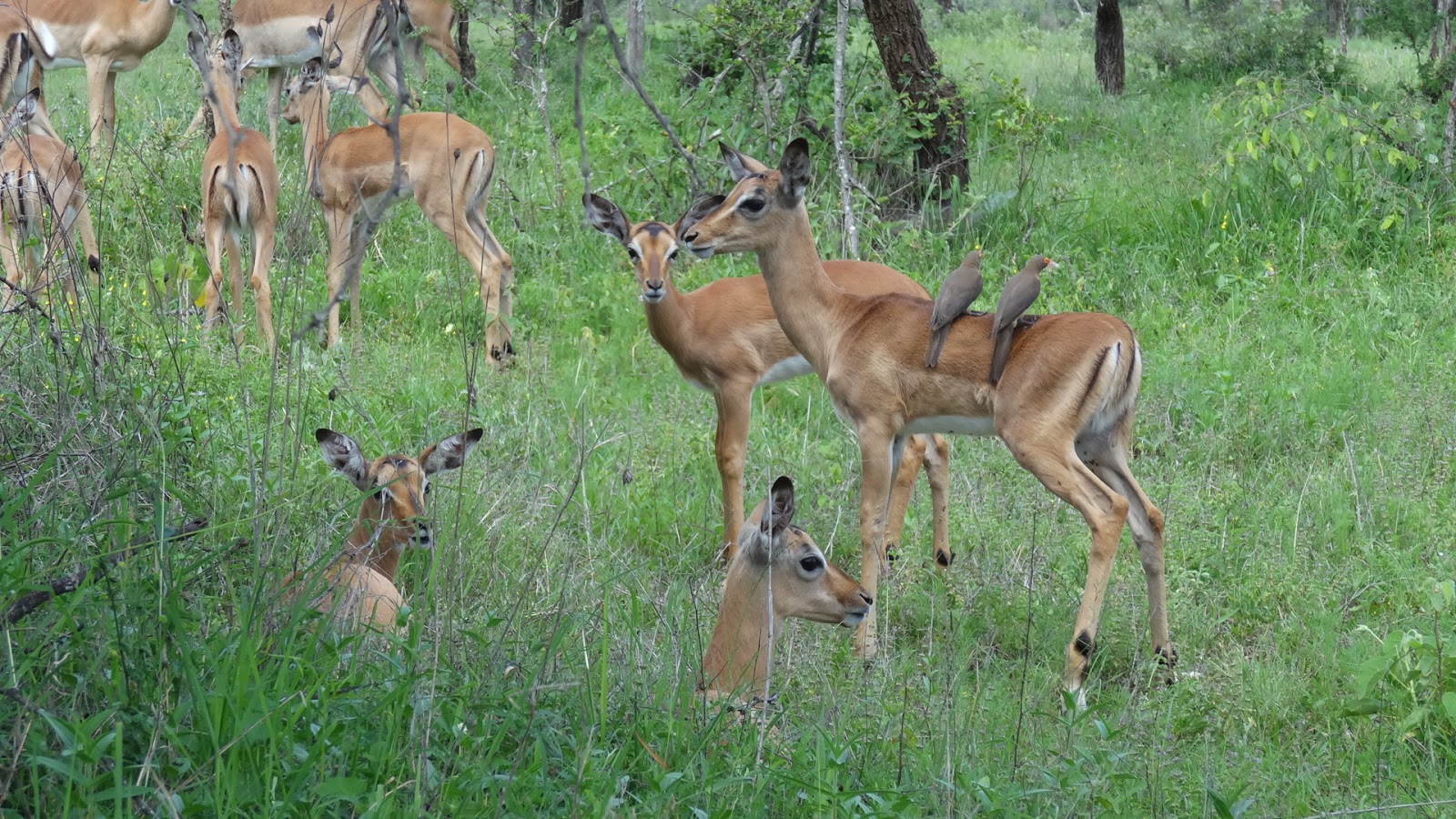 Note:  Based on a lack of sightings these past few weeks, many of today's photos were taken over the past few months.
For December, we expected exactly what we'd been given; power outages, heat; humidity; tourists; lots of bees, flies, mosquitos, and other insects, and fewer animals in the garden than at different times of the year.
Elephants were coming down the hill to the river.
But, when facing these types of challenges, our former expectations provide little relief or comfort.  When yesterday's temps reached 43C (107.4F), the power went out at 2100 hours (9:00 pm), leaving us in a bedroom with no screens and not even a fan for relief.

We both drifted in and out of sleep throughout the night, laying atop the top sheet and comforter. I can't recall the last time I slept without at least a sheet covering me.  
They made it down to the river to cool off.
I spent most of my waking hours playing solitaire on my phone with the screen dimmed while continually aware that the battery was rapidly losing its charge. By the time I rolled out of bed this morning, sweaty and exhausted, there was a paltry 10% left. Thank goodness it made it through the night.
We try to avoid taking photos through the fence between Marloth and Kruger Parks, but it's often unavoidable.
Showering in the dark bathroom this morning even left me hotter and more sweaty. My phone wouldn't work to call Louise for a power update. Oh, good grief. So, we decided to drive to her house to see what she'd heard about the outages.

Before we headed out the door, John, the WiFi guy, appeared prompted by a thoughtful call from Louise, and a short time later, we had both electricity and Wi-Fi.
Dad ostrich and one growing chick.
At this point, we realized we'd better get to Komatipoort to do our shopping, or the crowds would be outrageous later in the day or tomorrow. With the upcoming New Year's Eve party on the horizon, we needed to shop for ingredients for the dish we'll bring to share. It was a good thing we grocery shopped when we did.

As we drove back out of the small town when we were done, the roads were already backed up with holiday shoppers and locals preparing for the upcoming New Year's Eve celebrations.
The dry ground seems to offer little in the way of nourishment, but somehow they manage to find enough food to sustain their growth.
While shopping, we ran into Kathy and Don, who informed us they'd love to join us (and Rita and Gerhard) at Jabula Lodge and Restaurant on Saturday evening, adding three more friends to our already booked party of six. Now, we'll be a party of nine. I notified dear friend/owner Dawn to see if nine will work during this busy period. Most likely, she'll find a way to make it work.
Back at the house by noon, we unloaded the groceries, and finally, I had a chance to sit down to get to work on today's post. In the continuing heat, I wondered if I could muster up the energy to get it done before too late in the day. The hot weather has a way of slowing us down.
A darkly spotted giraffe was sitting in the bush, taking a break from standing on her long legs all day and night.
We lost some food overnight during the 12-hour power outage but not too much since it was time to shop again. We tossed it all away, and Vusi removed the garbage a short while ago. Rotting food certainly gets stinky in heat such as this.

This morning when we pulled into the driveway, we noticed Mom and Baby warthogs, four to be precise, sitting in the cement pond. What a delight it was to see them here. A lone female bushbuck was lying in the shade at the edge of the garden, trying to stay cool. We can only imagine how hard this heat is for our wildlife friends.
Hopefully, tonight more will visit when we sit on the veranda while watching and waiting.

Have a cool day!
Photo from one year ago today, December 27, 2017:
We found these colorfully painted buildings interesting and befitting the somewhat flamboyant nature of Palermo, Buenos Aires.  For more photos, please click here.