The beautiful Christmas dinner table at Sindee and Bruce's lovely home in the bush. Dawn was taking a photo of Sindee and the serving table, a short time later filled with great food.
Not having an idea of the type of dinner party at Sindee and Bruce's home in the bush, we kept our expectations in check. We'd anticipated a buffet with guests sitting around the braai in the garden on chairs and benches with their plates of food on their laps.
A starter of prawns, sauce, and greens along with Christmas crackers with treats.

There were eleven of us, five of their family members, and six friends, including us. We were pleasantly surprised and delighted to see the beautiful table setting, adorned with gorgeous Christmas decorations including candles, miniature lights, crackers, colorful napkins, sparkling wine, along an array of crystal wine glasses. It couldn't have been prettier.

There were many items on the menu that worked for me. I focused on meats and salads. I'd sliced avocados to go with the salad.
The six friends had brought various meats, salads, and side dishes. We'd brought the cooked, sliced prime rib and a large walnut, avocado lettuce salad. It was beautiful. The atmosphere and conversation were casual and engaging, and the hours flew by.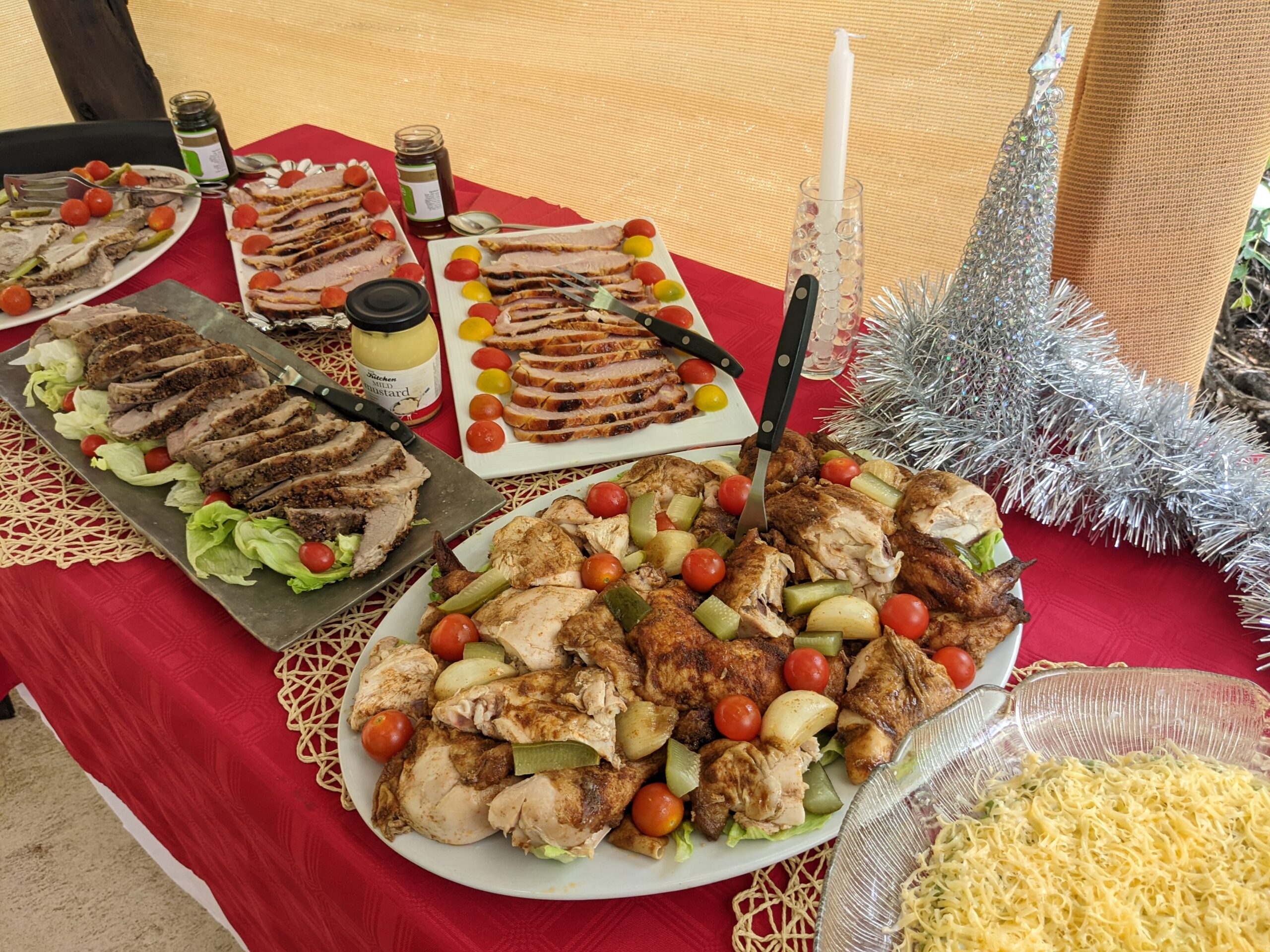 We rarely drink alcohol during the day, so I brought along my lowest alcohol-reduced wine with only 5% alcohol (when most wine is typically 13.5% to 14%). Tom brought a few cans of beer, and we sipped on our beverages throughout the day and early evening. We arrived at 11:30 and didn't head for home until after 6:00 pm, 1800 hrs.
Once back at our bush house, we put away all of our stuff, got into comfy clothes, and settled in for the evening. Later in the evening, Tom talked to his family members in the bedroom while I sat in the living room, talking to mine. It was beautiful to hear everyone's voices, including our grandchildren.
While I was on my phone in the living room, I couldn't help but notice hundreds of little bugs and ants all over the floor. At the moment, Tom is spraying the house while we are outdoors on the veranda, tossing pellets to Gordy (short for bushbuck Gordon Ramsey) and giant warthog One Tusk.
The animals aren't as hungry as a month ago, with the bush now filled with lush green vegetation. They still stop by staring at us for some pellets out of habit. But, once we toss some their way, they eat slowly, often walking away with some pellets still on the ground. However, that's not the case with warthogs. They'd eat until they burst if they had a chance. After all, they are pigs.
Today is a quiet day. Yesterday, as mentioned, I made an extra prime rib for us for tonight's dinner. All we have to do for dinner is make Tom's white rice and toss the salad with homemade salad dressing. I'm not big on reheating cooked beef, so we may eat it cold, which neither of us minds at all.
Over the years, I've tried various methods to warm cooked beef to maintain the level of doneness. But none of those methods seem to work to our liking, getting too well done in the process. We'd rather eat it cold than overdone.
After dinner, we each have our cakes. As it turned out, Tom thoroughly enjoyed his German Chocolate birthday cake, saying it wasn't dry after all. I don't know if he's saying this to make me happy. He'd do that rather than have me feel bad that the cake was dry.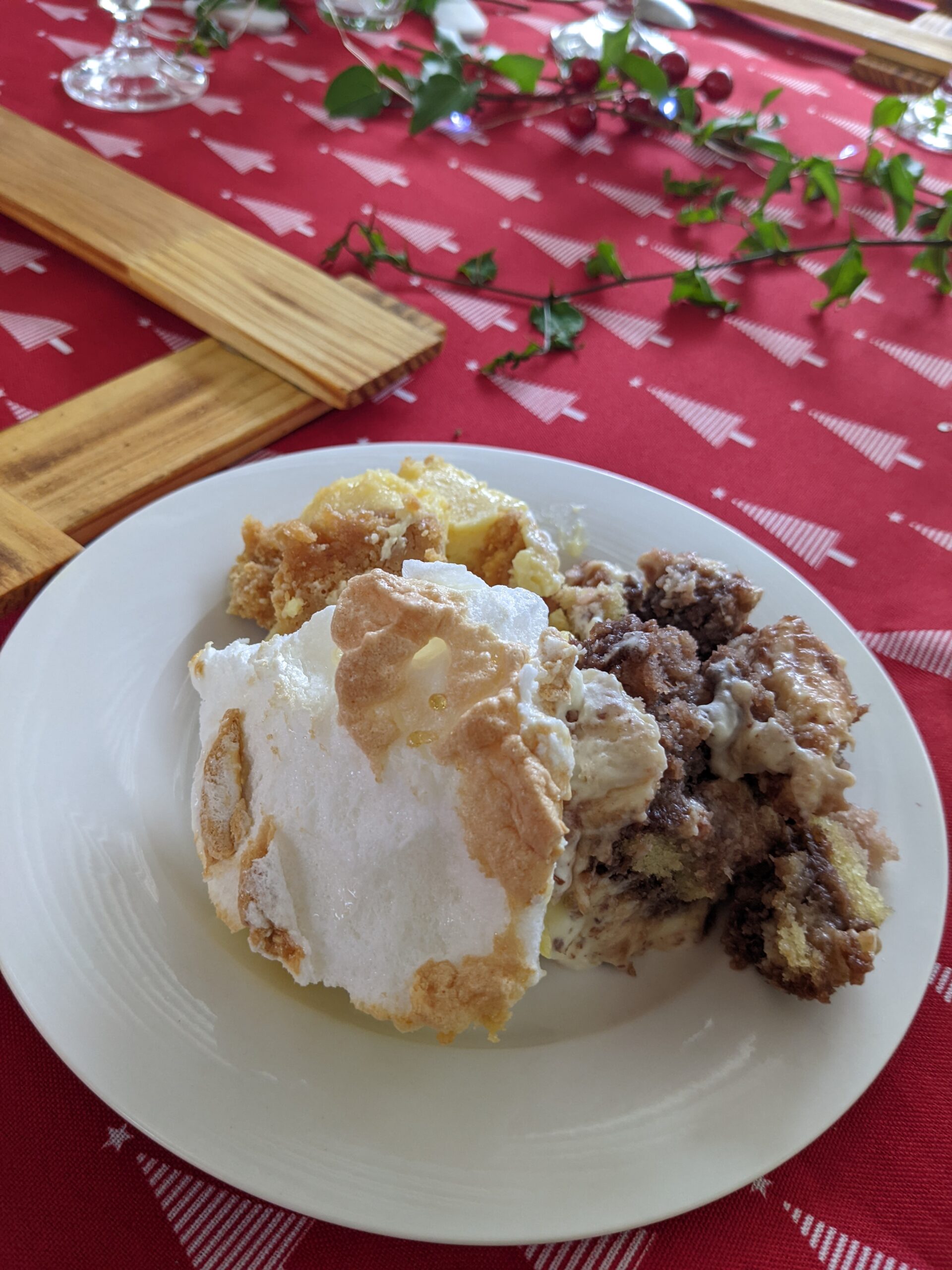 We hope all of our readers/friends, and family members had a fantastic Christmas as we look forward to the upcoming end of this challenging year.
Be well.
Photo from one year ago today, December 26, 2020:
This photo was posted one year ago while in lockdown in a hotel in Mumbai, India, on day #276. The countryside in Tasmania certainly reminded us of New Zealand, where we stayed for three months in 2016. For more photos, please click here.