Hans invited us up to his 3rd level veranda for "happy hour" and to watch the sunset.
As we enjoyed the view from up high, we all noticed this animal's butt sitting inside a window.
Definitely not a monkey with this type of tail, we anxiously waited for it to turn around.  y the
time it was totally dark, it hadn't moved, leaving us all without a clue as to what it was.
Hesborn, our trusty houseman, suggested that we stay off the grass, especially in bare feet after the rains.   Apparently, the rains draw out the creepy crawlies. There are certain small worms in regions of Africa, that enter the bottom of one's feet, eventually working their way to the brain. Yikes.
The sunset is beautiful everywhere. From the 3rd floor of Hans' house, we were
thrilled to take the progression of the sun's setting in the horizon
It's too warm to wear shoes.  Unfortunately, neither of us wears flip flops.  We couldn't seem to ever get used to the intrusion between our toes. Barefoot the entire time we were in Tuscany, except for walks and road trips, it's nearly impossible for me to tolerate wearing shoes.
Thus, we don't step off the stone floor of our mostly outdoor lifestyle without wearing enclosed shoes. Last night, with the mosquitoes on a frenzy at dusk, I bit the bullet wearing not only shoes inside but also a pair of socks. It's been hot and humid. My feet were steaming in the heat.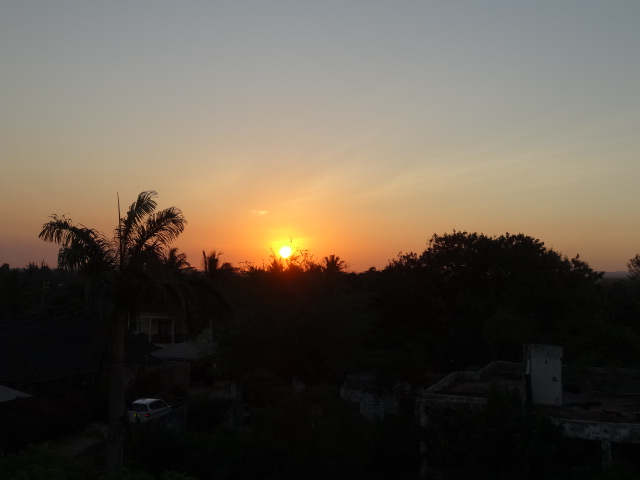 Hans made Tom one of his special local concoctions while I sipped on my usual ice tea
while chatting with Hans' lovely wife Jerie (not sure on spelling).
This morning while preparing to take a shower, two things occurred; One, a 6″ lizard ran up the wall of the bathroom to eventually run to the screened window and disappear and two, it rained in buckets. I laughed about the lizard, didn't scream, and grumbled about the rain. Rain equals more humidity and subsequently more mosquitoes.
My usual one cup of coffee made me feel too hot to drink it. No usual morning tea after my usual coffee for me today either. For Tom, sitting around with no shirt on, he's able to stay cool. There is no cotton bra or tee shirt that I own in which I can feel cool. Topless is not an option.
As the sun set, the lush greenery appeared brighter than during the day's sun.
Amazingly, after two weeks in Kenya, we've been able to sleep at night. The overhead fan, the top sheet with no blanket has been all that we've needed. The temperature during the day is usually in the 80s with humidity to match. At night it drops to a humid high 70s. Plain and simple, uncomfortable. I'm working on getting used to it.
In movies about travelers to various countries in Africa, I recall the women holding a handheld fan made of dried palm leaves. Where's mine? I don't see it anywhere. It would have come in handy yesterday and again today.
Look at these lush ferns, abundant in Kenya's humid weather.
With no clothes washer at our disposal and laundry done only once a week, the zillion dishtowels I formerly used when cooking are long forgotten. The three towels I do have at my disposal end up soaking in the sink overnight, taking two days to dry when I hang them on the window sill. The only paper towels available in the grocery store tear apart easily, are flimsy and relatively useless.
Having disposed of much of our clothing, hand washing is a necessity almost everyday. My lightweight underwear takes two to three days to dry left hanging on the rack in the bathroom. Tom's takes longer so he doesn't bother, instead waiting for the weekly wash. He's capable of wearing the same pair twice if necessary. Not I.
The haze, a result of both humidity and fires burning,
leaves an eerie view over
the horizon.
With the shortage of water and the high cost of power in Kenya, my days of daily laundered clothes are over. I tell myself to "get used to it." In time, I will. Tom's oblivious to all this. I've yet to see him hand washing anything, by no complaint from me. He's willing to "live without" more readily than I. 
Tonight we'll use bath towels as napkins with dinner. The dishtowels won't be dry by then. Small annoyances. Luckily, we're having leftovers tonight requiring less towel use.
From high up on the veranda, these coconuts caught my eye.  They are everywhere!
Am I whining? Perhaps, maybe a little. Am I unhappy or distraught? No, not at all. It's all a part of the adventure, of letting go of the easy, the familiar, and the convenient while embracing a different lifestyle. It won't always be like this. We won't always be living outdoors.
When the rain poured in buckets this morning as I dressed for the day, Tom wandered around our outdoor living quarters, wondering where we'd park ourselves, if the wind continued to pelt the rain inside at us. Our only option would be to go back to bed. Luckily, by the time I got outside, the rain had stopped, the sun was shining and a new day had begun.
Soon, it would be set and darkness would fall as the sounds of the nocturnal
wildlife rings through the air throughout the night.
Now, sitting here as the sun burns off a little of the humidity and a slightly cooler breeze wafts in from the ocean across the road, I can hear the sounds of the goats conducting their usual morning "baa fest."
The neighboring roosters are crowing with their determined call welcoming the new day while the morning doves are joyfully engaged in their gentle "hoot, hoot, hoot, hoot, hoot hoot" and dozens of birds of varying species are chirping almost in unison. It will be a good day, after all, especially since "I'm working on it."
Finally, the sun went down and we wandered back to our house next door. 
It was after 7:00 pm and time to make our dinner as we reveled in the
good time we'd had next door at happy hour.