It's a perfect day. The sun is shining. The temperature is currently at 73F, 23C. There's a slight breeze, and the air quality is "excellent," per the AccuWeather app on my phone. With many tourists in the park this weekend, we will stay put and enjoy the day and evening on the veranda watching nature at its finest.
There aren't as many animals visiting with all the attention and food they're getting from the tourists, but our loyal visitors waste no time stopping by to see us. So far, this morning, we've had the shy duiker couple, warthogs Mom and Babies, Lollie (a permanent fixture), and a few bushbucks. Kudus love to show off for the tourists, so I doubt we'll see any today.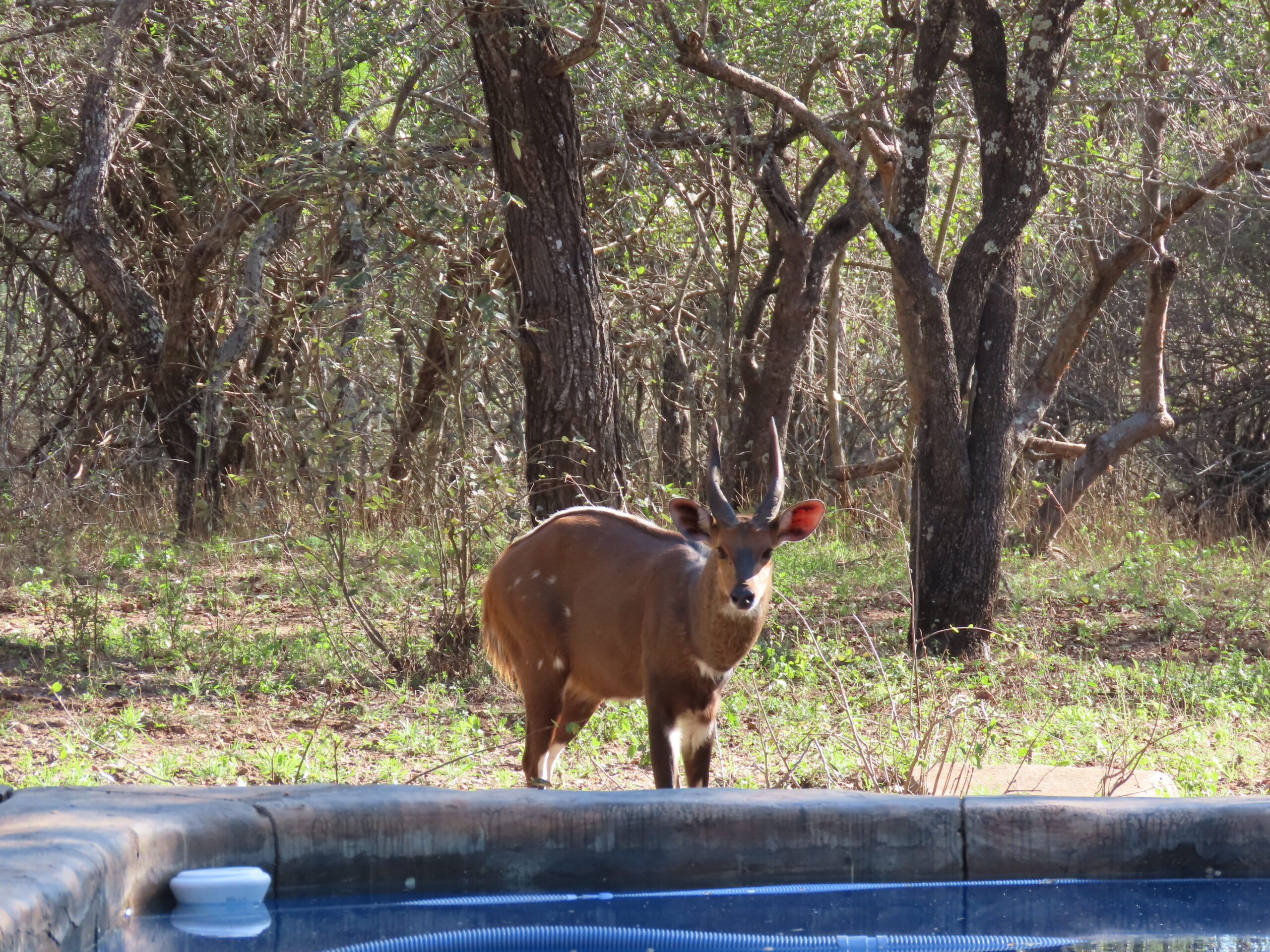 This morning I baked a new batch of low-carb blueberry scones, which are cooling now, and I'll place in twos in re-used Ziplock bags to keep in the freezer, taking out two each day to have with my coffee, topped with a bit of butter. We individually wrap portion sizes of my scones and Tom's blueberry muffin.
We save the sandwich-size Ziplock bags by storing them on a shelf on the refrigerator door to prevent any remaining crumbs from getting moldy. Then, we re-use them for the next baked batch, saving on plastic waste. We may reuse them three or four times. We keep Tom's muffins on one shelf in the freezer and mine on another, making it easy to find to take out for the next day.
Earlier in the week, I made Tom a coconut banana bread for those times after dinner when he's craving something sweet. Here again, we store individual portions in the freezer. If I don't bake something for him, he'll often buy whatever they have at the market, which is made with chemicals and preservatives. If he's going to eat sweet treats, at least homemade with fresh ingredients is ultimately better for him.
Of course, my little blueberry scones are made to be very low carb, and I only allow myself two per day since they are calorie-dense and made with almond flour. When Spar Market was out of almond flour, I purchased macadamia nut flour which is even lower carb than almond flour.
Today, I made low-carb scones using a half-and-half mixture of almond and macadamia nut flours. I am confident the taste will be just as good, if not better. Since I've received several requests for the recipe, here it is for our low-carb/keto readers.
Raspberry/Blueberry Drop Scones
Makes 24 cookies/scones 
8 large eggs, beaten until frothy
4 cups almond flour
46 drops liquid sucralose or 1 1/3 cup sugar substitute or other equivalent sugar
2 T aluminum-free baking powder
2 T vanilla extract
2 cups fresh raspberries, blueberries (unsweetened), or any berry and nuts
 Directions
Preheat the oven to 375°F and line a sheet pan with parchment (a must) paper. In a large bowl, combine all of the ingredients, except for the raspberries or blueberries (or both), and mix well to create a batter that will be lumpy. Gently fold the raspberries/blueberries into the batter and use a tablespoon to drop evenly spaced scones on the lined pan (about 2 heaping tablespoons for each scone). 
Bake for about 18 minutes until scones begin to brown lightly.  Let cool for 10 minutes before removing from the parchment paper, or they will fall apart and serve warm or room temp.  These freeze very well and defrost in about 10 minutes or use the microwave for 30 seconds to defrost 2 or 3.
Nutrition Facts
125 calories
9.5 g fat
5.5 g protein
2.5 g fiber 
1 g net carbs
 This recipe takes very little time to prepare. I had them made and in the oven within about 15 minutes. Those who don't eat low-carb will also enjoy these delicious treats. They aren't hard like a typical scone but soft like an oatmeal cookie.
After making the above, I've kept at my usual walking pace to ensure I am fast approaching my daily goal of 8,000 to 10,000 steps. It's much easier to accomplish while living in this property as opposed to the last, which was much smaller. We're undoubtedly enjoying the extra space, especially outdoors.
We're missing the animals today, but I feel confident they'll be back in the next few days. Even the birds aren't as active in the garden today as they were a few days ago. But, we're content nonetheless.
For all the dads, grandpas, step-dads and step-grandpas out there in the world, we wish you the very best on this special day. We hope your loved ones will make this day all about YOU!
Photo from one year ago today, June 19, 2021: