What a glorious morning. Light rain sprinkled the dusty bush making everything look bright and green. Although the busy holiday season has begun in Marloth Park, there were fewer holidaymakers this weekend than there will be in the coming weeks. As a result, Monday morning brought us many visitors.
Of course, we were thrilled to see Lollie and her three piglets return and also Hoppy's mom and two piglets (sadly, Hoppy passed away before we left due to her broken leg). Also, our four regular zebras stopped along with bushbuck Gordon Ramsey and duiker mates Delilah and Derek.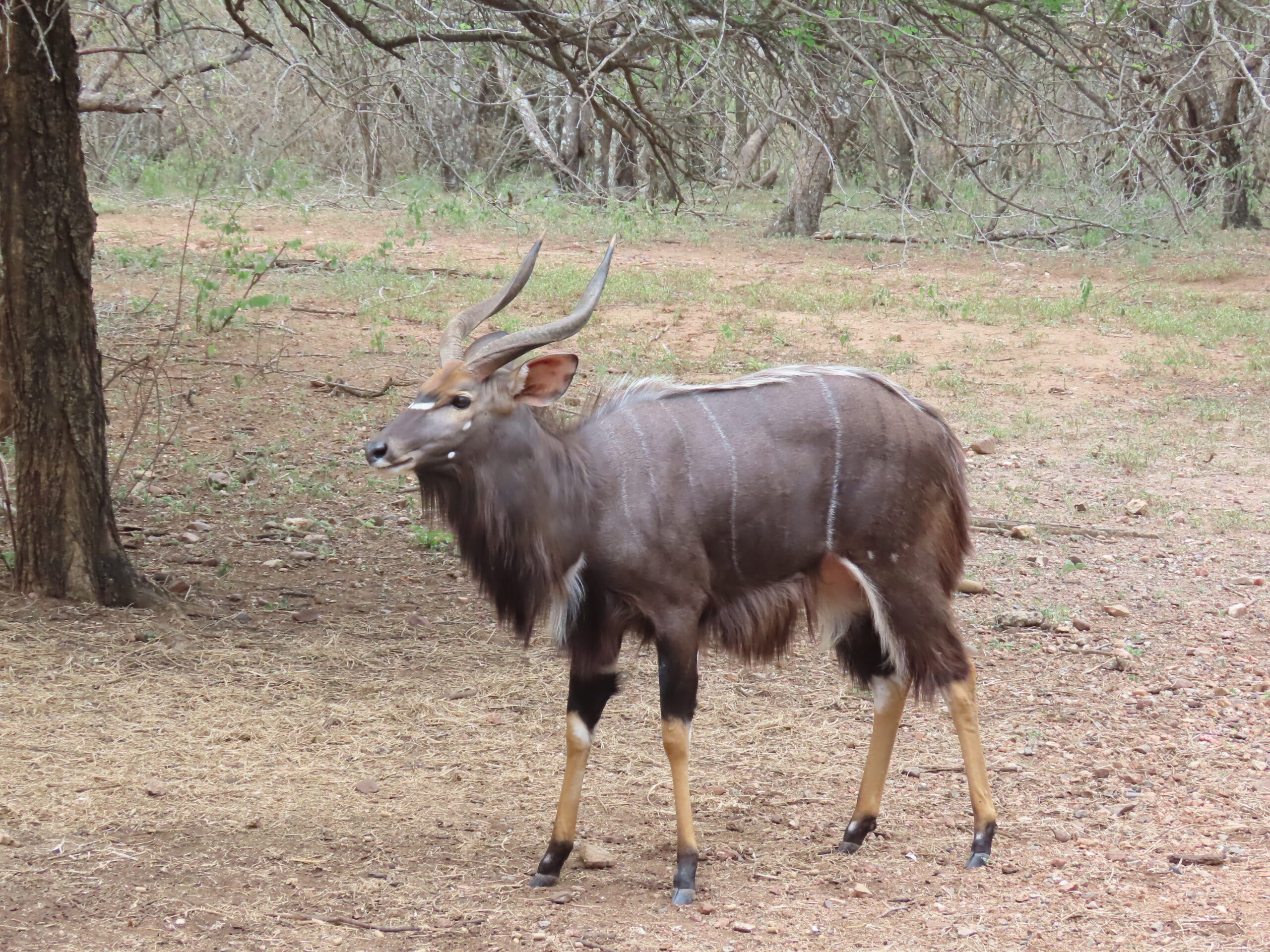 But, above all, we were beside ourselves with joy over seeing Norman, Nina, and their new baby, born a little over two weeks ago (while we were away), gender yet to be determined. Noah has wandered off since the little one was born. We can only imagine how frustrated he must be, unable to find a female nyala anywhere in the park. From what we hear, Deidre from Wild and Free is caring for a female who will be released in Marloth Park as a mate for Noah.
Norman got pretty upset with his son Noah sniffing over his mom, Nina. Finally, after the baby was born, he got the hint and moved on. We haven't seen him since we returned two days ago.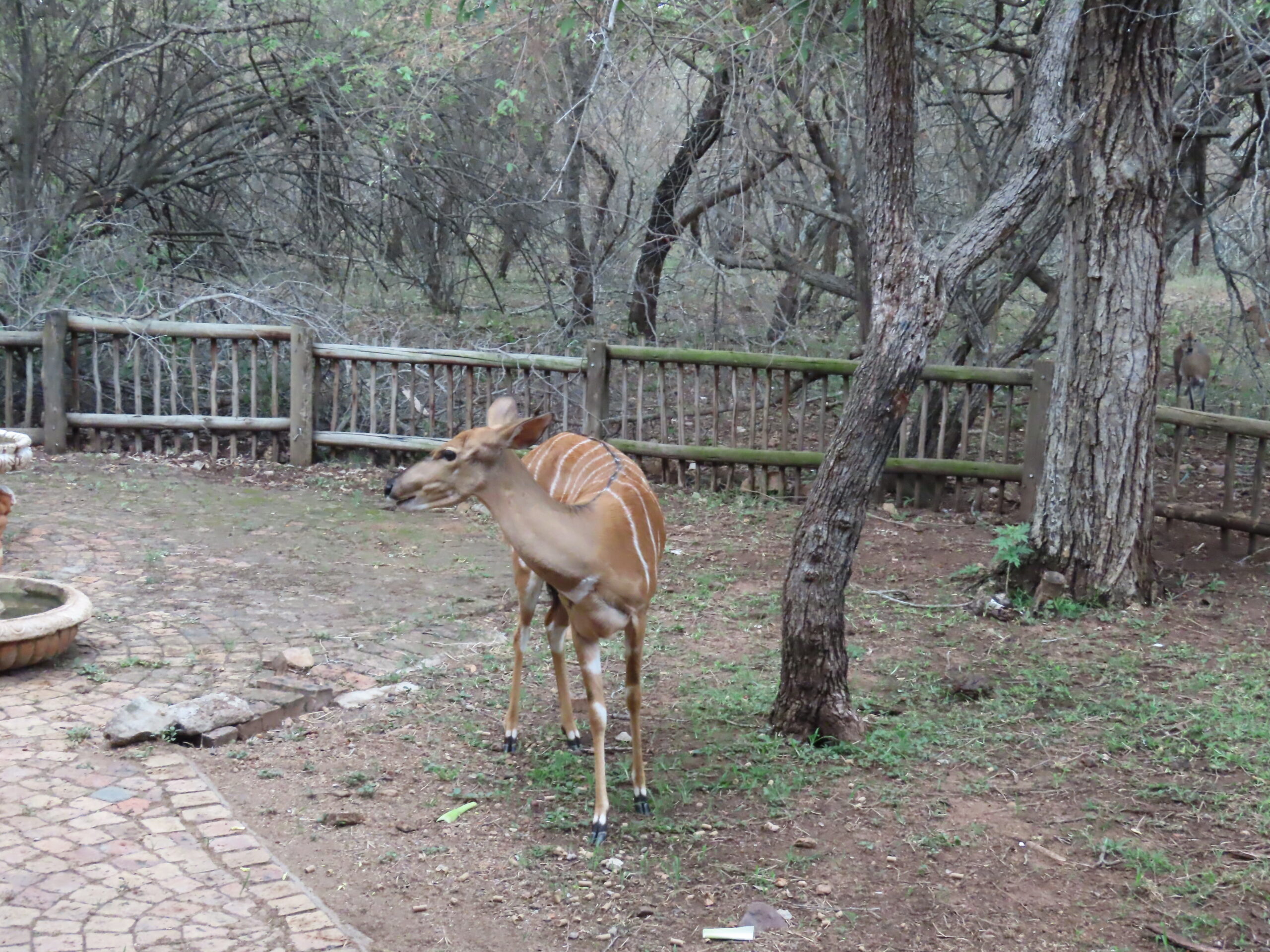 How exciting it will be when the female is released, and Noah eventually finds her. We can only hope he will return here with her to our garden once they become a pair. Of course, we'll report that here. But, for now, Noah has moved on to another area in the park to leave his parents to raise his new little sibling.
So far this morning, Nina, Norman, and their new offspring, as shown in today's photos, have visited us four times, and it's only 9:15 am as I write this.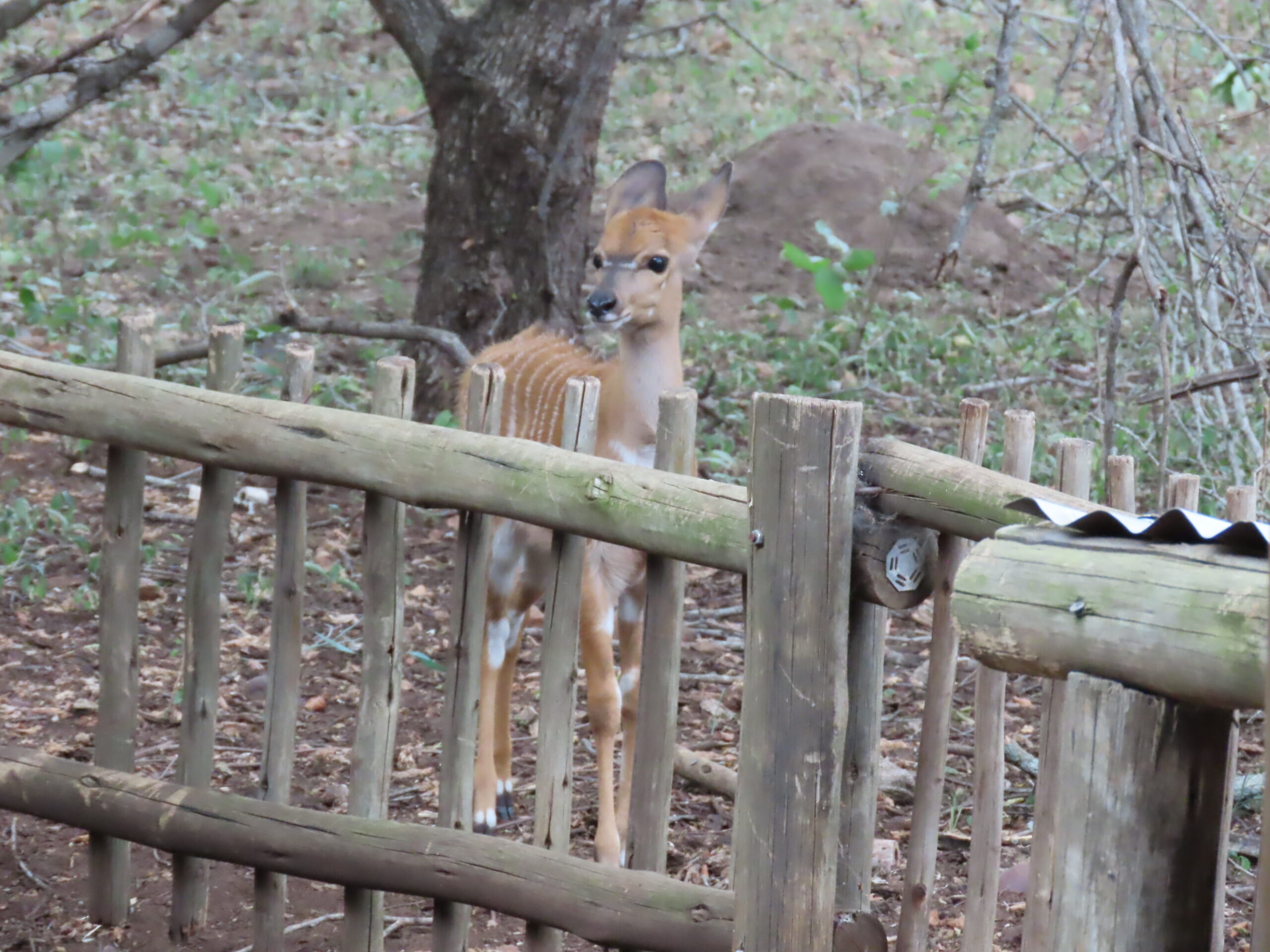 Last night at Jabula, in the awful heat and humidity with a dew point around 75, only a few of us were sitting at the bar. We were all dripping with sweat with load shedding and no aircon running. It was wonderful to see Leon and Dawn again, but Leon only hung around for a short time when he became tired and had to rest. His illness is catching up with him, and we're all cherishing every moment we can spend with him.
Our friends Maroi and Peter were also there, and we all shared stories of the time we'd been away, including our awful experience with Ethiopian Air. No, we haven't heard a word about our bags. In a few days, we'll check again. Once we returned, it became more apparent how much we missed the items in those bags. Ugh!
We'd planned to grocery shop in Komatipoort this morning, but with five-hour load shedding on the horizon, we decided to shop at the little stores here in Marloth for the next few days rather than risk food spoiling. We now eat cabbage slaw (coleslaw) instead of lettuce salad since lettuce doesn't keep well, but cabbage does.
We'll cook a flattie chicken on the braai with the coleslaw and whatever vegetable I can find at the little market. I'll make white rice for Tom to go along with it. We took out the big pan of apple crisp I'd made before we left, and Tom will have some tonight after dinner with a dollop of vanilla ice cream. Of course, I don't eat any of it, nor do I eat anything after dinner. Tom lost a few pounds while we were away to enjoy this delicious treat.
We're off to the little market and the Wild Butchery in the Bush Centre down the road and will be back with more tomorrow.
By the way, thank you for all the thoughtful inquiries about my headache, and facial pain and how traveling on those long flights impacted me. It wasn't a problem and certainly was no worse while traveling. At the moment, I am pain-free. Maybe it's getting better after all. Perhaps it's a matter of time, as I continue to do the nasal rinses several times a day. Fingers crossed.
Be well.
Photo from one year ago today, December 12, 2021: