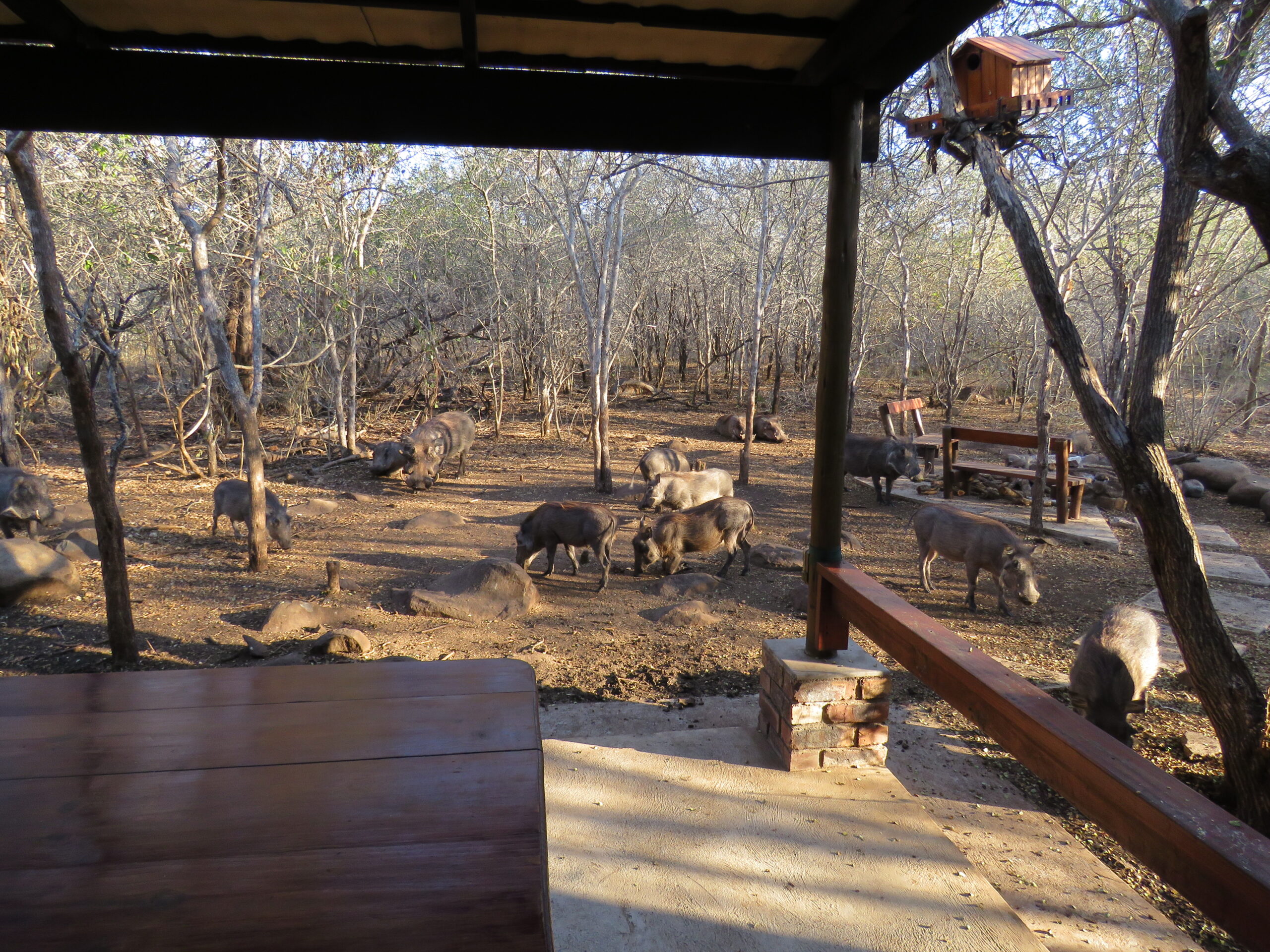 Who's in the garden this morning?
8 warthogs – inc. Little, Lonely Girl, Lonely Boy, Fred, and Ethel, and Peter, Paul, and Mary,
9 bushbucks – inc. Chewy, Thick Neck/Bad Leg, Spikey, and others
6 kudus – inc. Bossy, Notches, and others
1 wildebeest – inc. Broken Horn
2 Frank and The Misses
In the past year, with the assistance of our web people, we added advertising links to our site. We fully understand and appreciate the annoyance of these ads popping up when you're opening our pages or reviewing any of our archives. We are sorry for the inconvenience of dealing with these ads and hope this won't deter you from enjoying our posts.
Over the years, we've mentioned we weren't using this site to make money, and we did not, other than a few dollars each year from our ads listed on the right side of the page. But, during this past year, when our site was redone, we had to change to a costly hosting company to handle our 3200 posts and employ our current web developers to handle day-to-day issues as they occur.
There are annual fees for all of these services and features, and we hoped to offset some of the costs by implementing an advertiser program. Slowly, our revenue is increasing but not enough yet to cover the expenses. It may take a year or more to reach such a status.
In the interim, we appreciate your understanding and patience in either using some of these links for your purchases or not, per your preference to move them out of your way. For example, on the side of our page, the Amazon link doesn't cost you a penny more to use but, when doing so for your purchases, it helps us reach our goal of covering our website expenses. We so appreciate this use and others; when the new ads pop up, should they serve any of your needs.
The commission we receive is pennies per transaction, but over time, they can accumulate. Advertising also applies to our YouTube page, found by typing my name in google: Jessica Lyman YouTube to see our hundreds of videos, now with ads. We both thank you for continuing to read our daily posts and for watching our videos.
On another note, the past week, our photo ops in the garden have been fewer, not due to fewer animals but only due to my failing to take many photos. When photos appear to be blatant repeats, I tend to avoid taking them. As of the next few days, when the rain stops, our goal will be to find more exciting photos to share here.
Also, we will strive to take plenty of photos while in the US, in Minnesota, Wisconsin, and Nevada. However, to respect our family member's privacy, we won't burden them with posing for photos too often. Also, some prefer not to have their photos posted online, which we always respect and honor.
Today, with the rain, we'll stay put until it's time to head to Jabula Lodge and Restaurant for our usual, always delightful weekend dinner with dear friends Rita and Gerhard. We do not doubt that owner/friend Dawn and her excellent assistant Lyn will seat us at a table out of the rain, should it continue.
We continue to count down the days until we depart Marloth Park, now with only 10 to go. We can't believe how quickly it's coming up. Bit by bit, I'm packing in preparation for the departure date of June 29th.
Be well.
Photo from one year ago today, June 19, 2020:
In the 300-year-old stone house we rented in 2013, the authentic Tuscan kitchen in Boveglio, Tuscany, Italy. Unfortunately, there was no dishwasher, microwave, small appliances, or electric coffee pot in the otherwise well-stocked kitchen with items used to make pasta, bread, and sauces. For more photos, please click here.