This warthog proved to be "Little," whom we loved while at the Orange house in 2018/2019 when he came right up onto the veranda and headed for the door. His feet were muddy, so we shooed him away after providing him with a batch of pellets. It's a bright sunny morning, perhaps with the big storms behind us for a while. We only had a few wildlife visitors over the weekend. Humans often offer tasty foods the wildlife shouldn't eat but love the weekend, such as chips, bread, and human leftovers. They are not designed to digest these kinds of food, but like us humans, they like the taste. As soon as Tom deactivated the alarm system and opened the sliding door of the veranda, we had the following in the garden within minutes:
Warthog
Kudu
Frank (francolin)
Impala
Bushbuck
Helmeted guinea-fowl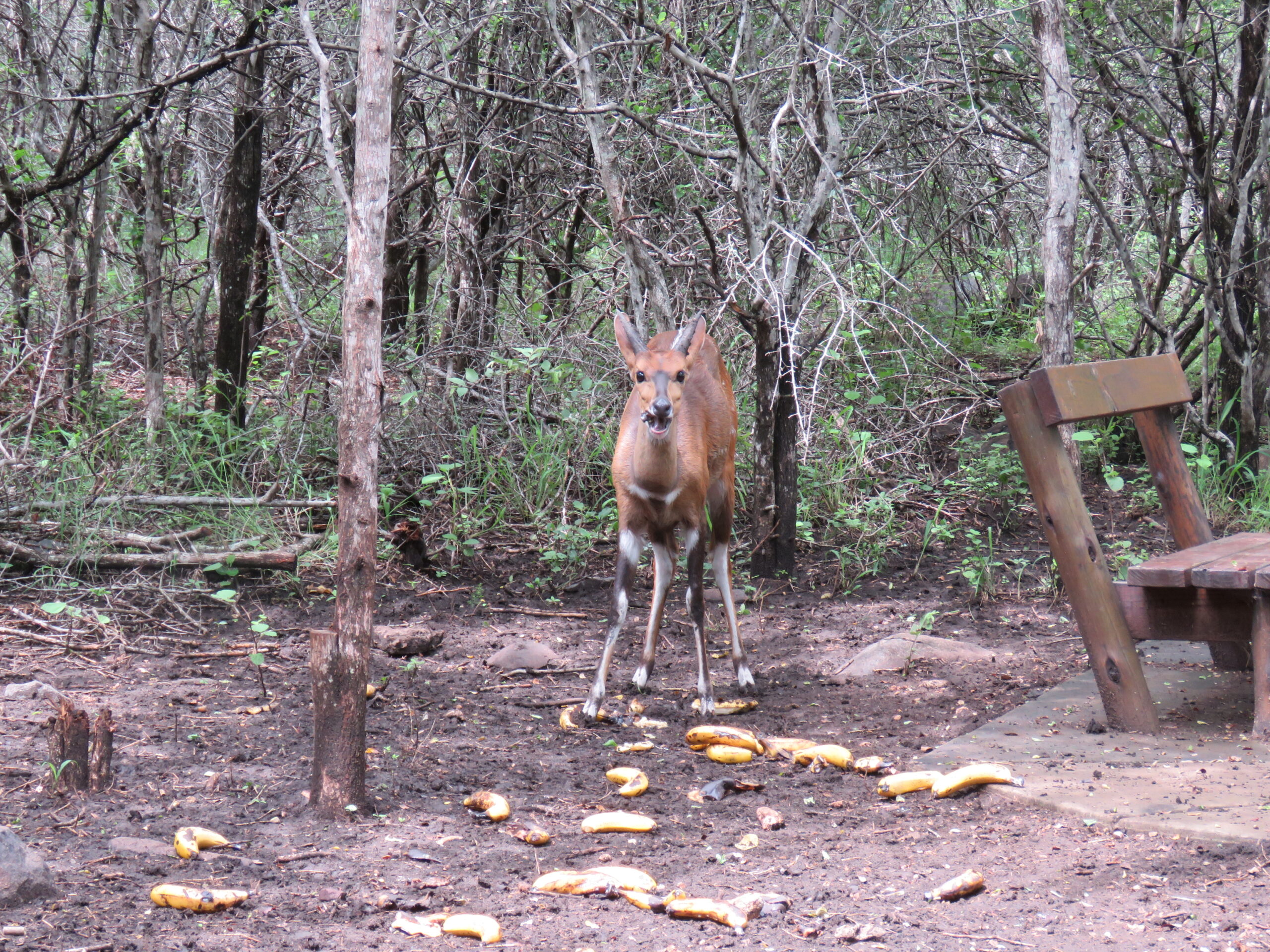 At the moment, as I write this, there are four kudus within arm's length snacking on pellets I accidentally dropped on the veranda. When the game pellet truck didn't come to Marloth Park this past Friday, we'll buy more when we head to Komatipoort in a few minutes for our two dental appointments at 10:00 am.
With liquor stores finally open Monday-Thursday only, we'll also stop and stock up in the event of another alcohol ban on the horizon. With cases of Covid-19 continuing to escalate, this is entirely possible.
Whoops! It's time to get ready to go to town. We'll finish this post when we return in a few hours.
It's now 1400 hours, 2:00 pm, and we've finally returned from the dental appointment, a trip to the liquor store, a stop at Obaro for pellets, and a quick run-through at the Spar Market for some fish for me. For some odd reason, I have been craving fish. Tom, not so much. The only fish available within a 75-minute drive is frozen, which I don't mind a bit.
As for the trip to the dentist, we weren't able to have our teeth cleaned. The South Africa Dental Association doesn't allow dentists to do cleanings due to Covid-19 and possible aerosols emitted during the process. Instead, I had Dr. Luzanne check my tooth, where I'd suffered from an abscess while in the hotel in Mumbai during the first few months in isolation.
It had never felt quite right, and lo and behold, after she did full-mouth x-rays, I still have a raging infection in that same tooth, which requires immediate treatment with high dose antibiotics for the next five days. In two weeks, I'll return for another round of x-rays to determine if the infection is gone. If not, she'll be referring me to a dental surgeon in Malalane, about a 40-minute drive from Marloth Park.
This dentist has some very sophisticated equipment and expertise, and he'll clean out the issue using a laser treatment. It will require a new crown at that point. So today, I started the two antibiotics once again and pray this gets resolved without further treatment.
For ten months in lockdown in India, we didn't have any drinks, so these eight teetotalling nights will be a breeze. Unfortunately, I won't enjoy any sundowners over the next eight days while the antibiotics hopefully do their job. Ice tea or hot tea will serve me well when guests call this week and early next week.
Also, while in lockdown in India, Tom had an implanted tooth fall out. Dr. Luzanne was able to refit and re-insert the tooth, which we'd saved all these months. It may not hold forever, but for now, it's back in place. Hopefully, the restrictions for teeth cleanings will be lifted in a few weeks.
However, Dr. Luzanne is concerned that I will need to take a hefty dose of antibiotics in advance of any invasive processes as we advance due to having cardiovascular disease. This is a common practice among heart disease patients. If I have to see the dentist in Malelane, she will provide me with the antibiotics to take in advance of the treatment by the dental surgeon.
Oh, I don't like mentioning medical stuff. But, we always promise to be upfront about the realities facing us as we age and how we handle such issues during our lives of world travel. If somehow, in sharing this personal stuff, we help one person in the blogosphere, we'll be happy we shared.
At the moment, Tom is watching the Super Bowl game on his laptop while we're back out on the veranda. At 4:00 pm today, one of our readers is calling on Facebook Messenger to discuss the possibility of him and his spouse coming to Marloth Park, hoping we can answer some of their questions. Of course, we're delighted to do so, as we've done with other readers in the past.
Have a pleasant day!
Photo from one year ago today, February 8, 2020: