Yes, it's a late start to today's post. At 9:00, Tom dropped me off outside Louise and Danie's Info Centre, and friend Kathy picked me up. We headed to her favorite morning spot, Stoep Cafe, located on the main street in Komatipoort. Years ago, Tom and I went there every so often for breakfast. But, as of late, neither of us has been hungry for breakfast, and we haven't stopped there at all since we arrived in January.
Once Kathy and I arrived at Stoep Cafe, Kathy's regular table was waiting for her. She's a frequent customer, and I was thrilled to share this particular time with her. This was the first time it had been just the two of us since she arrived in early July, and we couldn't have been more chatty in catching up after not seeing each other much in the past two years, mainly due to Covid-19.
The time flew by, and before we knew it, we were back at Louise's parking lot where Tom was waiting for me after I'd sent him a message on WhatsApp. Kathy and I said our goodbyes, knowing we'd see each other again soon, while Tom and I entered the Info Centre to chat with Louis and Danie. As always, it was delightful to see the two of them, as well.
After sharing interesting tidbits about our mutual days and nights since seeing them for dinner a week ago, Tom and I headed back to our bush house to find several animals waiting for us in the garden, including an old friend from before we left for the US at the end of June, two wildebeests, Hal and his constant partner, Old Man, who must be the oldest wildebeest in Marloth Park.
As shown in today's photos, taken only a short time ago, Old Man was a mess this time. His face and stubby horns, obviously diminished in size due to years of use, were covered in mud. We couldn't help but laugh but, then again, we were saddened to see how he improvises in digging up roots for consumption, using the stubby horns he's acquired over the years.
Tom tossed them several containers of pellets and paid attention to the several bushbucks in the garden along with one adorable female duiker, as shown in the photos.  Duikers are very shy, and the slightest noise or motion will send them off in seconds into the bush, never to be seen again.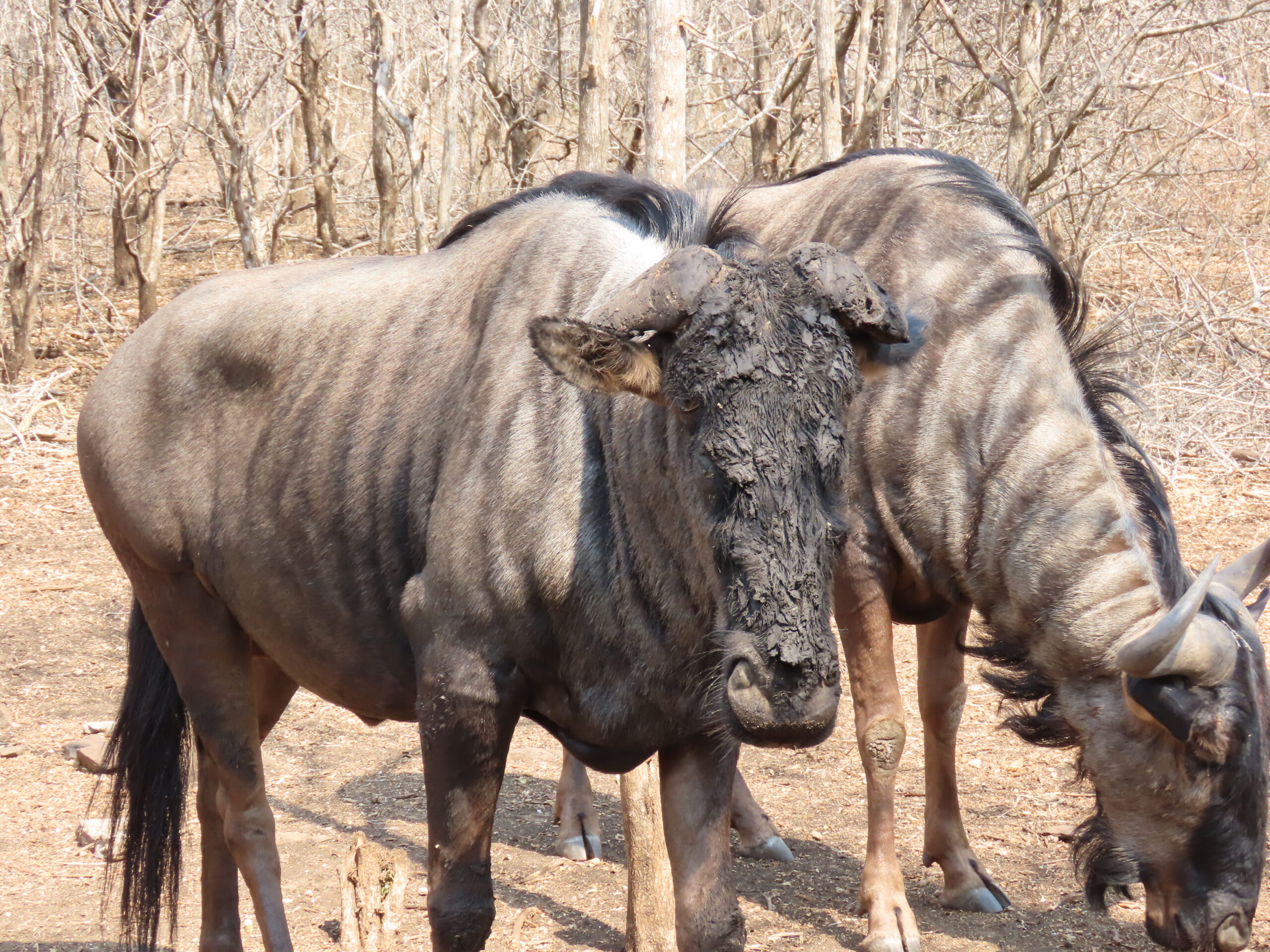 Gingerly, Tom sent some pellets her way, and for the first time in a long time, I was able to take a photo of a duiker, especially a female with her adorable little tuft of hair on the center of her head, as shown in our photo and described here from this site:
"The common duiker has many common names, including common, grey, and Grimm's duiker. The name 'duiker' is derived from the Afrikaans word 'duik' meaning 'to dive' due to its characteristic porpoising flight pattern. Common duiker is identifiable by their slate grey color, which in some areas varies to include shades of red and yellow. They have a tuft of dark hair between the horns, or just on the head in the case of the females as horns are absent, and a dark stripe down the center of the face. The preorbital glands in front of the eyes are conspicuous and exude a tarry secretion probably used in scent marking. Unlike steenbok, they tend to live in areas with lots of bushy covers, who prefer open areas. It is into this cover that they dart and dive when disturbed. They have excellent hearing, which alerts them to disturbances."
With only 56 days until we depart Marloth Park, South Africa. It was fun to be taking new photos of less common sightings when we consider how tired many of our readers may become of the endless flow of frequent sightings. We are especially mindful of every photo and story we post in the future.
Before we know it, our photos will be from Arizona, USA, where we'll always be on the search for new and exciting photos. It won't always be easy without wildlife surrounding us, but, as always, we'll do our best.
Tonight, we'll stay in and enjoy a quiet day and evening with our animal friends. As mentioned in yesterday's post, we'll listen to more music on our new speaker quietly enough to avoid disturbing the wildlife and any distant neighbors. Since yesterday, we learned more about the Bluetooth speaker. We paired it with both our phones and laptops. Now, anything we watch or listen to can be broadcast, loud and clear, a big boon for Tom's hearing issues and also, when some streaming shows have a low volume, that previously required that we use a splitter to wear earbuds. Nice.
Have a pleasant day!
Photo from one year ago today,  August 26, 2020: