Our expenses were done a little differently this time. When we first arrived, we understood that we'd need about 20000 kwacha (Zambia currency) to pay for transportation and tours. When one ATM was out of cash and another only dispensed 18000 kwacha, we decided we could figure out the rest later.
When we arrived in Botswana, the rep there required either pula (Botswana currency) or the use of a credit card. We used a credit card to pay for the tours we'd booked in Botswana. Well, it got confusing, so that I won't go into it. But, we managed to use most of our kwacha before we left Zambia and have a remaining 2900 kwacha (ZAR, US $178), which we'll exchange for rand at the bank when we go to Komatipoort tomorrow. There's no point in carrying 2900 kwacha with us around the world.
After some confusing figuring, we came up with the following for our expenses for these seven nights away. They are as close to accurate as possible.
                                     USD                                    Kwacha
Hotel Botswana          $1736.92                              28292.37
Hotel Zambia              $236.18                                  3833.49
Meals/Tours Zambia    $1109                                   14800.00
Tours in Botswana       $280                                      4544.75
Airfare                         $1302.78                              21145.74
Includes all tips
Total                           $4664.88                               72616.35
Total daily expense  $   666.41                               10373.76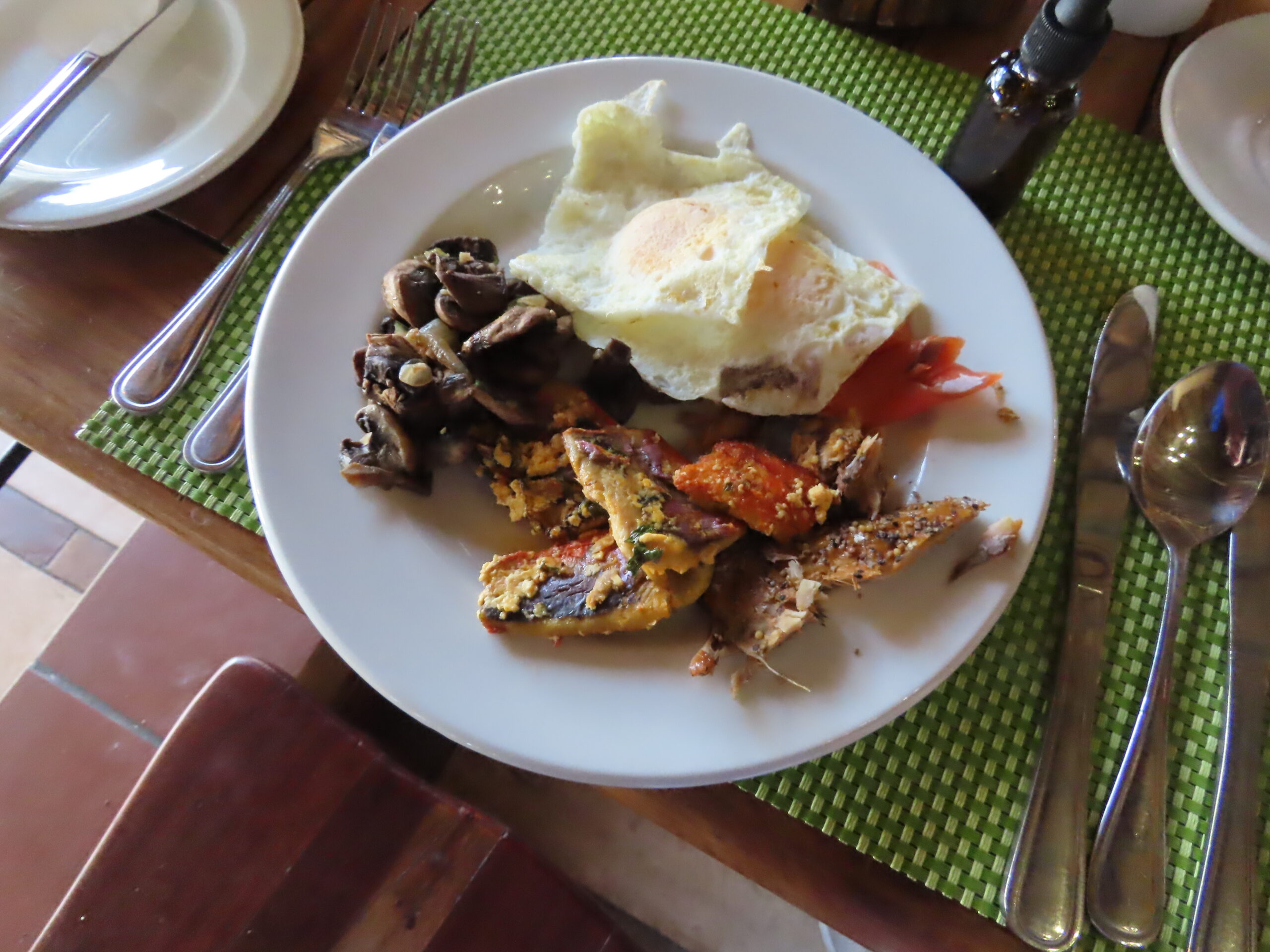 Our primary reason for this trip was to acquire a new 90-day visa. As it turned out, we encountered some difficulties at immigration which we'll share in tomorrow's post.
If we had filed for an extension, using the law firm in Johannesburg, which we can only do once per year in South Africa, we would have paid approximately US $2500, kwacha 40578.50. Thus, we ask ourselves, was this trip worth the difference? We thoroughly enjoyed this trip and felt the experiences were worth it.
Now, as we returned to South Africa to our bush house in Marloth Park with a new 90-day visa in hand (providing nothing went wrong at immigration), we won't have to leave again until our upcoming cruise in Seychelles in November. This means we can relax during the next three months with only the flights and transportation to book and a two-night stay in a hotel in Mahe, Seychelles.
Mixed salad with artichoke hearts and green beans.If we were feeling up to it, we decided we would go to dinner tonight at Jabula, which we did shortly after we arrived back in Marloth Park around 5:30 pm, 1730 hrs. Even though the flight was only a few hours long, the trip began at 11:30 am when Chris picked us up to take us to the Livingstone Airport and ended when we arrived at our bush house, as mentioned above. It still is a long day.
I'm still not feeling 100% with this headache and face pain, and I have an appointment with Doc Theo on Monday at 10:00 am. We will grocery shop after the appointment. Monday night, we are headed to Marylin and Gary's holiday home for a braai and final get-together (seven of us) before they leave a few days later. It's been wonderful spending time with readers/friends who have now become great friends we've met due to our site. We feel so fortunate.
Today, we're sharing food photos from our one-week trip, but we still have many photos to share from game drives and boat tours. It will be fun to share those with all of you here and to see our animal friends (and taking photos) again in Marloth Park in our garden. It will be wonderful to see Norman and his family again. I can't wait to see him, Lollie, and the others.
Note: This morning, Norman, Noah, Nina, Gordy, Tulip, and Lilac were waiting for us in the garden. No sign of Lollie yet. More tomorrow. Norman and Nina are here for the second time in two hours.
Be well.
Photo from one year ago today, August 28, 2021: