We're so excited to have booked another "visa run," but this time, on November 26, 2022, we're flying to Seychelles.
Seychelles is an archipelago of 115 islands in the Indian Ocean, off East Africa. It's home to numerous beaches, coral reefs, nature reserves, and rare animals such as giant Aldabra tortoises. Mahé, a hub for visiting the other islands, is home to Victoria's capital. It also has the mountain rainforests of Morne Seychellois National Park and beaches, including Beau Vallon and Anse Takamaka."
The ship, the Pegasos, can accommodate 44 passengers. Basically, it's a luxury yacht suited to this number of passengers. In light of Covid-19, they likely won't be booked to capacity, as has been the case for many cruise ships, big and small, worldwide since the onset of the pandemic.
Passengers are tested twice daily during the seven-night cruise, which gives us peace of mind considering our last cruise experience of contracting Omicron and becoming very sick, especially Tom, who ended up with Covid-19 pneumonia. This smaller ship particularly appeals to us. Below is a photo of the ship:
Note: It appears they spelled both "Pegasus" and "Pegasos" based on English and Greek.
"M/Y Pegasos offers five- and eight-day cruises around beautiful Seychelles, with each option departing from Mahe. Both cruises visit the former leper of the colony of Curieuse, now uninhabited by humans and home to many giant tortoises, Cousin Island, known for its bird life, Aride, and St. Pierre Island. Swimming, snorkeling, guided walks, and an al fresco BBQ are all activities you can look forward to. The shorter cruise ends in Praslin, while the more extended voyage returns to Mahe via Felicite, the charming La Digue, and Moyenne Island.
Renovated in 2016, the M.Y. Pegasos has 21 cabins that can sleep a maximum of 44 people. The twin-hulled vessel has plenty of open space to enjoy the views, sea breezes, and sunshine, and the onboard leisure facilities make it easy to relax and unwind or mingle with other travelers. Sip a drink in the stylish lounge bar, select a book from the library, relax on the sundeck, and rejuvenate in the mini spa. The swimming platform makes it easy to enter the water for a swim. Paid internet access is available. When it comes to enjoying the chef's tasty culinary creations, you can choose between indoor and outdoor dining areas. Special events, such as a Creole night and live music, add to the fun. Each spacious en suite cabin has a window, air-conditioning, satellite TV, centralized music, and a mini safe."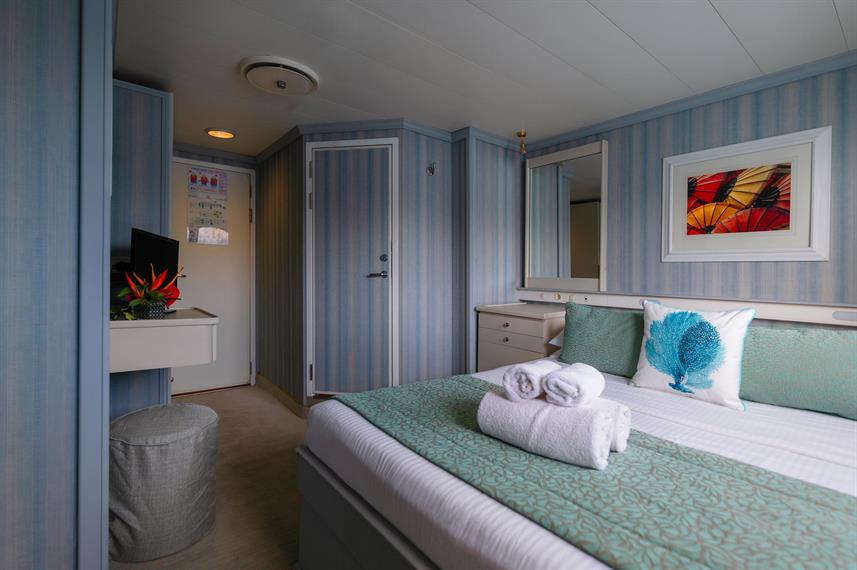 We won't need special visas to enter the country but will require a negative Covid-19 test no more than 72 hours before arrival on the ship. This won't be a problem since testing is still offered in Komatipoort at the lab across the street from Dr. Theo's office.
This cruise wasn't as expensive as we thought it could have been, considering the small size of the ship, but it was pricey nonetheless. But each time we leave for a new visa stamp in our passports to be able to return to South Africa, we realize there is a certain expense associated with it.
We selected the second category, not the highest since we spend little time in our cabin and prefer to spend our time mingling throughout the cruise with other passengers while enjoying the surroundings and amenities that appeal to us. The cost for the cruise, not including WiFi, is US $7280, ZAR 120861, about US $2000, ZAR 33260 less than many sites listed. We booked it directly through
Intrepid Travel at this link
. Airfare and tours are extra. We can decide while on the cruise which tours appeal to us.
The dates for this cruise are from November 26, 2022, to December 3, 2022. We paid a deposit of US $1200, ZAR 20099, and will pay the balance on October 1, 2022. Upon return, we'll have another 90 days until we have to leave the country again, and most likely, we will do an extension at that time. After that, we'll figure something out.
We are excited about visiting Seychelles which we've discussed over the years.  Also, we love being on the water.
Tomorrow, we'll be back with information on another booking we wrapped up last night. Tonight,
Jabula
with Rita, Gerhard and Lee!
Have a fantastic day and evening.
Photo from one year ago today, August 5, 2021: