Today's photos were taken at dusk resulting in less clear images. We will work on improving our photos in the future!
What can I say? How we feel is beyond description. At the moment, we're seated at the big wooden table on the ground-level veranda with nary a railing, overlooking the bush parklands, rife with wildlife. No sooner than we opened the screened (yeah!) sliding door, they were here, albeit tentatively, wondering who we are and what we may have in store for them.
We served up treats from a 40 kg, 88-pound bag of pellets already opened last night for the stream of visitors that arrived only moments after we did. Sitting by the fabulous braai, a South African fire pit, we gasped in awe of the treasures our eyes beheld, one species after another, including seven giraffes at our driveway, several kudus, warthogs, guinea fowl, bushbucks, and more.
Then, this morning, they all returned, perhaps others than those from last night, anxious to see who will be their new neighbors. Besides, this is their land, not ours, and in reality, we are the visitors, not them. Ah, the number of times we've said in our posts, "Pinch me, is this real?"
And now, I repeat this, with as much, if not more enthusiasm than ever. At times, I wondered if the excitement would be as profound as it was in the prior 18 months we spent in Marloth Park over the past eight-plus years. But, if anything, it was more.
The ten months in the hotel room in India catapulted us to a new level of appreciation and gratitude, one we thought we could never achieve, after all the exquisite experiences since the onset of our travels in 2012. But, here we are now, reeling with pure joy to be back where we belong.
The familiarity we felt as we drove from Nelspruit after our three full days of travel was comforting as we began the long final drive toward Gate 2 in Marloth Park, around 3:00 pm yesterday, where the guards at the gate gave us a one-month pass to hang on the rearview mirror with offers for more in months to come. We knew we were "home."
We drove to Louise and Danie's beautiful Information Center to be greeted with enthusiasm we so cherish, with them as such great friends for the past seven years, during which we always stayed in close touch when we were away. We sat at their gorgeous bar, commiserating for a few hours until finally, it was time to come to our new home.
We knew the house was small, a single story with two bedrooms, two en-suite bathrooms, a spacious lounge/living room, a dining room with a  fantastic table and upholstered chairs, and a good-sized modern kitchen with a countertop with bar stools, well-equipped with everything we'll need.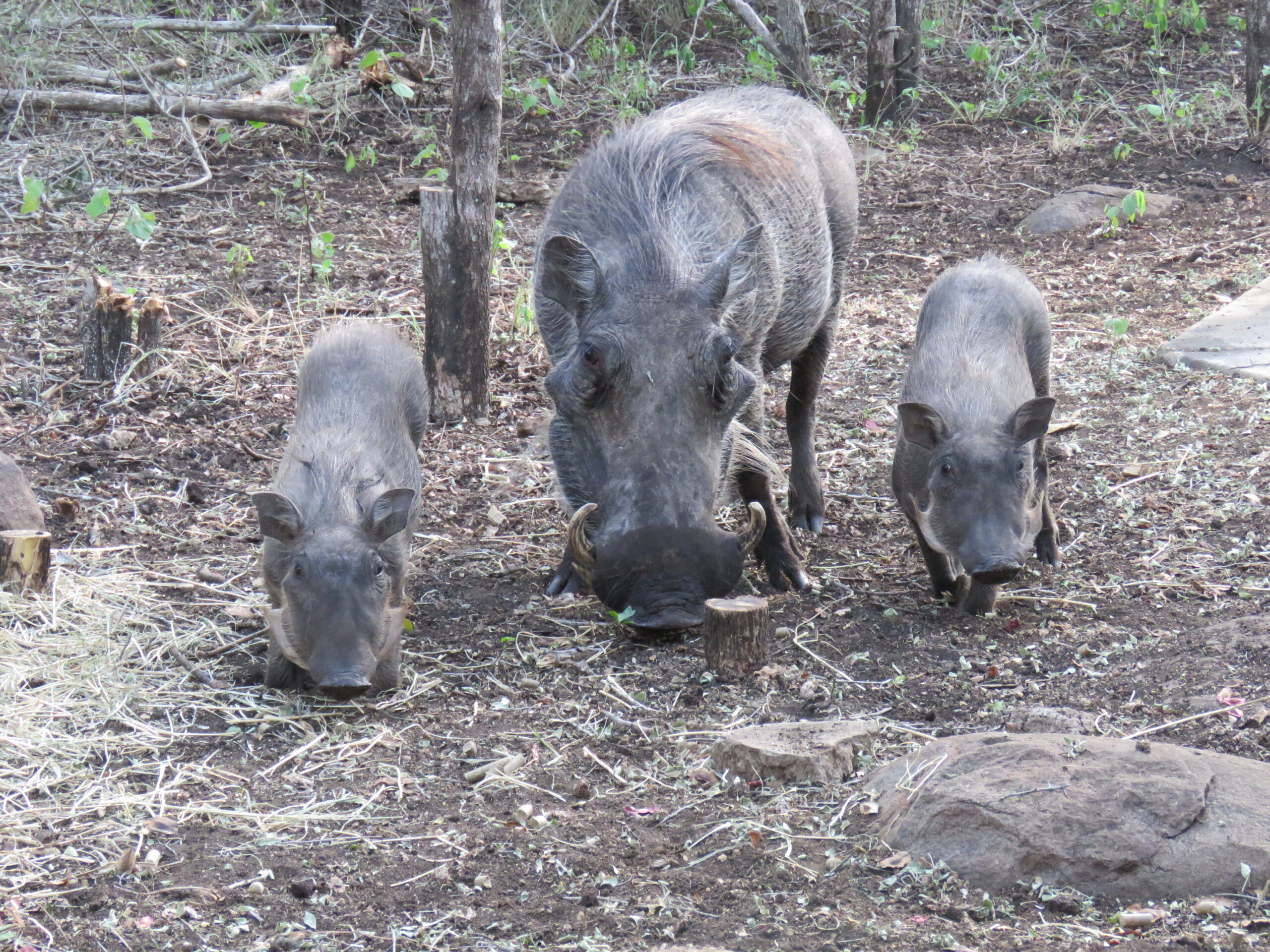 Louise grocery shopped for us, putting everything away as we would have. She knows us so well after all these years. Soon, we'll prepare our first meal, steak on the braai. Is it any wonder we'll be eating beef for the next several days? We weren't hungry for breakfast this morning, and last night, we didn't bother with dinner. Instead, we had a small plate of good cheeses to share, along with water and iced tea.
We had good luck during the three travel days, which included the following details Tom compiled this morning::
"Three flights; the first from Mumbai, to Dubai, 2 hours 45 minutes with a 16-hour layover. A second flight from Dubai to Johannesburg is an 8 hour 45-minute flight with a 26-hour layover. The third flight from Johannesburg to Nelspruit (Kruger Mpumalanga International Airport), 45 minutes.
Then, the rental car drive, from Nelspruit to Marloth Park, 1 hour 30 mins.
Three flights       12 hours 15 minutes
Two layovers   42 hours
One drive           1 hour 30 minutes
Total travel time from door to door was 59 hours, which included hotel departures, shuttles, waiting at airports, and spending time working on three months of car rentals at the Budget counter in Nelspruit.
If anyone had asked me a few years ago if we'd be open to 59 hours of travel time to anywhere, we would have said it was too challenging, even for "sturdy us." But, as we all know, motivation and purpose are powerful drivers, and we're grateful we stuck to our commitment to return to South Africa instead of "giving up" and returning to the US at this time.
And here we are, sitting together, in touch with each other's needs, wants, and joys, as always. After those ten trying months, nothing has diminished the strength of our love and commitment to one another. We're still "stuck like glue."
Again, thanks to everyone for the endless stream of good wishes. There will never be enough time to reply to every one of you, but please know we appreciate every single one of you.
Stay safe. Be well. Be happy.
Photo from one year ago today, January 14, 2020:
This hornbill from a photo taken in 2019 decided to look at her reflection in the glass of the little red car, assuming it was another Hornbill, perhaps a possible mate. For more from the year-ago post, please click here.