This morning, Tom had two surprises for me, one consisting of nine zebras in the garden that he kept feeding as I showered and dressed. I rushed as fast as I could to watch the friendly visit of our striped friends. Fortunately, I made it in time before they left and was able to take some photos and a video which we've posted above. I did this in time before their departure, and I was able to take some pictures and a video we posted above.
Sorry, but the second surprise is a tease. We'll post it tomorrow with photos we're excited to share. There's a bit of editing necessary to present this second surprise. This morning, I'm rushing since we plan to go to Kruger National Park as soon as I get the zebra video uploaded, edited, and posted in today's story. It's uploaded at this time on YouTube and is expected to be ready soon.
I stopped typing to check and found the video was done, allowing me to continue with this post which I will be rushing a bit for us to get on the road to Kruger National Park and see what treasures we'll be able to behold while there. Sometimes, it's a total bust, and we don't see much. Sometimes we are amazed at what is happening before our eyes.
We no longer worry about whether it's a sunny or cloudy day to visit Kruger when in both cases, we can take some decent pictures. Today is partially clouded, and it will be fine for us. It's been very busy in Kruger the past few weeks, which prevented us from taking a chance and going.
Nothing is more disappointing than cars backed up, bumper-to-bumper when a sighting is observed, which is often wildlife we've seen regularly in our garden. For us, after all these years, as a rule, we do not stop at the impalas, warthogs, kudus, and wildebeest that we frequently see in our garden.
Most often, we're on a mission to see cats, elephants, Cape buffalo, rhinos, crocodiles, exciting birds, and whatever other treasures and surprises the park may have to offer on any given day. As I mentioned a few days ago, it's somewhat like fishing when patience and perseverance are necessary to "catch" anything, in this case, taking photos of some of our favorites.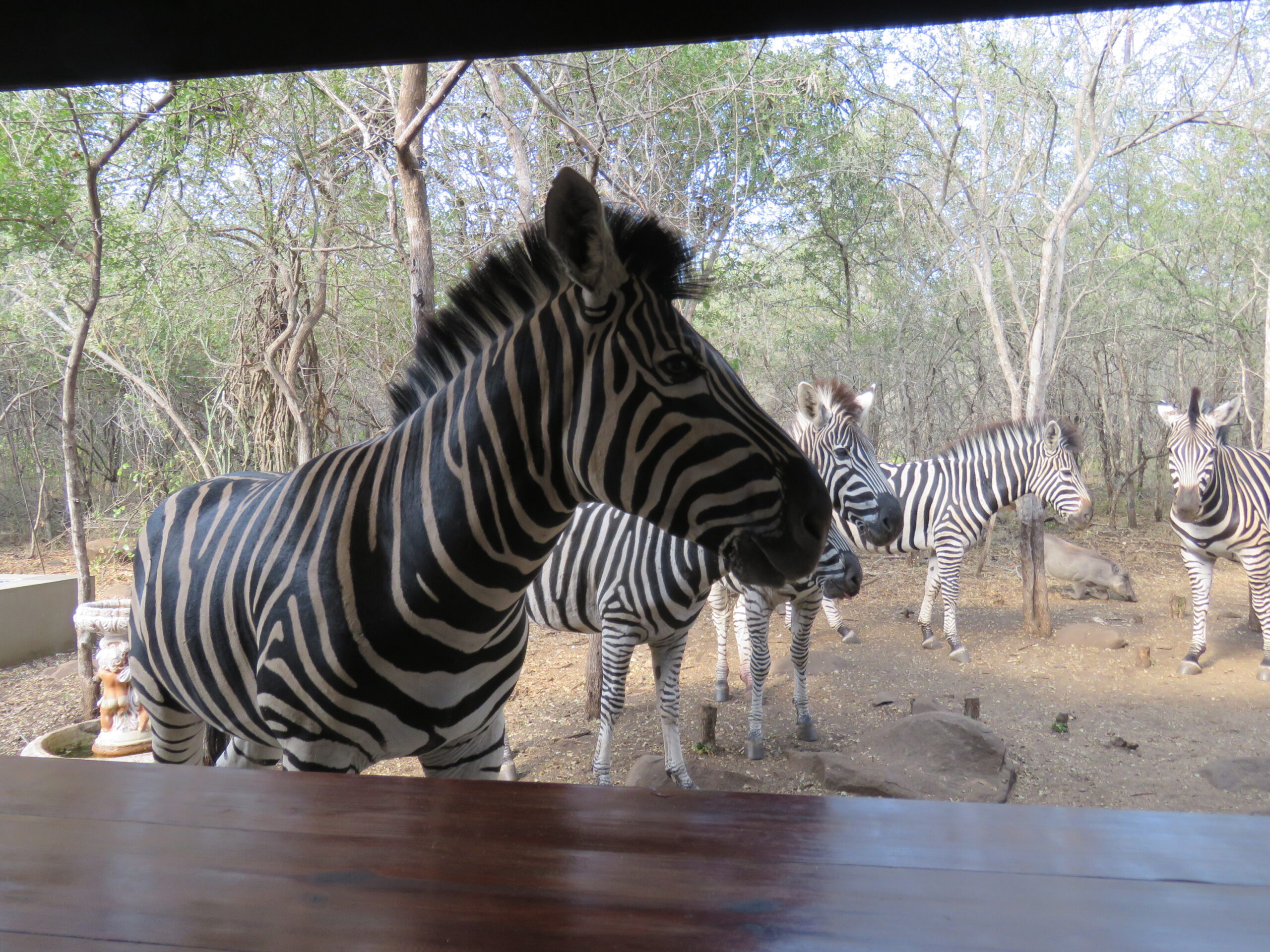 We often stop at Lower Sabie on the Sabie River for a bathroom break and take a few photos from the veranda at the Mugg & Bean Restaurant.
Speaking of dinner… Last night, we met Linda and Ken in a new restaurant that we hadn't tried since our arrival nearly four months ago. The restaurant, Bos, is now in the space formerly occupied by Watergat, in the Bush Centre, just down the road. We'd dined at Watergat a few times in years past, but we were always disappointed.
Bos was a significant improvement. The service was fine, and the food was decent. There were only a few items on the menu I could eat, so I opted for roasted chicken and fried eggs. Tom had the ribs and the fries, but he said they're not comparable to Jabula's. For us, Jabula will always remain our favorite, but occasionally we can try other options. Our Friday night reservation at Jabula is always in place and always will be.
Tom just completed the forms/papers for us to enter Kruger, necessary for anyone, including those like us with an annual Wild Card. We always have to bring the forms and our passports with us to gain access.
I will conclude now since we are anxious to get on the road. It takes less than 30 minutes to get to the entrance of the Crocodile Bridge, then the fun begins.
To all the Mothers out there, may your day be filled with wonderful surprises. Happy day to all.
Photo from one year ago today, May 9, 2020:
The sights and sounds of Victoria Falls from both the Zambia and Zimbabwe sides were unlike anything we've seen in the past. For more year-ago photos (which were "repeats" while in lockdown in Mumbai), please click here.