Here we are, in front of more historic ruins, Ephesus.  This photo
is rather similar to the photo of us in front of Petra in Aqaba, Jordan.
Note:

 

Today, our ship was scheduled to arrive in Piraeus, Greece with many tours scheduled to go to Athens. We had decided to travel on our own while there.

 

Last night during dinner, the captain announced that we werenot going to Greece after all. Apparently, as of yesterday, there was a massive strike in Greece resulting in a standstill of all public transportation and services including all port facilities.

 
The view from our balcony as we entered the city of Izmir, Turkey.
Many passengers, bound and determined to see the Acropolis and other ruins are sorely disappointed. We chalk it up to all a part of the adventure, especially when tomorrow morning, we'll be in Dubrovnik, Croatia, the historic walled city. Dubrovnik was not a part of the planned Ports of Call.
Time for cattle herding time to Ephesus. Moo.
Actually

, we're enthused for the opportunity to see Croatia after hearing so much about it from many passengers on our previous cruises, as a favored stop.
At sea today, we have no option but to use the ship's WiFi to post the many photos today from our visit to Ephesus yesterday.

 
Tom reminded me these are called "containers" not "cartons"
as I erroneously
referred to them.
Fact about Ephesus:
·    Ephesus is considered one of the greatest outdoor museums in Turkey.
Ephesus is the most well preserved classical city of the eastern Mediterranean, allowing visitors to soak in the atmosphere of Roman times.
Ephesus was once a seaport is now six miles from the sea.
The ancient city continues to be restored in a manner of fitting pieces of a massive puzzle in place.

 

It could take hundreds of years to complete it.
The Celsius Library in its day was the third largest library in the world with a capacity of 12,000 scrolls.

 

The facade of the library has two stories, but the interior has three stories due to its origi
The toilets in Ephesus were arranged side by side (photos below) with no privacy.

 

The toilet stones were heated by the slaves for their masters in the winter.
The Grand Theatre in Ephesus had a seating capacity of 24,000, one of the seven wonders of the ancient world.
There is an underground passage to the brothel on Marbel Street in Ephesus.
The
 first church dedicated to the Virgin Mary is in Ephesus.

 

The 3rd Ecumenical Council was held in Ephesus was held at the Church of the Virgin Mary and is known as one of the seven churches of the Apocalypse.

 

Virgin Mary spent the last years of her life in Turkey, in a small cottage near Ephesus, visited by Pope Paul, the 6th and Pope Jean-Paul
St. Paul, the Apostle gave lectures in the Tyrannus Hall and the synagogue in Ephesus for two years in his third missionary journey.
Seven Christians who fled Ephesus are believed to have slept in a cave nearby for 200 years.
Cleopatra spent her honeymoon with Antonius in Ephesus in the winter of the year 188.

 
Izmir is an older city with its buildings less modern than other major cities we've seen.
The hillside on the drive to Ephesus could have been any hillside
in any part of the world with no defining Turkish markers.
The vendors were ready for us as our bus pulled into the Ephesus parking area.
Our safety in Izmir, Turkey was of utmost concern. Apparently, Norwegian Cruise lines felt the same way, instructing all tour vehicles to avoid the dangerous areas of the city as they made their way to various points of interest, most of which was the one-hour bus ride to the ancient city of Ephesus.
Once on the road, we felt safe except for the few minutes when we departed that our
bus driver couldn't find his way out the parking lots at the port.

  
The old rickety bus bounced along on the hour drive, stopping once for a pit stop at a shopping area where overly zealous vendors watched our eyes for interest in any of their wares.

 

We kept our sunglasses on as we waited in the line to use the facilities in an effort to avoid eye contact, which we were warned was a dead giveaway.

 
Ephesus required a two-hour walk on extremely uneven stones, slippery chunks of granite
and marble and a mixture of odd-shaped rocks and surfaces.

 

Tourists everywhere added to the difficulty of the walk, some tripping, some falling and many lagging behind our well
informed but difficult to understand tour guide, Nadia.
As our long walk began with a series of similar ruins.
Never miss a photo op at the ruins.
Wearing two-way radios on strings around our necks with an earpiece, we were able to adjust the volume as we walked through the area, losing the connection if we were too far ahead or behind.  Tom and I preferred to work our way through the crowds and stay ahead most of the time, although we didn't miss anything.
Ornate rock.
Having seen Petra in Aqaba, Jordan, in May, our expectations were high. Had we not seen Petra, we would have been enthralled with Ephesus. Interesting? Yes. Profoundly so?  Not as much.

No more than 20 minutes into the tour, we both acknowledged that touring in a bus-sized group was not our thing. In the future, we decided that we are willing to pay more to either tour in a
small group of six or less, with our own guide or on our own. This "group thing" is not for us,
missing so much of the personal experience in the process.  
Varying stones were used to avoid a slippery surface.
The ridges on the marble were etched to reduce the slippery aspect to provide traction
 for the iron wheels on the chario
The original medical insignia.
Another well-preserved work.
Perhaps, the craftsmen spent their lifetime creating these works.
Its hard to imagine the lives of the citizens during this era.
This piece was one of the most appealing having survived for centuries.
Decorative archway.
Decorative pillars and structures.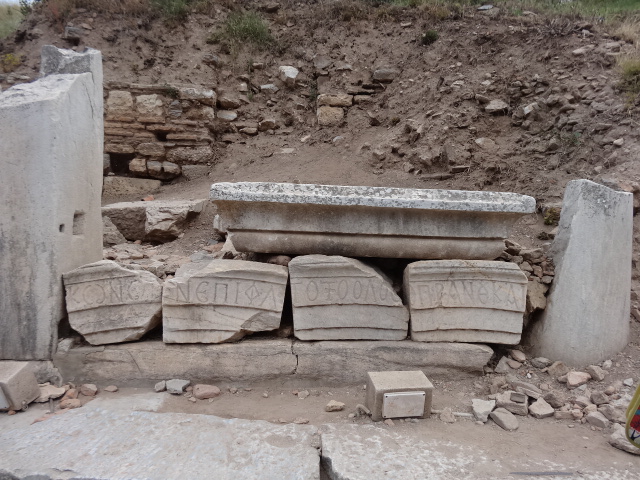 Ornate design.
The crowd was so thick at times it was hard to walk.
It was hard to believe how many people were there.
Some ornate design remains.
Check out this handiwork!
Its amazing this is still here!
Work yet to be completed.
The trough at the toilets.
Yes, these are toilets but with not much privacy!
The Celsius Library.
The crowds.
More ruins to be restored.
More work yet to be completed.
It was hard to find a good spot for our photo.
Feeling well again, the long walk was easy.
It was difficult to take photos without including other unknown tourists.
Lots of people.
The Celsius Library bears some resemblance to the Treasury in Petra.  But it is not
 nearly as magnificent.
At the Celsius Library.
It could be centuries before they piece together these stones.
In a way, we're becoming a little bored with ruins, having seen so many in our travels.
More impressive ruins.
What was the purpose of these narrow spaces?
It will take many years to complete the piecing together of the ruins.
This is the road Cleopatra traveled while on her honeymoon in 188.
Steps from the Great Theatre to the road below.
These original roads led to the Great Theatre.
Another view of the Great Theatre.
Oddly, as we began the bus ride back to the ship, we stopped at a local leather purveyor, expecting a primitive factory with workers pounding away on leather products. Instead, we were herded into a newer fancy pillared Greek styled building to a darkened room to be seated in
comfy theatre seats surrounding a t-shaped stage.

 
The tree lined walk back to the bus.
Alas, a grouping of professional good looking, well-dressed models began parading the neon
lighted "catwalk" in what proved to be a contemporary fashion show, as one would see in Paris or Milan, all wearing expensive leather jackets, fur coats, and other leather goods.

 
We were given a checklist on which to mark our numbered items of interest. Loud popular music blared in the background as the models, both female and male pranced down the runway, one after another, to quickly change backstage to yet another enticing outfit.

 
Models prancing the runway in leather
jackets.
How ironic.  Here we were, our brains wrapped around a classic Roman lifestyle from over 2000 years ago only minutes ago to a pop fashion show.  After the show, two large wooden doors opened to a huge showroom where the leather goods were displayed in a manner one would expect in an exclusive store.
There was no way out!  All 40 of us were trapped in this showroom while the owner tried to convince us, extolling the quality of their handmade laser leather products, to purchase their expensive products many upwards of US $1200.
How odd, that we were sitting there!  We just left a historical site and now we're at a mandatory fashion show.  We'll surely be writing the cruise line about this!
We couldn't get out of there quickly enough. The captive audience listened while Tom and I sought the most available exit to hurriedly make our way out the door, relieved to be outside at
last. I must admit I enjoyed the fashion show so out of place in our historical day, but the trip inside the showroom made me want to scream. 
Passengers were brought onto the stage "to perform." Not us!
With no practical way in which to avoid the crowds in these historic spots, at least in the future, we can go at our own pace.  In Turkey, with the dangers surrounding the rioting, it seemed to make sense to travel in a large group. Returning back to the ship by 5:45, we were anxious to shower and head to dinner in the Windows Dining Room.
The leather showroom where we were herded to make purchased.
Not one passenger on our bus made a purchase.
We dined with a fabulous couple last night, Deanna and Wally, having the time of our lives, finally clearing out the dining room after 10:00 pm. Tonight, we'll meet up with them again for yet another expected evening of incessant laughter and endless storytelling.  What a social cruise this has been for us!
The sky began to cloud over on our return to the ship.
After a long and event-filled day, we languished in our cabin, blissfully tired and pleased with another great day. 
Older buildings lined the highway.
For the first time on this entire cruise, now on our 10th day, we had rough seas last night as winds howled in the 55-60 MPH range, the ship rolling to and fro. Now, as more experienced cruisers, especially after the 50 foot waves on the Norwegian Epic in late April, we gave it little
thought to allow the rocking to lull us to sleep.
It began to rain shortly before we arrive at the pier
to board yet another shuttle to get us closer to the ship.
Today, a sea day on our way to Croatia, we look forward to our last few days on the Norwegian Spirit and then of course, in three days, beginning our half-day drive to our future home in Tuscany for the summer.

 

Ah, life is good.