---
This is a Topi only found in the Maasai Mara.
Today's photos are from the post on this date in 2013 while on our first safari experiences in the Maasai Mara, Kenya. For more on this date, please click here.
Please bear with us as we share repeated photos as we work our way through October 2013. It was that single experience while on safari many times in the Maasai Mara, Kenya, living in a luxury tent (photos of the tent will follow in a few days), that everything changed for us.
We could sit for hours and watch the antics of the hippos. Their lethargic movement and playful personalities are a pleasure to behold.
In tomorrow's fourth 2000 word post (only one more to go), we'll explain this further in regard to taking photos of wildlife. It's a long post to which we'll be adding more repeated photos but will illustrate how being amateur photographers has enhanced our world journey.
It was seven years ago today that we were entrenched in the exquisite glory of being on safari twice a day, while never disappointed. Throughout my life, I swooned over photos of animals in the wild, wondering when and if I'd ever have the good fortune or be brave enough to embark on such a journey.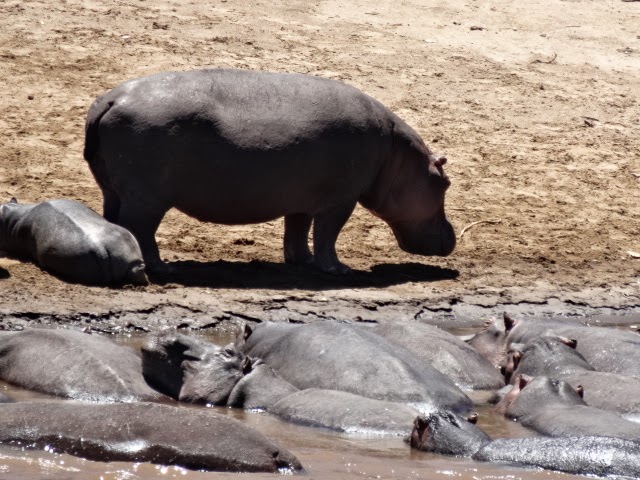 A lone hippo searching for a morsel on the ground.
Little did I know at the time that bravery wasn't a necessary element in experiencing the joys of safari. Instead, it is definitely a sense of adventure, which with a professional guide and later on, as our own guides, presented little risk with a multitude of thrills. At one point in our posts, I equated it to having an "E" ticket at Disneyland (remember, old-timers, like me?) and the thrills were seemingly never-ending.
Looking back at the photos now, especially while outrageously confined in lockdown in a hotel in India for 6½ months, these photos still send a rush of endorphins through my bloodstream, making me realize how addicted I've become to this amazing rush after all of these years.
 We realize that this gruesome photo may be difficult for some to see. But, it's a part of the food chain which we decided we would accept on our safaris as a reality of the life cycle. This crocodile was consuming either an impala or gazelle.
Each day on Facebook I peruse dozens of photos from various safaris in Africa and countless photos of wildlife in Marloth Park from the many friends we left behind. Many of us belong to various Marloth Park FB groups and the photos make me long to return in a way I can barely describe.
When I think that perhaps someday soon we can return to see our animal and human friends, shop in a grocery store, cook our own meals, savor a glass of red wine or cocktail at happy hour, and move about freely in open spaces, my heart skips a beat.
The Mara River. Our tent was located on the shore where sounds of hippos filled the air beginning around 4:00 am as they awoke.
On top of that, at any time we'd like, we can make the 20-minute drive to the Crocodile Gate to enter Kruger National Park to excitedly search for the next big rush; elephants, lions, cape buffalos, cheetahs, leopards, rhinos, most of which we don't see as readily in Marloth Park.
The well-rounded experiences of that location is all we could ever dream of and, without a doubt, was where we had the most exciting, enduring, and blissful experiences in our almost eight years of world travel (as of October 31st). Whether it was dinner at Jabula Lodge & Restaurant or dinner at our own table or theirs, with friends, sitting by the braai (bonfire), or even those special times alone on the veranda, just the two of us, reveling in every visitor that graced our garden during the day or evening, it all was special.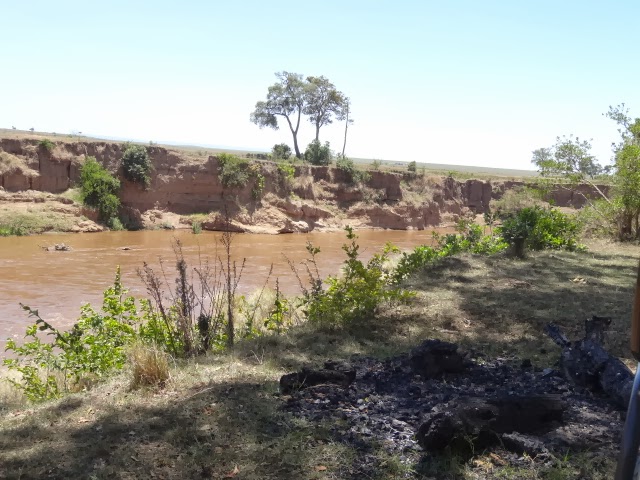 No swimming in this river!
Will we appreciate it more now than we did then, during the total 18 months we spent in Marloth Park, in 2013, 2018, 2019? I don't think so. We treasured every single day and night, just like we'll do once again, sometime in the future. When? We don't have a clue. But, we wait patiently for news on the horizon when borders will open and we can be on our way.
It won't be easy getting there. It's a long flight and most likely with COVID-19 protocols, it will be 35 hours or more from airport to airport and then, a five-hour drive from Johannesburg to Marloth Park. Apparently, the closer (one hour drive) airport of Mpumalanga/Nelspruit/Kruger won't be opening for some time. Time will tell.
 "Please pinch me," I told Tom at that time. "I must be dreaming!"
Right now, our biggest concern is getting that package delivered. The hotel manager is helping us and working directly with FedEx. Hopefully, today, we'll hear something. In the meantime, it's the status quo, same old, same old.
Have a peaceful day and please stay safe and healthy.
________________________________________
Photo from one year ago today, October 6, 2019:
A goose with a knot on her head on the farm in Devon, England. For more photos, please click here.