Note: We've yet to receive the link for the stream of our interview on Lowveld Radio on Saturday. Once we receive the stream for the podcast, we will upload it in the next day's post. We've returned from Malalane after seeing Dr. Singh, the dental surgeon, and for the first time, leaving a doctor's office, I was on Cloud 9.
There is no abscess, nor is there any issue of any kind with any of my teeth or gums. His sophisticated scanning equipment revealed every aspect of my mouth. He stated emphatically that I had the teeth of a much younger person who's cared for her teeth all of her life. This news made me smile.
The pain I had in my check resulted from a sinus infection, which the antibiotics I'd taken may have resolved. What a relief! I was anticipating bad news, not such good news. We're both thrilled. After we left the dental office, we headed to Click's Pharmacy, a store comparable to a CVS or Walgreen in the US. Tom waited in the car while I shopped.
I loaded up on some much-needed cosmetic items. After all, I hadn't been to such a store in over a year, back in the US at the end of 2019. It was fun to load up on some of my favorite items. In my old life, I usually used department store cosmetics. In the past eight years plus, I've been content using drugstore items when I can find such a drug store in any given country. It's not always possible.
After Click's, we drove a short distance to the massive Spar Market, which is twice the size of the Spar store in Komatipoort with many more options and, again, reasonable prices. It was more like Sam's Club or Costco store. I felt like a kid in a candy store, squealing with delight each time I found something new, befitting of our way of eating.
From there, we headed back to our bush house, anxious to unload our "haul" and get to work preparing today's post with the intent of getting it uploaded before 4:00 pm. Tonight is a cause to celebrate. But, then again, a lot of evenings are worthy of celebration. It's comfortable and cool today. The WiFi and power are working. We have a great dinner planned, and we couldn't be more content.
However, something extraordinary happened yesterday afternoon while we lounged on the veranda in the early afternoon. A warthog came up to the veranda looking for pellets. Immediately, Tom said, "Oh, that's the pig that tore a huge hole in the screen door a few days ago," while I was indoors. He was trying to make his way into the house.
The moment I looked at him, I recognized him. It was, unquestionably, without a doubt, my boy Little. My heart skipped a beat with sheer joy. It was easy for me to recognize his unique features, particularly his girth and his flint-shaped little tusks, the reason I'd named him "Little."
I couldn't grab the camera quickly enough. But first, pellets were on the menu. Tom tossed him several containers while, happily, I took one photo of him after another. To confirm it was him, for which I had no hesitation, Tom looked up old photos of him for comparison, and he too agreed. It was, in fact, our boy Little. Sadly, I'd surmised that perhaps he'd been culled during the last culling  2020.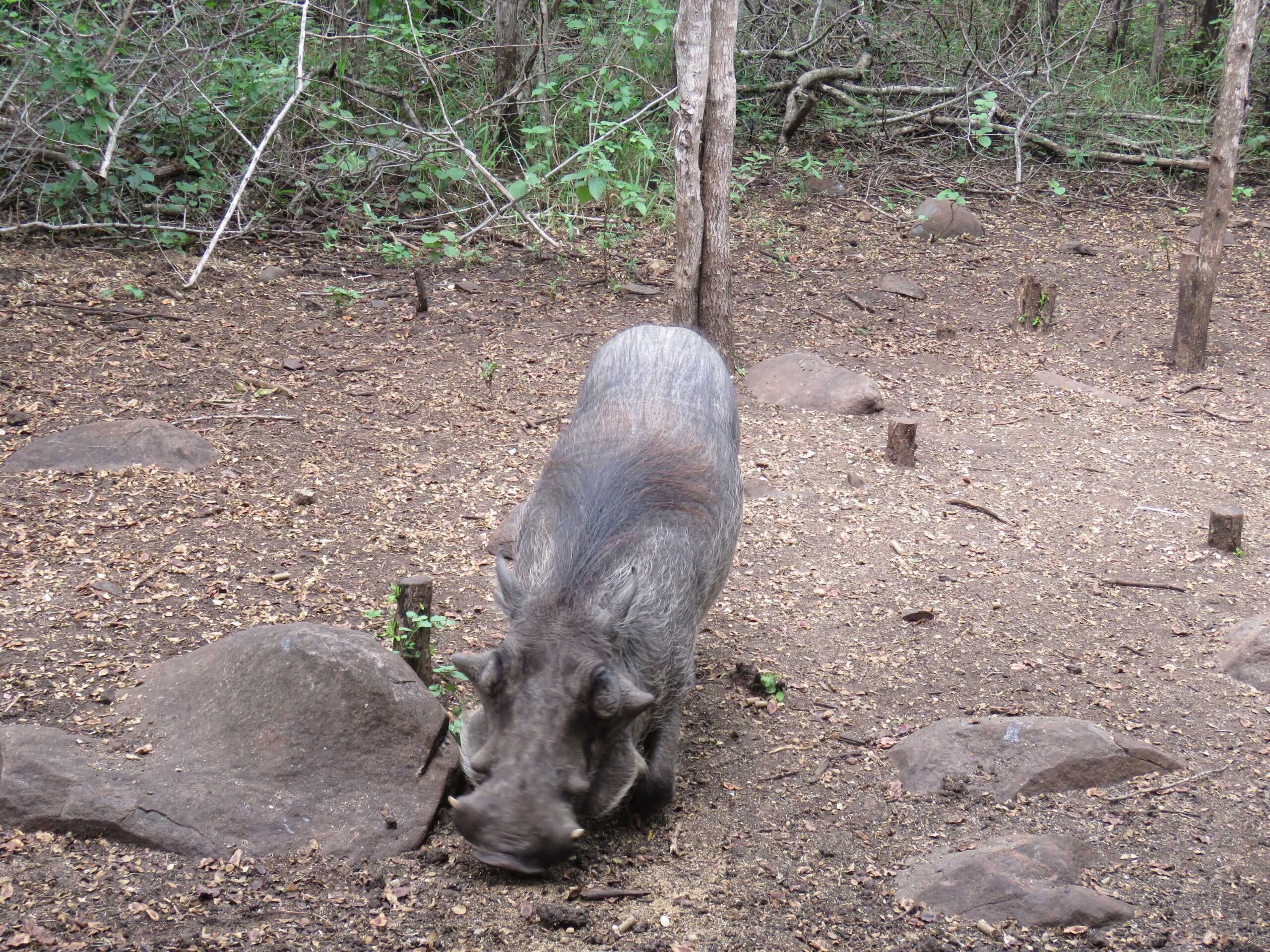 The big question remained… Did he remember me from 22 months ago, the last three of which I spent very little time outdoors while recovering from open-heart surgery? I'd been stuck lying on the sofa in the lounge room until I was able to walk after the two-leg surgeries began to heal. He continued to visit each day during those long three months. When I could muster the strength and energy, I'd occasionally get up to greet him.
Keep in mind that science states that pigs are even more intelligent than dogs and, we all know dogs remember those they love years after they've been separated for whatever reason. Why wouldn't a pig? And Little did. He stopped eating pellets while I called him by name, talked to him, and looked into his eyes. If a pig could smile with that goofy snout, he would have been smiling.
But, I smiled for both of us. It took over six weeks for him to come here and find us, and I accept the reality that I may not see him for many more weeks or even months to come. Having seen him once was magical. Any more times will be a bonus. I doubt he and Tiny will get along, and one could scare off the other permanently, as happened at the Orange house with Tusker and Basket. The basket came after Tusker and dominated the garden. Tusker never returned after having been a regular in our garden for many months.
Ah, yes, I am a died in the wool animal lover. Some may say I am an "animal whisperer" when I quickly build relationships with animals, as has always been the case throughout my life. I love them all, big and small, but especially those where eye contact becomes a relevant means of communication, coupled with their response to my high-pitched yet gentle voice.
We had a great day out, and we plan to spend the remainder of today on the veranda, appreciating the cool, rainy weather and the visitors who come to call, hour after hour. Whether it's Tiny, who usually arrives each afternoon around 4:00 pm, Little, whom we don't know will return, or the 24 impalas who graced us with their presence only minutes ago. It's all magical and will continue to be so for every moment we spend in this life-changing environment.
Currently, we are working on travel options for getting out of South Africa on or about April 12th, when our 90-day visa expires. It doesn't appear there will be a "free" automatic extension for foreign visitors when President Cyril Ramphosa spoke last night, dropping COVID-19 restrictions down to Level 1 from Level 3, easing some restrictions, none of which impact us at this time. As a result, we've decided to take a trip out of the country with some exciting possibilities in the works. We will report back once these plans are confirmed, sometime in the next few days.
That's all, folks! Stay safe. Wash your hands. Social distance and for those who can and are willing, get vaccinated.
Happy day.
Photo from one year ago today, March 1, 2020:
The outdoor dining room at Tuli Tiger Resort. It was very cool at night, and we had to bundle up for dinner. For more, please click here.