It's a beautiful day! The high today will only be 90F, 32C, with moderate humidity and dew point. Perfect! Load shedding started at 11:00 am and will last until 3:30 pm, 1530 hrs. With Stage 6 load shedding occurring over the next few days, we decided we'd grocery shop at around 12:00 pm, so by the time we return with the groceries, the refrigerator will soon almost be running again. This is always a consideration when shopping for food.
There will be another 4½ hour stint tonight at 7:00 pm, 1900 hrs., until 11:30 pm, 2330hrs. So far, so good. These extended periods are only a concern to us regarding keeping our perishables in the refrigerator from spoiling. The only times we've lost food to spoiling was when there were more extended outages, often for eight to ten hours or longer, sometimes for days.
When we shop, we buy very little meat, nor do we purchase any pre-made foods or salads. One has no idea how long they may have been sitting in the case at the market. Food spoilage doesn't seem to be a problem when we place some perishable items into the chest freezer for extended outages. Our simple trick of putting a huge metal bowl in the refrigerator filled with ice seems to make a huge difference in keeping the refrigerated items safe to consume after four-hour outages or longer.
But, it doesn't hurt to use a thermometer to determine that food in the refrigerator hasn't been stored for more than an hour or two at 40F, 4.4C or lower. See this article here for details.
This afternoon around 4:00 pm, 1600 hrs., the KSTP TV show's producer, who will interview us via Zoom, will contact us to do a test and confirm Zoom is working well in this area. They want to ensure we don't have connectivity problems at the time of the live interview in a few weeks.
Once this is done, it will give us peace of mind. Our recent WiFi issues have been resolved, especially since most holidaymakers have left the park. It's been easy to stream our favorite shows at night and for Tom to watch the NFL football games on his laptop during daytime hours. The playoffs are on the horizon. We'll see how well the Minnesota Vikings do during these final games.
This morning, a pretty young female zebra stopped by the garden alone. Most often, zebras visit in groups called a dazzle. Sometimes there are two zebras, but most often, we see four or more. The fact she was alone made us wonder why. Then we noticed blood dripping down her right back leg. It appeared to have been injured, but it was difficult to determine the cause or extent of the injury.
Also, Tom mentioned he'd seen her recently, and half of her tail was missing. This could have been a birth anomaly or a fight with another animal. Zebras are ferocious when fighting, using their back legs for bone-shattering kicks. Also, we considered that she may have managed to escape from the jaws of one of the eight lions in Marloth Park, injuring her leg and biting half of her tail. We'll never know.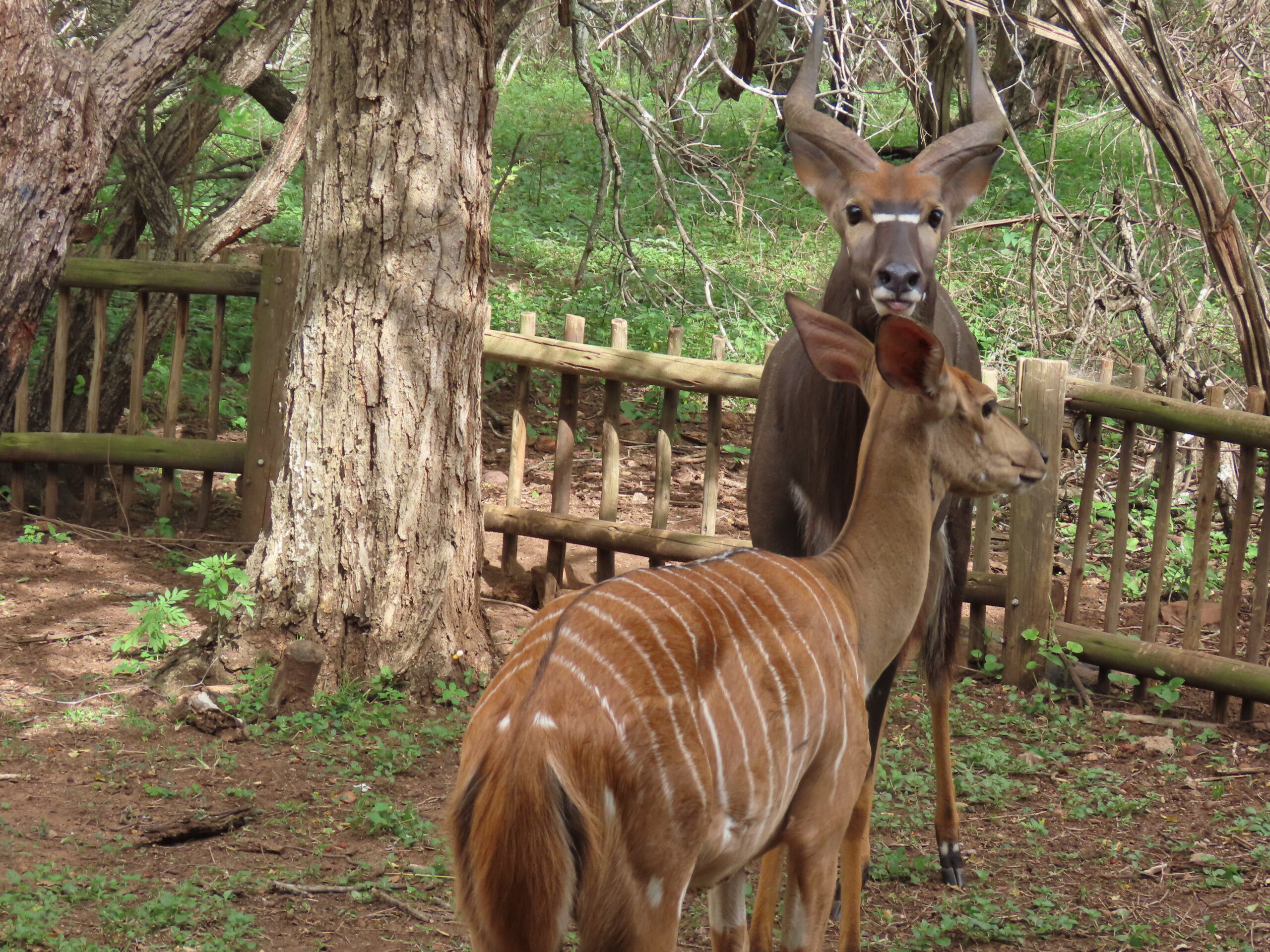 We gave her lots of pellets and cold chunks of carrots, which she seemed to enjoy. We'll keep an eye out for her and see how she progresses. We hope she'll recover soon and be reunited with her family unit.
When I got up this morning, Norman and Nina were in the garden. It's been great to see them again over the past few days. I'd made a big bowl of "Norman's Lunch," and he willingly shared the contents with Nina. We didn't see the baby, but surely she was somewhere nearby. I say "she" but have no confirmation that it's a she yet, but we'll keep watching so I can name her.
We've been watching an entertaining Amazon Prime series the past few nights, Tom Clancy's "Jack Ryan." You may enjoy this show if you're a fan of international intrigue and espionage. It's included with Amazon Prime if you already have the streaming service.
At noon, we're heading to Komatipoort to do our shopping which usually takes about an hour plus another hour of round-trip driving time. We should be back by 2:00 pm, 1400 hrs., when we'll put everything away and place ice in the metal bowl in the refrigerator until the power returns 90 minutes later or sooner.
Have a lovely day!
Be well!
Photo from one year ago today, January 12, 2022: