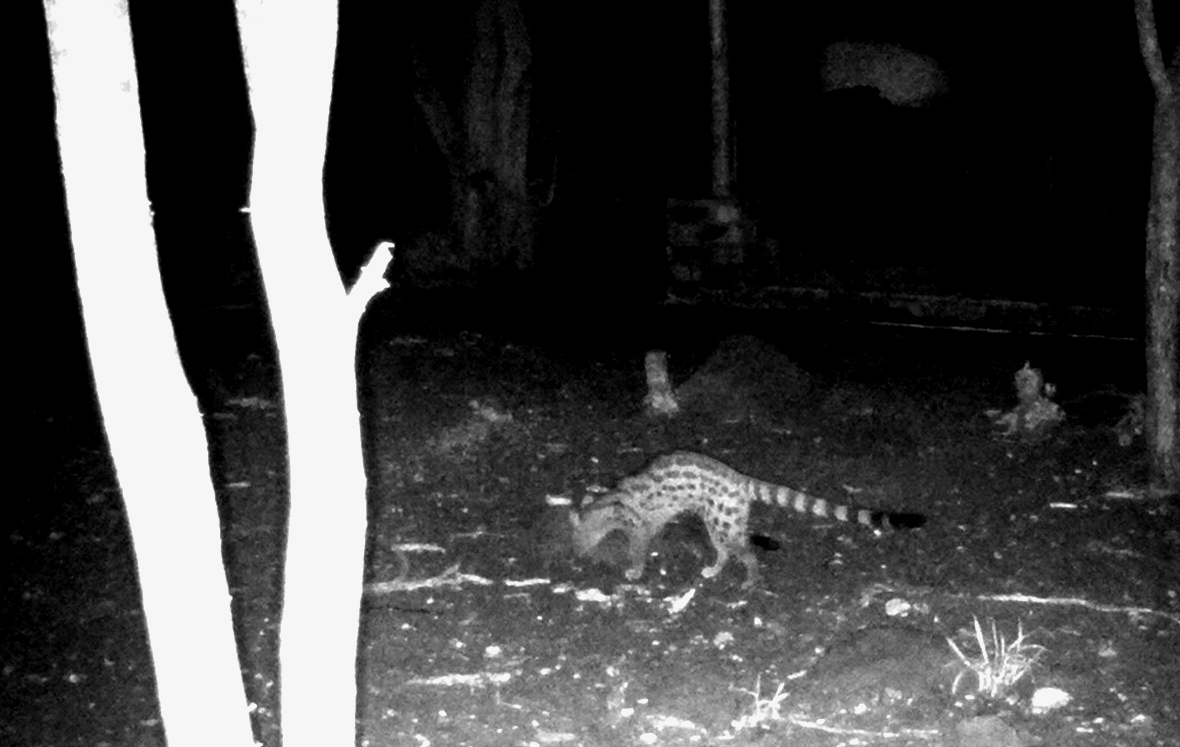 What a night it was in the bush! These fantastic creatures stopped by after we'd left some bones out after dark. Genets, as shown in the photos, are carnivores. Porcupines aren't carnivores, but I also tossed out some vegetables, so perhaps that's what attracted them.
We've had a few glimpses of genets, here and there, but never quite as clear as seen in these photos from last night's shots by the trail cam. Each morning, it is so exciting to see what treasure the trail cam picked up when we aren't sitting outdoors.
It rained in buckets last night, and we were inside when these photos were taken. Plus, sitting outdoors in the dark right now with all the insects buzzing around our heads isn't as fun as it was a few months ago. Although, when we have guests, we have no choice but to sit outdoors when our dining room table only seats four.
Speaking of guests coming for dinner, tonight at Rita and Gerhard's US citizenship dinner party at the Khaya Umdani house, we'll plan a night for all of them to come to our house for dinner, maybe next Thursday or Saturday. With Rita's sister, Petra, and brother-in-law Fritz here with them for a few weeks, it will be fun to entertain them on our veranda.
It's always so exciting to share the adventures in the bush with first-time human visitors. It's delightful to watch the expressions of pure joy on their faces when they see a giraffe crossing the road, warthog moms and babies in the garden, and even insects one has never seen in their lives and may never see again.
After all this time we've spent in Marloth Park, which Tom and I just figured out has been 30 months, less one month in the US, and several short visa stamp trips, we've never become bored for a day. Yes, we've been miserably hot, covered in mosquito bites, and suffered some long stretches without power, water, and WiFi. But, as our long-time readers know, none of this keeps us away.
A few minutes ago, I heard the hornbills pecking on the kitchen window as they often do. I jumped up in an attempt to take a photo of them but instead was distracted by five "go-away" birds near the veranda. And when we're gifted by the constant flow of human and animal visitors, life couldn't be better than this. I got several excellent shots which we'll share in tomorrow's post.
Every day it's something new. This type of constant stimulation wasn't as prevalent in our old lives. And, as much as we enjoyed those days and nights, we have a different perspective of life, of nature, from living here in the bush. We're often asked if we'd live here permanently, and the answer is still an emphatic "no." It's the novelty of all of this that keeps us coming back for more.
That's not to say we'd get bored living here. Many people live here full-time and never tire of the wildlife and their many friends in this hugely social environment. But, our goals remain the same…we are world travelers, and once we can get back out there in the world, we will. Right now, we're waiting to see if our cruising plans, in less than three months, will once again send us on our way.
For now, I'm finished in the kitchen, having made an enormous salad and surprise treat for Rita, which I'll share in tomorrow's post. Her birthday is on Friday, and we're all going into Kruger on a private guided night drive, ending in a dinner in the wild shortly thereafter. We've done this in the past and loved the experience, as I'm sure we all will again.
That's it for today, folks. I have some projects to complete before heading out to Khaya Umdani for tonight's festivities. It will be fun to be back at that fabulous house where we stayed for a few weeks in 2014 and have been to several times over the years for other social events.
Have a safe and productive day.
Photo from one year ago today, January 12, 2021:
We were no longer in Mumbai, India, on this date, one year ago. Adorable giraffe at rest. For more photos, please click here.