This morning, I took my time getting out of bed. My mind was full of thoughts about the future we'd yet to book. We've felt somewhat on hold until we receive notification that my visa has been extended to June 8, the day we plan to leave South Africa. As mentioned earlier by Tom traveling to the US a few weeks ago, he received a new 90-day visa. The process of applying for an extension for him becomes a moot point.
At that point, we'll begin a year away from the bush with plenty of plans in the works. We're going to return in June or July 2024 when a short time later, daughter Tammy and family will travel here to spend time with us. They are quite the adventurers and will spend many days on a wide variety of activities. They'll love everything South Africa has to offer.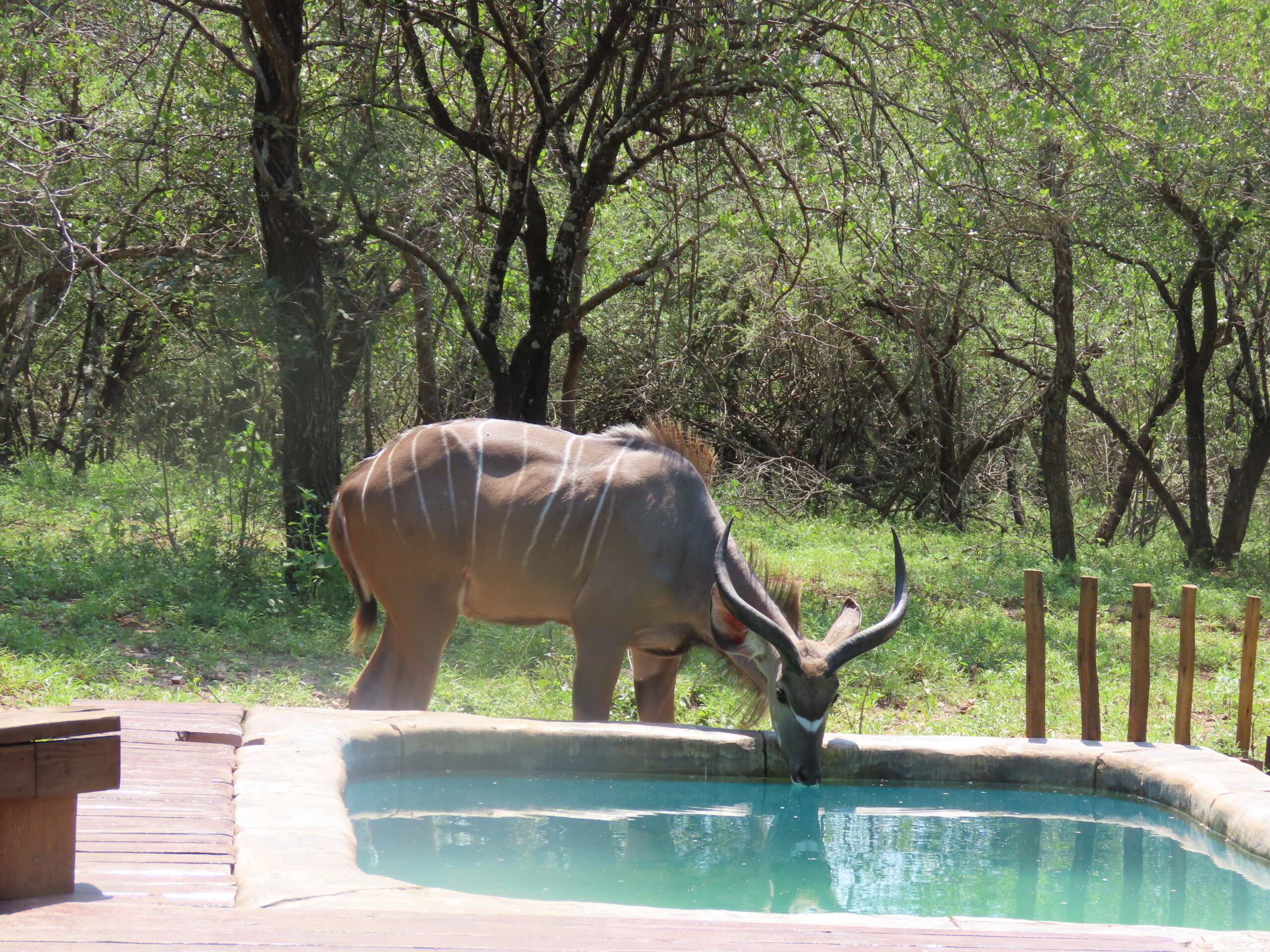 Most likely, we'll return to this same house. It has two guest houses on the property that will serve our visitors well, providing privacy and convenience. Plus, it will be fun to return and see our favorite animals return to see us. Hopefully, a year later, they will remember us, our generous offerings, and my annoying high-pitched voice.
Today, I am making two stir-fry dishes; beef tenderloin, mushroom, and broccoli for Tom; and prawns with bell peppers, zucchini, onions, and broccoli for me, all topped with a handful of peanuts. Tom will have his dinner on a bed of white rice while mine will top cooked shredded cabbage. We won't have a salad with these intense vegetable meals.
As always, I am making enough to last for two or three dinners, so I didn't mind taking the time to wash and prepare all the fresh vegetables, placing them in big ziplock bags until it is time to cook the dishes. The leftovers will keep well in the refrigerator, which is easy to reheat quickly on the stovetop or in the microwave, as preferred, neither of which is impacted by load shedding.
They still tasted as good as they did the first night. It's excellent cooking this way, always making enough to last for at least two nights, sometimes three. I like that for the next few nights; I don't have to cook at all, other than reheat our leftovers. Then, on the other days, I can busy myself with other tasks on the agenda with our never-ending stream of research and paperwork.
On another hot day, I am sitting at the dining room table with two fans blowing on me, the overhead fan and the portable fan only a few feet from me. The fans seem to help to keep the mozzies from landing on me. Right now, I have lots of itchy bites after all the rain we've had. I have to keep reapplying repellent when it seems to come off when my arms touch the table while I am typing.
We had another good night at Jabula last night when the bar filled up with tourists and locals. As usual, our dinners were terrific, as shown in the photos above and below. The meals are simple, but they taste better than you can imagine.
The three-week holiday begins at the end of this week and ends after Easter on April 9. It will be busy here in the bush, and we don't expect to see many animals during this period. But we will see plenty of cars on Olifant Road, the main paved road in MP, many exceeding the 50 km (31 miles) speed limit. It's always heartbreaking to hear about animals killed on the road due to speeding and careless driving.
Tom is busy at the table on the veranda, as he often is, doing his usual online activities, totally at peace and content. It's such a joy for me to look outside and see him there. His ten days away are quickly becoming a distant memory as we've easily settled back into a harmonious, pleasant, and playful life in the bush. We never forget for a day how fortunate we are to have each other and this amazing life we live.
Be well.
 Photo from one year ago today, March 19, 2022: