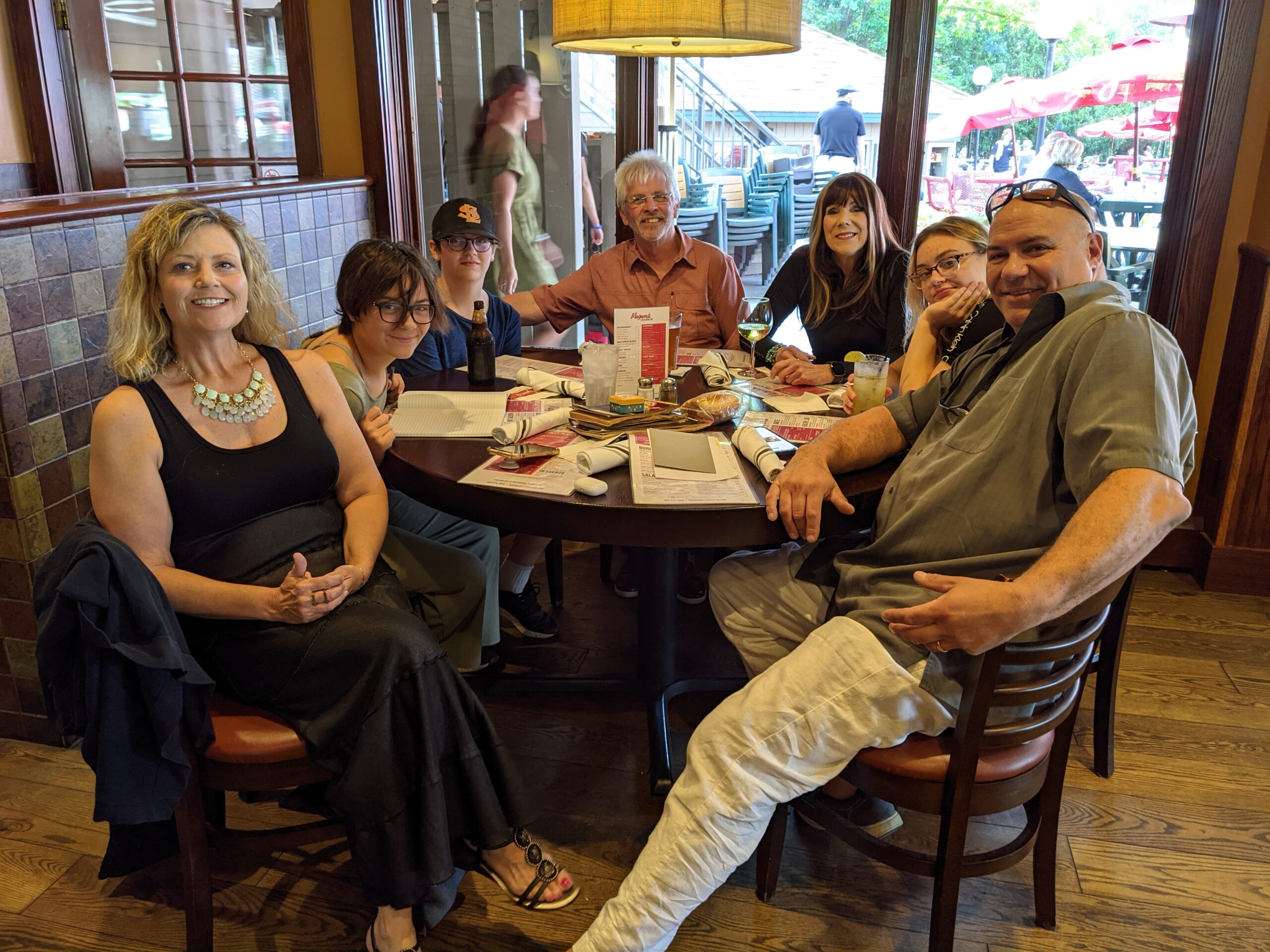 We had a fantastic time at Maynard's in Excelsior on Lake Minnetonka last night with our son Greg's family as we celebrated Camille's birthday. The three grandchildren were there, and we all sat at a big round table for seven which allowed for easy conversation and laughter.
As was always typical for Maynard's, the food was great, and the conversations all around were delightful. A few days earlier, Greg and I recalled July 4, 1977, when he and my other son Richard and I took out our first boat on Lake Minnetonka for the holiday experience.
It was the first time I'd driven a boat, and the three of us took off from our boat slip in St. Alban's Bay early in the morning with a plan to make our way across the vast lake, in and out of many bays, to end up at my friend Lynda's lake house for a 4th of July party.
Our first foray with the boat on the lake that day was to make it the short distance from our slip at the marina to Maynard's, then called T. Butcherblock's, so the kids could feed the ducks. It was no later than 9:00 am. Once we arrived at T. Butcherblock's docks, I somehow managed to dock the boat without banging into the wooden posts and then securely tied it down.
We went inside the restaurant to ask for some stale bread for the ducks that typically swam around the dock, hoping that boaters and diners would toss some food their way. The restaurant staff gave us a bag of old bread, and we meandered back out to the dock to feed the ducks.
My boys, Richard and Greg, then ten and almost eight years old, were thrilled to feed the ducks but not too confident about going back out on the huge lake with their mother, an inexperienced boat driver at the time. I was 29 years old.
Although I dinged the prop in shallow water, shortly after leaving T. Butcherblock's, we somehow made it to Lynda's house hours later, albeit slowly with the damaged support. Once at her house, I arranged to have the prop repaired, and we were soon able to get back out on the lake a few days later. It all worked out, and in those first few days, I learned a lot about boating.
Over the years, I became an experienced boater, upgrading to larger boats as the years passed. My kids spent many summers on the lake with me driving and gained confidence with my skills in time. It was an enjoyable time in our lives.
Yesterday, being at Maynard's brought back many memories, especially when Greg recalled that date, 44 years ago, and brought along a bag of stale bread for his kids and us to feed the ducks. After our enjoyable dinner indoors, we headed outside on the pier, packed with partygoers, boaters, and diners to make our way to the water, where numerous ducks and giant carp were awaiting our offerings.
At this point in my life, I wouldn't normally condone feeding bread to fish and fowl. But, the family tradition was being relived not only for our grandchildren but also for Greg and me. Later, I sent Richard a text to tell him what we'd done, but "tongue in cheek," he commented, "That wasn't me." I reminded him that, indeed, it was him as well. My sons are now 54 and almost 52 years old.
Oh, my gosh…44 years ago. It seems like yesterday. I found myself saying this over and again, "I can't believe it was 44 years ago!" After we were all done at the dock, we headed back through the restaurant and out the door to the parking lot, where we all hugged goodbye until we saw them again on Thursday evening, our last time together before we departed for Milwaukee and then on to Las Vegas.
Greg, Camille, the kids, and I will all go to the movies together on Thursday evening to see Black Widow. We will have to split up again to say our goodbyes. Tom will return to his sister's Mary's home for the usual Thursday night barbecue and catch up with me later in the evening.
Today, we made arrangements to see Sister Beth at the nursing home in Milwaukee, Wisconsin, on Saturday and Sunday, after which we'll head back to Minneapolis, directly to the airport for our flight to Las Vegas, Nevada, to see Richard. We'll spend five days in Henderson, Nevada, and then on July 24th, we'll begin the long trek back to South Africa.
May your day be filled with pleasant experiences.
Photo from one year ago today, July 14, 2020:
Gina, our property manager in Madeira, Portugal, explained that the number of cloudy days we'd experienced while there in 2014 was unusual. For more photos, please click here.