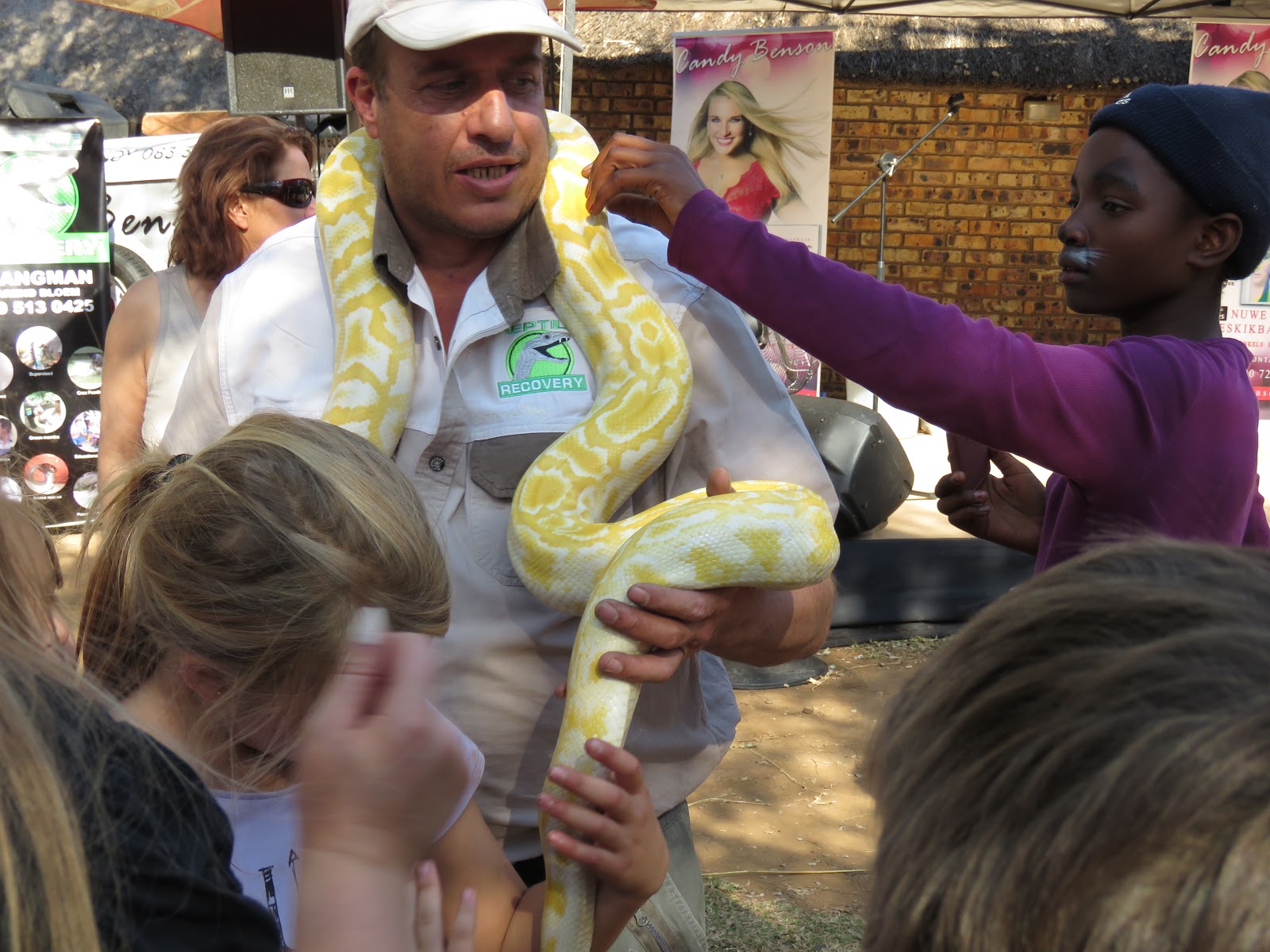 This is Barend Bloem, nicknamed Slangman (snake man in Afrikaans). We'd have loved to be able to "wear" this Yellow Burmese Python for a photo, but it wasn't possible when children were waiting for a chance to touch it.
"Sighting of the Day in the Bush"
We stopped along the river on the return drive for a few exciting photos, more of which we'll share tomorrow.
Over the years, we've made a point of participating in more and more local events wherever we may be living at any given time. Doing so gives us a better opportunity to learn more about local culture and mingle with people we encounter at these events.
Here's the flyer from yesterday's fundraiser at Henk Van Rooyen Park, located in Marloth Park.
As it turned out, based on the busy school holiday season in South Africa at this time, soon coming to a close, many of the fair-goers were tourists. As a result, we ran into few people we knew instead of the last fair we attended a few weeks ago for the Honorary Rangers annual event, which included many local citizens. Click this link here for details of that event.

The morning was busy preparing the post and sorting through many photos we'd recently taken. Shortly before heading out, Tom noticed a comment from a Marloth Park resident stating they'd seen lions at the Crocodile River through the fence. 
The event wasn't as crowded as the Marloth Park Honorary Rangers Winter Fair of a few weeks ago at this exact location.
There are several overlook areas on Seekoei Road that run along the river. This is the road on which friends Kathy and Don live, who are now back at their home in Pretoria and soon embarking on several exciting travel adventures, including visiting Churchill, Manitoba, Canada, to see polar bears in a few months. Maybe, someday, we'll do the same! Humm…that sounds interesting.
A real estate company was promoting its business at the event.
Anyway, one of the most popular overlook areas is called "Two Trees," a short stretch of land on the riverside of the road with ample parking without too much of an obstructed view by trees and vegetation. We often stop there on our almost daily drives in the park to check out the wildlife on the river.
When lions were spotted from this location, we couldn't get there quickly enough. Tomorrow, we'll share those photos. Today, we wanted to focus on yesterday's fair.
Many of the same vendors presented their products at the winter fair.
The entrance fee to the fair was ZAR 20 (US $1.51) per person. Where in the world is an entrance fee for any event only this much? (This upcoming week, we'll be doing a story on the cost of living based on our experiences in Marloth Park thus far). 
Once again, we found a good parking spot and proceeded to explore the displays, entertainment, and informational booths. In no time at all, we'd wandered through the entire fair and found our way back to the little car, deciding to give the river one more drive in hopes of seeing more wildlife.
Some participants drank beer under the tents on the ground.
And, we did, more than we'd expected, enjoying every moment. We don't need movie theatres, fairs, parks, and zoos to entertain us. Mother Nature continually provides a plethora of exciting events right before our eyes, although it may be a little sparse right now at our holiday home during this busy time.

Unfortunately, back at home, we've had fewer visitors than ever over these past few days. A tourist wrote on Marloth Park's Facebook page, "I've been here since Thursday and the only animals I've seen from our holiday home is bushbabies at night."
Lots o kid-friendly products were offered for sale.
We certainly understand their frustration. People come here to experience wildlife. Last night, much to our delight, we had eight warthogs stop by at dusk, staying well into the evening, some we'd never seen before. Interestingly, these animals, who all look alike, are easily distinguishable by specific markings they possess.
Whether it's the color of their coarse hair, the shape of the male's warts, the size of their tusks, and for those we've come to know, their response to my annoying high pitched voice, in most cases, we recognize the frequent visitors. The same applies to the other species.
Several "bouncy" activities were available for kids.
With high winds picking up, we called it a night earlier than usual. We streamed a few shows from Showtime, "Billions" and "The Affair," both of which we've watched through their previous seasons. Sometimes, it feels good to get "out of our heads" by watching a few shows. 
This morning we awoke to rain pounding on the roof. It hasn't rained here in a few months. It wasn't enough to do any good for the wildlife and vegetation, but it was enough to keep nature even further undercover in the parklands, often where they "hide" when there are too many visitors in the park.
Our friend John from Daisy's Den had an excellent display at the fair.  John is actively involved in community safety as well as running the store with his family.
Most of the European summer "school holidays" will end in mid-August when the commotion settles down in Marloth Park until Christmas time. In the interim, we'll continue to scour the river and look forward to any visitors who'll come our way. At this point, we find a single frog interesting. 
Happy day to all!
Photo from one year ago today, July 15, 2017:
Climate data for Henderson, Nevada
Month
Jan
Feb
Mar
Apr
May
Jun
Jul
Aug
Sep
Oct
Nov
Dec
Year
Record high °F (°C)
75
(24)
86
(30)
91
(33)
97
(36)
111
(44)
114
(46)
117
(47)
112
(44)
110
(43)
100
(38)
90
(32)
78
(26)
117
(47)
Average high °F (°C)
54
(12)
59
(15)
67
(19)
75
(24)
85
(29)
95
(35)
101
(38)
99
(37)
91
(33)
78
(26)
64
(18)
54
(12)
76.8
(24.8)
Average low °F (°C)
41
(5)
44
(7)
49
(9)
56
(13)
65
(18)
74
(23)
79
(26)
78
(26)
71
(22)
60
(16)
48
(9)
40
(4)
58.8
(14.8)
Record low °F (°C)
11
(−12)
12
(−11)
25
(−4)
31
(−1)
37
(3)
41
(5)
56
(13)
59
(15)
43
(6)
30
(−1)
4
(−16)
9
(−13)
4
(−16)
Average

precipitation

inches (mm)
0.70
(17.8)
0.96
(24.4)
0.57
(14.5)
0.23
(5.8)
0.11
(2.8)
0.11
(2.8)
0.46
(11.7)
0.72
(18.3)
0.42
(10.7)
0.36
(9.1)
0.49
(12.4)
0.60
(15.2)
5.73
(145.5)
It was scorching while we were in the Las Vegas area last July, the hottest month of the year.  For more, please click here.