To the right, is Hesborn's quarters where he lives until Saturdays at noon, returning early
on Monday mornings.
He boards the local matatu, a rickety old van bus service in
order to visit his family in Mombasa. The
2-hour drive and ferry ride to Mombasa is Kenya Shillings $400,
US $4.58 round trip, often breaks down en route
.
Although Hesborn is gone, we continue to have
security on-site around the clock,
as is always the case, 7 days a week.  
When we began writing this blog in March 2012, our intent was to keep a diary of our travel experiences to share with our family members and friends.  At any time they could type in our web address: www.worldwidewaftage.com to see what we're doing today.  Today's post is #411. We've been gone for almost a year!
The locked and guarded gate to ours and Jeri and Hans' house.
After a few weeks of posting about the process of a retired couple planning to travel the world for years to come and the endless preparations, we discovered much to our surprise, that readers were reading our posts from all over the world, now at almost 100,000 and growing rapidly.
As readership continued to grow worldwide, we added advertisers to offset the continuing costs of maintaining a website and registered Worldwide Waftage as a business, enabling us a few benefits from time to time.  Now, we've found we're able to receive small discounts on occasion as "travel writers." 
As you can see, we often write reviews for places we've stayed, visited, and restaurants.
It makes sense with the tremendous amount of vegetation around us, that
mosquitoes are impossible. With intermittent rains, the mosquito
population
continually thrives.
Only a handful of readers has signed up to receive the automatic email as shown on the right side of the page. These are a few folks who'd prefer to get the most recent post in an email, rather than go to their bookmark each day. Many prefer not to receive an additional email which is entirely up to you. 
Since the most recent post doesn't usually arrive by email until the day after posting, many prefer not to sign up to receive it. Creating a bookmark is easy, allowing the reader to look for it within a minute of my posting it. Tom and I have tested this and it's almost instantaneous. Either way you prefer is fine with us.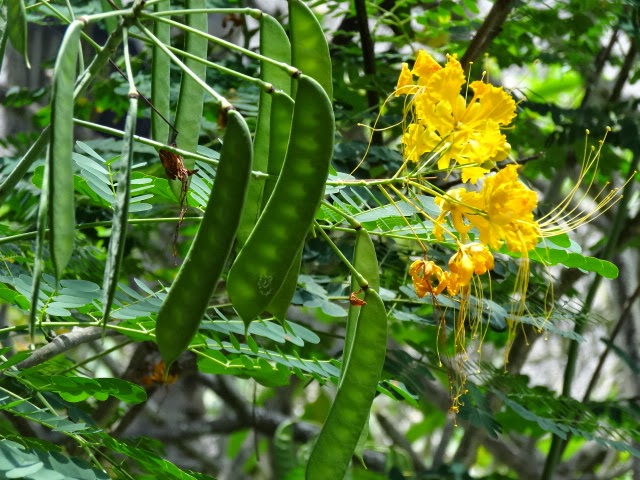 These pods are fascinating.  They look like pea pods but no one seems to know
 if they're edible
.  To be safe,
we won't use them in a stir fry.
Never, at any time will we take away the personal nature of our postings. After all, it's very personal to us, often sharing the most minute details of our daily lives, our thoughts, our difficulties, and our dreams for the future. 
Yesterday, our post held a special meaning for us. Two of our regular readers, both of whom have posted comments at the end of posts in the past, both posted comments yesterday. 
Each of their observations meant so much to us. If you'll go back to the post from yesterday, September 27th, you can read their much-appreciated comments and our response at the end of the post: Click here please and scroll to the end of that post.
These were often seen in pots in the US.  Here they are almost the size of a tree.
We encourage you to comment.  If you agree or disagree with us, if you have suggestions for us, if you have warnings for us, or if you simply want to say "hi," share a recipe, share a travel experience or for that matter, share any experience, we'd love to hear from you.
We publish and respond to every comment we receive except those of a pornographic nature, those that may offend others for any reason, or those that are promoting unrelated websites that serve no use to our readers.  This will never be a place where we'll "hound" our readers to buy something. 
Away from our family and friends, which may prove to be for extended periods, we have few interactions each day except with one another, while living in many remote areas.  Our world is not only that which surrounds us each day, but is also, every one of YOU.
If you don't travel or can't think of anything to say, tell us about a new TV show or movie we should download, or the weather where you live, or if nothing else, tell us your mindless drivel as we tell you ours almost each and every day.
We'll be back tomorrow with photos of our outing tonight.  See you soon!