It's Saturday morning. The power is out due to load shedding. Still, we are quite content sitting at the table on the veranda and entertained every so often by another visit by wildlife, whether several members of a species or single holidays. Whether it's a lone Big Daddy, a male bushbuck we call Spikey, or a  female we call Marigold, the visitors wasted no time visiting us throughout the day and evening.
As I type this now, warthog Mom and Babies arrived. I stopped to get them some pellets they devoured and now are on their way to the next bush house to see if they can find even more pellets than we're willing to toss. After all, pigs are pigs, and they'd eat all of our pellets in no time if we let them.
Yesterday, we ordered three more 40 kg, 88-pound bags. A guy with a truck stops at Louise and Danie's office, the Marloth Park Info Centre, selling pellets every Friday. The cost for each bag is ZAR 260, US $15.46. We go through about two bags per week, costing us about ZAR 2237, US $133 per month. We don't flinch. Paying this when feeding the animals brings us so much joy and hopefully provides them with an added bit of sustenance.
Oops, I had to stop again. Wildebeests Bad Ear and Crooked Face just stopped by but only stayed long enough to eat the first batch of pellets we tossed and then were on their way. A herd of about 30 impalas has been hanging out in our garden since early this morning.
Of course, Lollie is our permanent fixture. She went out on a stroll for about an hour this morning, but we can always count on her return a short time later. She's back here now searching for any residual pellets some other visitors may have missed. She's often successful in locating a few. Plus, we don't hesitate to toss her some from the four-cup plastic measuring cup we use to scoop them up.
Yesterday afternoon, when I went to wash my hands, there was no water. At 3:00 pm, 1500 hrs. each day, Tom showers, while I prefer to shower when I get up in the morning. We were due to leave for Jabula for our usual Friday night outing at 4;45 pm, 1645 hrs. Tom wasn't able to shower before we left. He cleaned up the best he could with bottled water, filled a bucket with water from the pool for the toilet, and we went about our plans.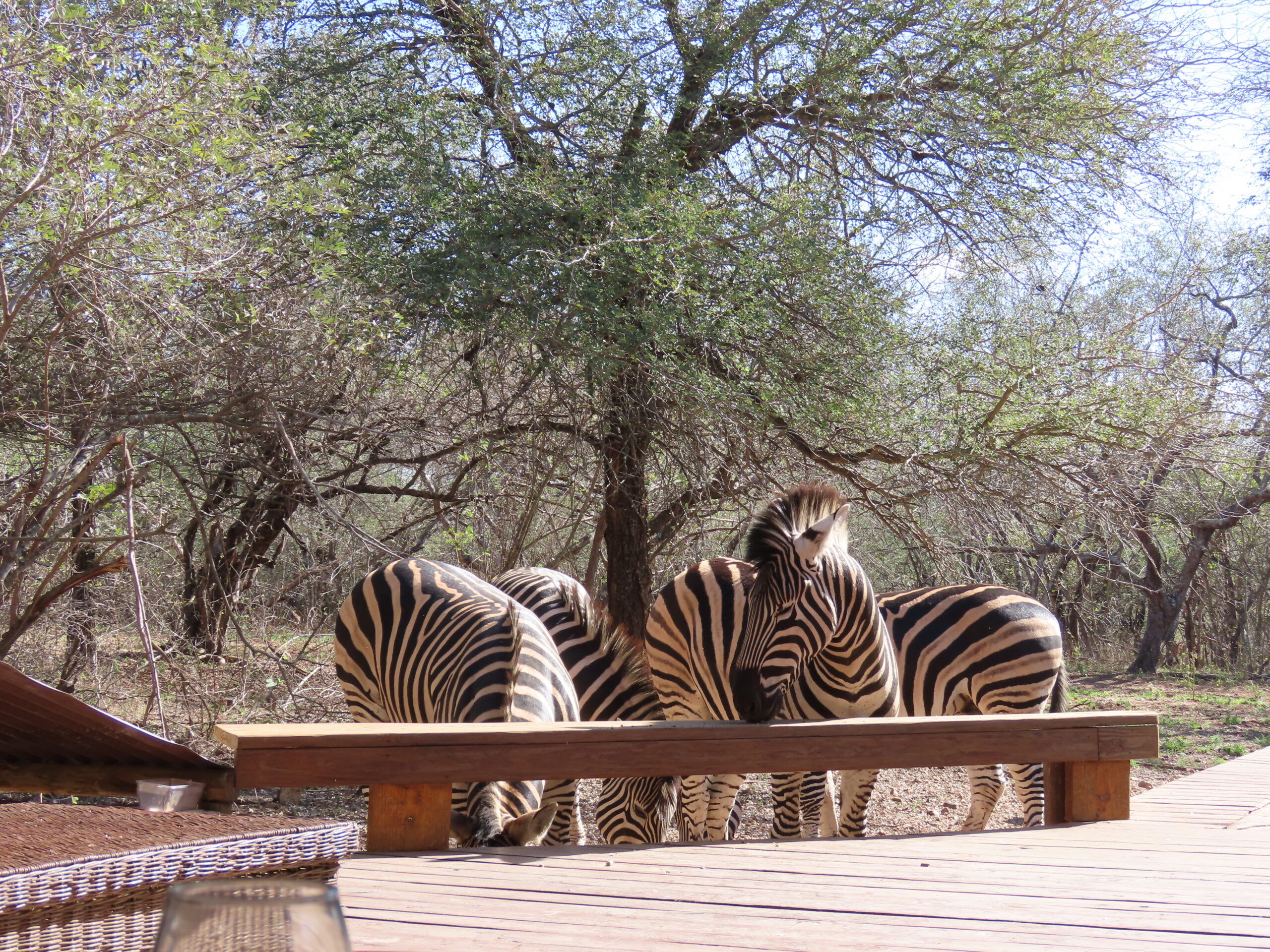 Some repairs were being done, and the pipes to Marloth Park were empty. Once the repairs were complete, they'd turn the water back on, and the lines would refill in a few hours. We had water once again when we returned home from dinner at Jabula.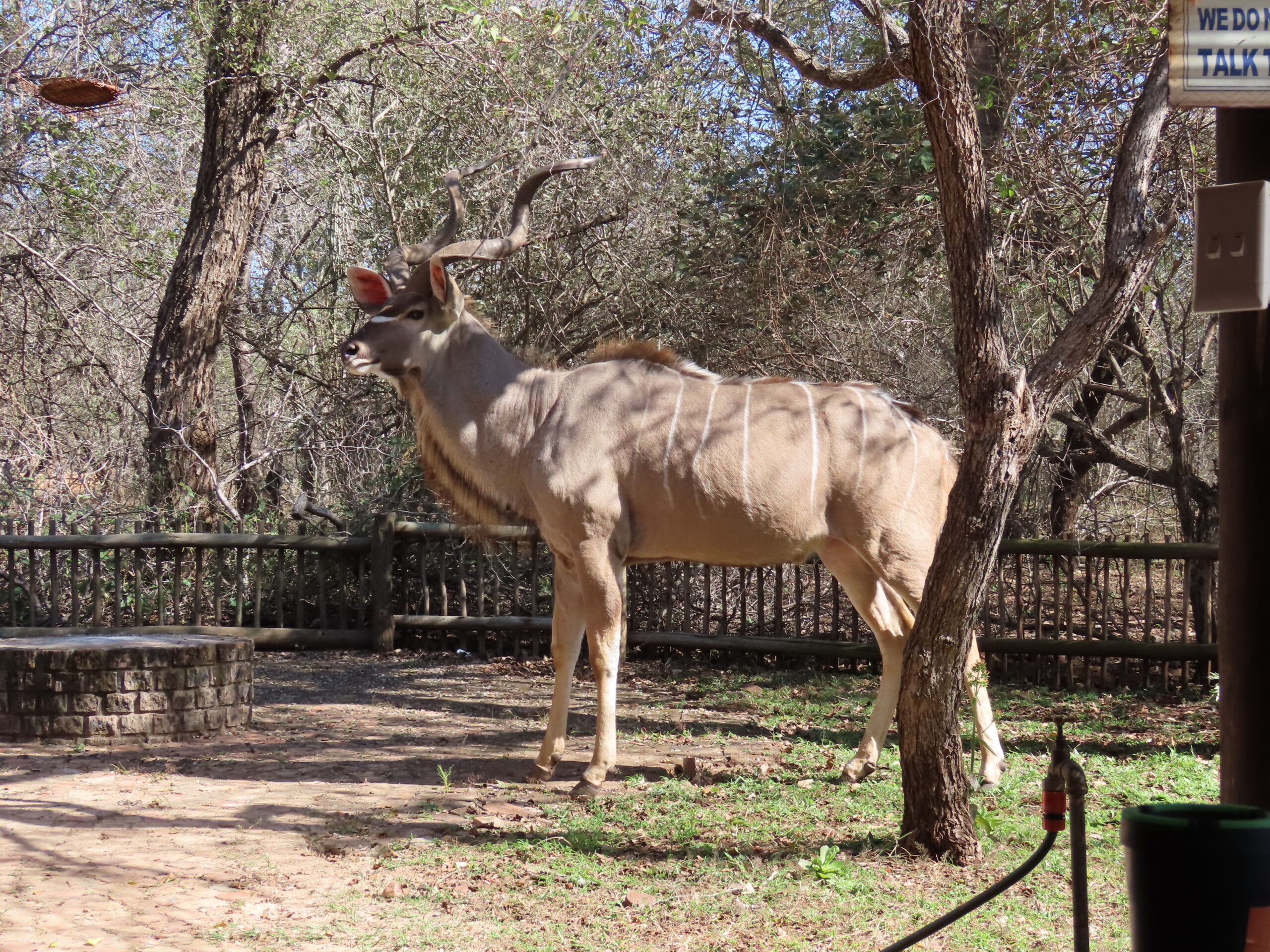 The water pressure isn't good here. But TIA, "This is Africa," and that's how it is. No power? No water? It's the "nature of the beast" (no pun intended). We've become used to these issues, but we always like to know if the information is available and when the services will be restored. That way, we can plan accordingly. Louise provides the most up-to-date information, allowing us to plan as necessary.
We had a fantastic time at Jabula, enjoying the lively bar chatter, the excellent food, and drinks.  Dawn carries my favorite wine, Four Cousins Skinny Red, I usually drink a few glasses from the new bottle we purchase, and they save the rest for me for the next week. Surprisingly, it stays fresh in their fridge until I finish the bottle the following week. I don't care for chilled red wine, but this way seems to work best. Once the bottle sits out for 30 minutes, it returns to room temperature.
Today, we'll cook dinner on the braai while continuing to enjoy time on the veranda as the stream of visitors never fails to entertain us and warm our hearts.
Have a lovely Saturday.
Photo from one year ago today, July 9, 2021: