We are undoubtedly thrilled to be back safely after the long journey, no worse for the wear. The return trip wasn't easy, especially the long 15-hour flight and the myriad connections. Sleep was elusive on the plane, and neither of us slept a wink while we spent in the airport hotel in Joburg. At midnight, it was daytime to us, and there was no way we could fall asleep. It was a long and fitful night.
In Joburg, our substantial new duffel bag was lost and has yet to arrive. We filed a claim but no word yet, three days later. This bag contained all of the new items we purchased in the US. We aren't hopeful.
Tom's yellow bag was found in Joburg and was delivered last night. At this point, we are out only one of our previous three missing bags. If it isn't found in the next few days, we will have to file for reimbursement.
But, replacing the items will be time-consuming and require a shipment to South Africa, which is always a frustrating scenario. We will figure that out in the next few days, confident that it will be fine when all is said and done. It's only stuff, after all.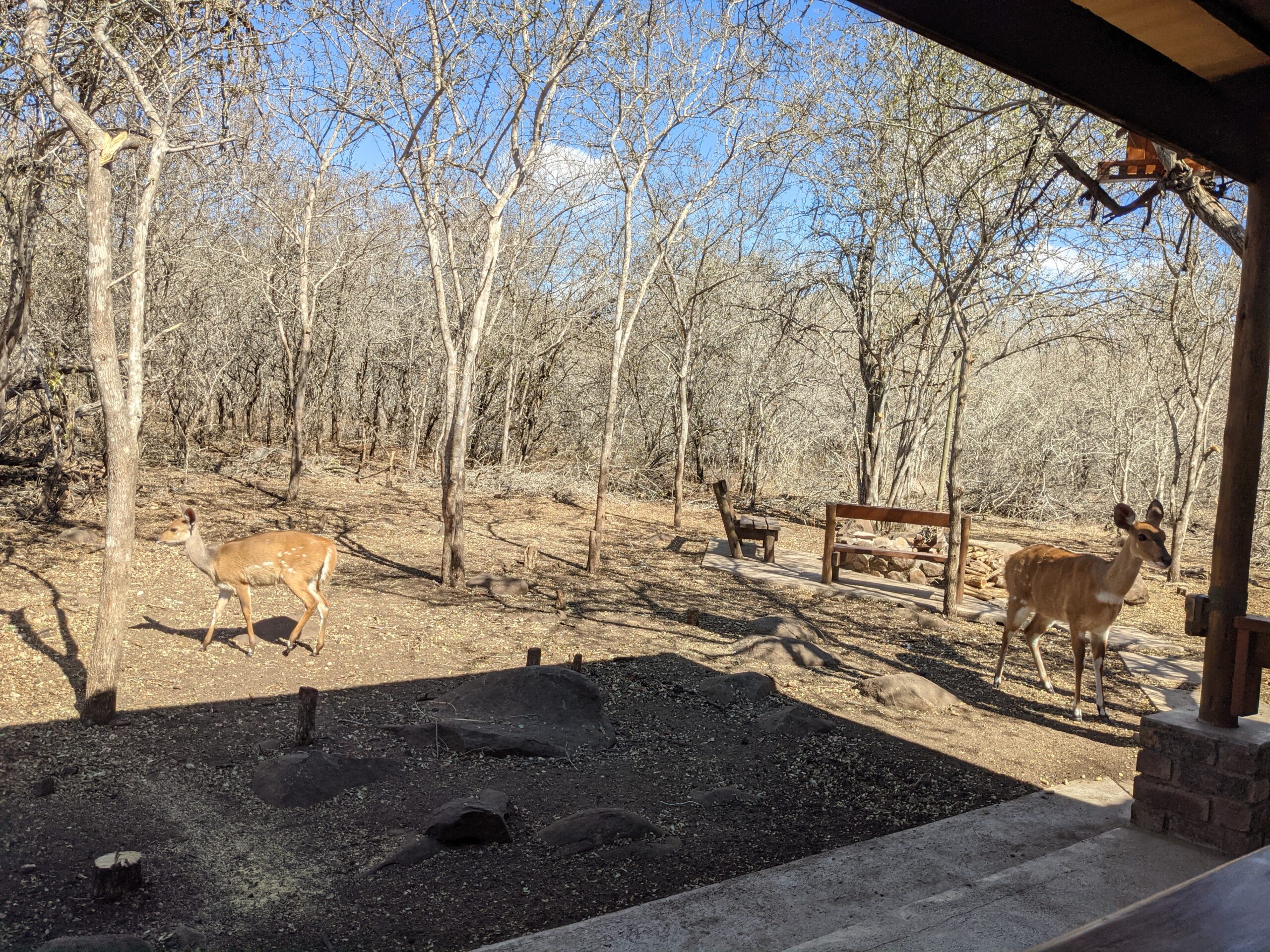 Regardless of the tiredness and inconveniences, we are thrilled to have had such a great experience in the US and are now delighted to be back in our slice of Paradise, Marloth Park. As I write this now, situated at the table on the veranda, the power has been out since last night, only hours after we arrived and shortly after we returned home from dinner at Jabula.
Louise had grocery shopped for us, but I didn't have the energy to prepare a meal, although we'll do so tonight. Now with no power and our perishables in Louise"s freezer, we've decided to eat eggs and bacon for tonight's dinner, easily made on the separate burner on the braai. The electric oven won't do us much good. Hopefully, the power will return by tonight, and we will begin to get back in the groove of life in the bush.
Right now. I am preparing this post on my phone using pricey data from Google Fi since, when the power goes off here, we also lose the WiFi signal.
Some of our animals have returned, but few favorites other than eight adorable bushbucks, including a few new babies we've seen Peter. Paul and Mary, Bossy, and one new warthog we have named. Broken Tusk or BT, not to be confused with wildebeest, Broken Horn, who's yet to return.
Little just showed up! Yeah. Maybe Tiny will be here at sundowner time as always! Plus, I called to discover our third missing bag was on its way to us. We'd already received missing bag #1 (while in Minnesota) and mission bag #2 (which was delivered to Louise's last night), and soon bag #3, the missing duffel bag, with all the new items, will arrive. This is the first time in almost nine years of travel that we've lost a bag, let alone three!
And, even more, good news…the power just came back on!!! Yes, good news we surely appreciate!
Enjoy our new photos. Many more are coming tomorrow of new sightings of old friends.
Be well.
Photo from one year ago today, July 27, 2020:
From the year-ago post on day #125 while in lockdown in Mumbai, India, I wrote, "OK, folks, here's a new one for you. This is a "bask" of crocodiles!" For more photos, please click here.