Who's in the garden this morning?
4 warthogs – inc One Wart, The Imposter, Lonely Girl, Lonely Boy
6 bushbucks – inc. Thick Neck, Chewy, Bad Leg, Spikey
7 kudus – inc. Bossy, Notches
4 wildebeest – inc. Broken Horn, Crooked Face
2 hornbills
13 helmeted guinea-fowl
4 Frank and The Misses – they got into a fight. No one was injured.
It's very cool this morning. With the water out since Sunday and finally fully restored late yesterday, I started doing several loads of laundry, including the warm pullover sweatshirt of Tom's that I wore every day I was sick. It needed a wash, and it's currently outside, drying in the breeze. Unfortunately, it's so cool and humid; it may not dry today.
This morning, I went through all of my clothes and couldn't find anything warm to wear other than a long-sleeved tee-shirt. A jacket over it is not comfortable to wear all day. The wind is whipping around us right now while we're seated on the veranda.
Vusi and Zef are in the process of getting the house ready for winter. Yesterday, Vusi cut down several large branches hanging over the braai (the firepit). Unfortunately, the dried-out branches above the braai created a fire hazard, preventing us from making a bonfire. Fire hazard is huge in Marloth Park, especially during the dry winter months. However, he did a fantastic job, enabling us to enjoy a bonfire while seated on the benches, especially when guests.
Whenever we've gone to Kathy and Don's house overlooking the Crocodile River, they've built a fire. We all pulled up camping chairs around the fire, staying warm and comfortable for hours on end, engaged in lively conversation. Also, Tom and I can enjoy a fire for the two of us on cold nights.
Don will be arriving in Marloth Park next week, and Kathy will come in July. We are looking forward to seeing them both and having many fun social events with them as well. As we've often mentioned, one of the joys of living in Marloth Park is the social life as well as the immeasurable pleasure of seeing the wildlife.
Also, this morning, Vusi and Zef brought the outdoor gas heater over after getting it ready for us to use over for the winter. We used that same heater when we were at the Orange House in 2018/2019, and we look forward to using it again to stay warm on the veranda.
Next week, Rita and I are going shopping in Komatipoort to see if I can find a few warm hoodies to get me through the winter. It will be pretty unusual for me to shop with another female instead of the rushed feeling I have when Tom is waiting in the car, outside the shop, while I try to find something in a hurry. Of course, he doesn't rush me, but I feel bad leaving him waiting.
As mentioned, I don't drive here in South Africa (or many other countries) with only manual transmission rental cars, which would require me to shift using my left hand while driving on the left side of the road. I am not coordinated by any means, and this would be an accident waiting to happen.
This morning, I spent time reorganizing some of the kitchen cabinets. Rita motivated me when I noticed how tidy her cupboards were at the Hornbill house. In my old life, I never had messy cupboards and drawers. But, when we left our former lives behind, I also left behind my obsession for tidiness.
Lately, I noticed how hard it was to find anything in the kitchen cupboards, of which there are few.  So today, I tackled the long-overdue task. I'm still a cleanliness freak, but tidiness has not been a priority, although our vacation homes are always reasonably organized. Both of us are tidy in cleaning up after ourselves.
It's been a good and productive morning.  We hope you have a meaningful day as well.
Photo from one year ago today, June 3, 2020: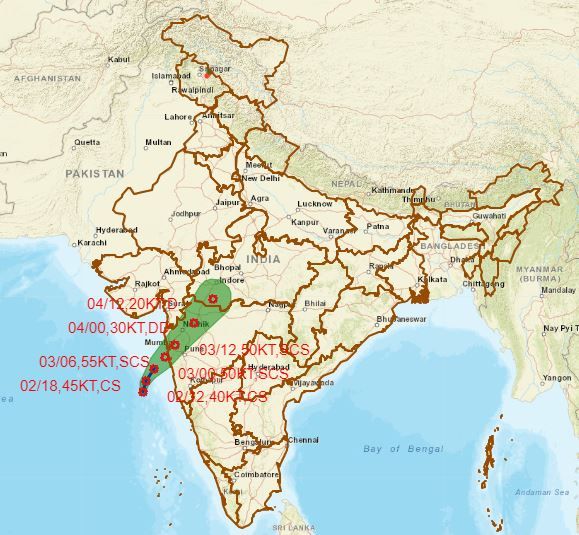 The weather map of the anticipated course of Cyclone Nisagra. As you can see, Mumbai is located on the map in the dark green area indicated as the cyclone's path. For more, please click here.