Yesterday morning, after the bale of lucerne was delivered, we didn't see any wildlife for quite a while. Finally, they started drifting in, one by one; wildebeests, Earl and Bad Ear (who ate the most); warthogs, Busybody, Lollie, Rueben, and pesky Trouble; bushbuck Marigold, Tulip, and Lilac, and a variety of impala, all of whom we call Chevy (there's too many of them to name).
Last night, some activity was around the bale, but wildebeest Bad Ear laid right on top of it, as shown in today's main photo. We couldn't stop laughing after he claimed the entire balance of the lucerne. We took the main photo, and the trail cam picked up the other.
Today is a cooler day, and it feels especially good to be outdoors on a cloudy day. Load shedding ended this morning at 9:00 am, so I took my time getting up. With the increased dose of the medication for my headache starting two days ago, which makes me sleepy day and night, I somehow managed to sleep through the night and was still groggy when I started moving around.
The pain from the Covid-19 headache I've had since April tends to come and go right now instead of being constant. Doc Theo ordered a new prescription for me for 35 mg as opposed to the 25 mg I had been taking for two weeks when I reported the headache was still there. But, every few days, I experience relief for several hours, during which I hope it won't return.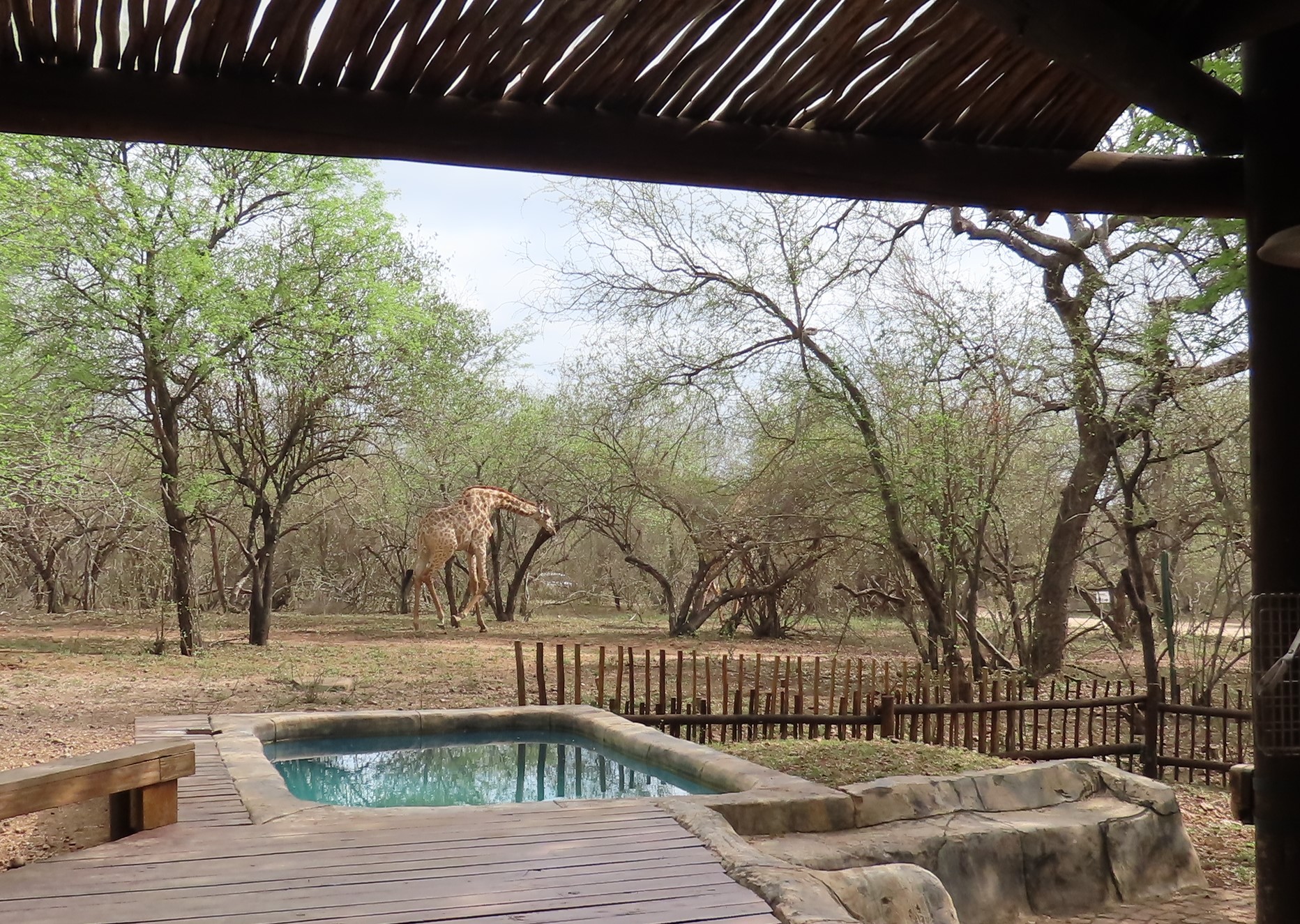 Alas, several hours later, it returns. I can't pinpoint what causes it to return. It's not as if I am doing anything to precipitate it. This morning, after that long sleep, I awoke with it, but now a few hours later, I am pain-free for who-know-how-long? When it's gone, I find myself having a little more energy and using the time to complete tasks around the house. I can't wait for it to be gone.
Four Big Daddy kudus just arrived and are enjoying the remnants of the lucerne. Also, we had some potatoes left from our friend's visit, and they are finishing those off. Vegetables are a safe food for the wildlife since many frequently dig up roots for sustenance when the trees are bare during these dry months.
We're staying in today, enjoying quiet time in the bush when fewer vehicles are driving on our dirt road. Many holidaymakers go to Kruger National Park on the weekends. During busy times, they must make an appointment to enter the park. We don't care to go when an appointment is required.
If that many visitors are in the park, too many vehicles are gathered near a sighting, often too many for us to even take a single photo. We will return when this current holiday period ends in a week. Nor do we care to drive to Two Trees to search for wildlife on the river. We couldn't find a place to park the last time we headed that way.
Sometimes, we worry that the magic of this special place will fade away as more and more houses are built. As more ground surface is covered by homes, driveways, and fenced gardens, there is less and less natural habitat for the wildlife to eat. We see this fact when we drive around and see so many houses being built. In time, the animals could be gone, mainly from dying of starvation. It's an awful thought.
Many say that regular culling is a solution. But doesn't that defeat this magical place's entire value and purpose? There's no easy answer. There are many sides to this perplexing situation, all valid to one degree or another.
Be well.
Photo from one year ago today, October 2, 2021:
No photo was posted one year ago today.