In yesterday's post, we were so excited by the visit of the three giraffes. I failed to mention the delightful evening we had Friday evening at Jabula with friends Rita and Gerhard, who'd just returned from a trip to Germany for two weeks, and Kathy and Don. The place was jumping with dinner guests, a "hen" party, and enthusiastic drinkers at the bar.
As always, we arrived at Jabula at 5:00 pm (1700 hrs), as did Rita and Gerhard. Kathy and Don always arrive at 6:00 pm (1800 hrs), after which we immediately took our table for six on the veranda. It was a chilly night, but everyone had dressed accordingly, and the conversations, excellent food, and drinks flowed with ease.
It was interesting to hear about Rita and Gerhard's trip to Germany for his mother's 98th birthday, the motivation behind their trip back to their birthplace for this special event. But, like us, being away from the bush for any length of time creates a longing we all share that is hard to describe.
The six of us together is a non-stop chat-fest. The girls sat at one end of the table and the boys, the other. It's always fun to have some "girl talk," something I've missed being away from girlfriends for so long. And, of course, it's great for the guys to talk about "guy things."  Not to differentiate the sexes, but let's face it, sometimes women and men favor specific conversations over others.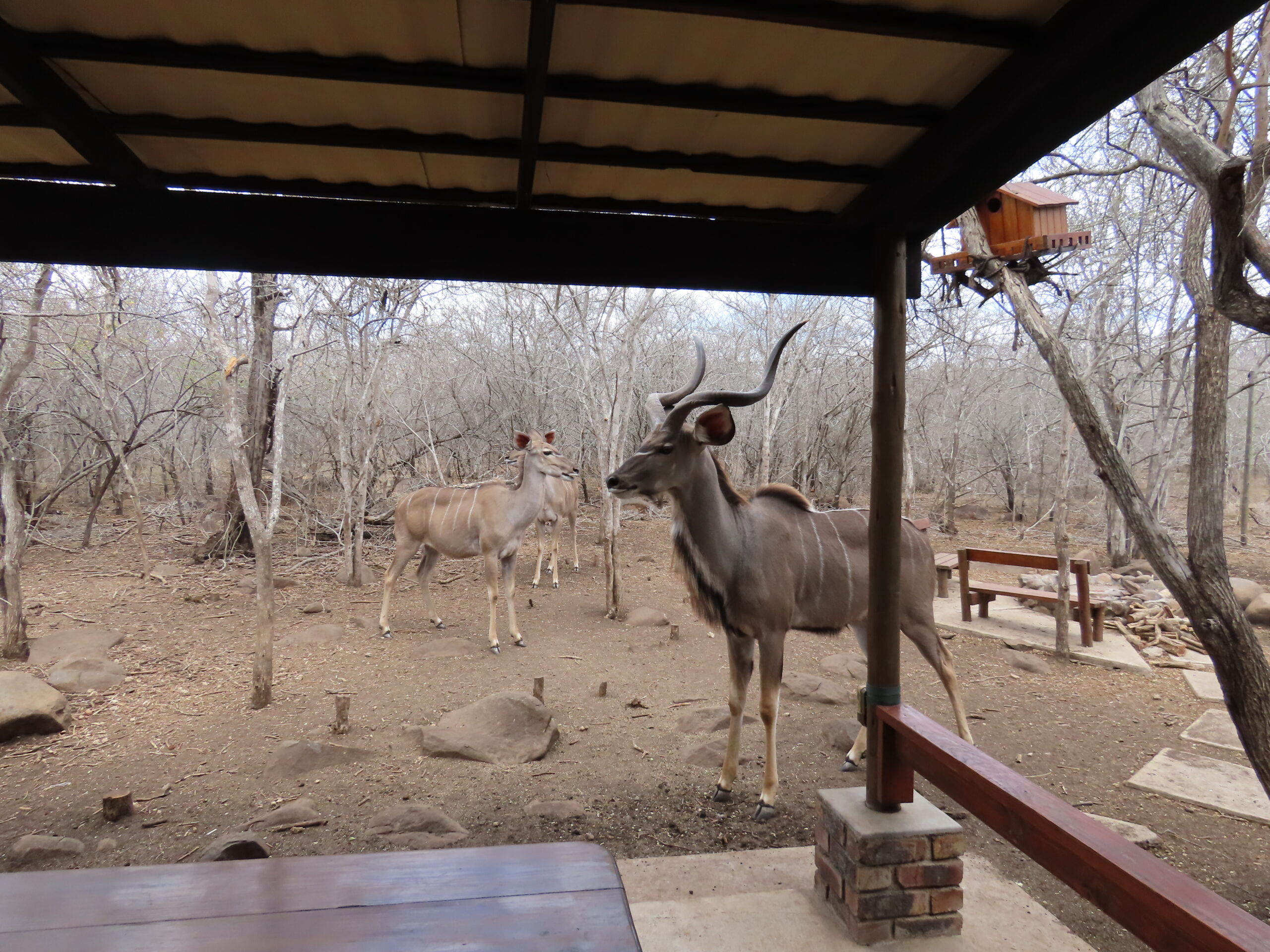 The six of us have plenty of opportunities as a group to converse about a wide array of topics. With similar interests in travel, wildlife and nature, we never find lulls in conversations. We'll attend a braai at Kathy and Don's home on Wednesday evening, overlooking the Crocodile River. I suggested we each bring our meat, along with our drinks. That way, it's so much easier for our thoughtful hosts.
Typically, we'll bring a side dish to share, making it easier for the hosts than spending all day in the kitchen. We'll arrive at 5:30 pm (1750 hrs), in time to watch and take photos of the sunset. No doubt it will be another lovely evening in the bush.
Last night, Tom and I returned to Jabula Lodge and Restaurant on our own. We feel it's essential to support the restaurant in any way we can. Dawn and Leon, the owners, have become special friends over the years. Dining there a few times a week, during times of Covid-19, is a small part we can play during these lean times for restaurant and shop owners.
Besides, we always have so much fun there sitting at the bar. Tom sips on his brandy and Sprite Zero while I consume on my usual few glasses of low-alcohol, "extra-light" wine. There's a steady flow of locals and visitors, and the conversations are always entertaining.
Last night for the first time since we've been in Marloth Park, we met three guys from the state of Texas in the US. It was unusual to speak to traveling Americans here for the first time in years, besides our friends, as mentioned above (Kathy, Don, Rita, and Gerhard), are Americans. It was the three guys' first time here. We enjoyed hearing about how much they've enjoyed seeing the wildlife in Kruger and Marloth Park. They, like us, couldn't believe such a place existed.
By 9:00 pm, we were back home to settle in our bedroom to watch a show on my laptop and eventually settle down for the night. After having loaded up on Advil and Tylenol (Paracetamol) before I went to sleep this morning, I found the socket still painful after the meds had worn off. Tomorrow, I will contact the dentist to find out why it's been hurting for so long and what to do. I may have a dry socket.
Tomorrow morning, I'm going with Kathy and Rita to Stoep Cafe in Komatipoort for breakfast, and then we'll all go grocery shopping. Most likely, I'll head back to the dentist on Tuesday if the socket is still painful. We'll see how it goes.
As for today, I didn't feel up to going anywhere with this painful situation. Instead, I am making one of Tom's favorite low-carb dinners; mozzarella stuffed meatballs with homemade pasta sauce, topped with hand-grated mozzarella, a side of white rice along with a big green salad. I'll skip the rice and have the meat, the sauce, and a salad. Of course, neither of us eats the starchy, carb-laden noodles that usually accompany this dish, but it's so good, it doesn't need them.
That's it for today, folks. We hope you have a pleasant Sunday!
Photo from one year ago today, September 20, 2020:
This photo was posted one year ago while in lockdown in a hotel in Mumbai, India, on day #180. This photo was taken at our landlord, Hans' construction site in Diani Beach, Kenya, in 2013, where branches were used as supports. For more photos, please click here.