To all of our friends/readers in the US, we wish all of you a safe and pleasurable Labor Day weekend. Please drive safely, observe local Covid-19 restrictions and enjoy time with family and friends, cooking outdoors, fishing, boating, or whatever you choose to do during the long holiday weekend.
As for the weekend here in the bush, Marloth Park is relatively quiet with some holidaymakers, mainly from South Africa, who have come to escape life in the big city and relax peacefully in the bush. Nowhere in the world have we've ever been offered the depth of serenity and peace than Marloth Park.
Although from time to time that may vary due to visit by those select few who see this magical place as a "party town" where there is minimal police presence with many opportunities to go wild, drinking, to drive fast, and to have little regard for others seeking the peacefulness of living among the wildlife.
Fortunately, where we are located, the property backing up to Lionspruit, we rarely hear any noise other than the weekday construction work on a house across the road. In Marloth Park, there are strict regulations about weekend and evening construction noises to avoid disturbing visitors and the wildlife. Most comply or face fines.
This morning, as I struggled to get out of bed after staying up until after midnight with only about 5 hours' sleep, Tom came to the bedroom, hoping I hadn't gone back to sleep to tell me to hurry and come outside. He didn't want to awaken me if I dozed back off. But, I was wide awake playing a fun word game on my phone.
I bolted out of bed to head directly to the veranda, and there they were…four mature Big Daddy kudus, seeing what we had for breakfast. We couldn't have been more thrilled. Sure, we get one or two Big Daddies from time to time. But, four was something we'd never seen.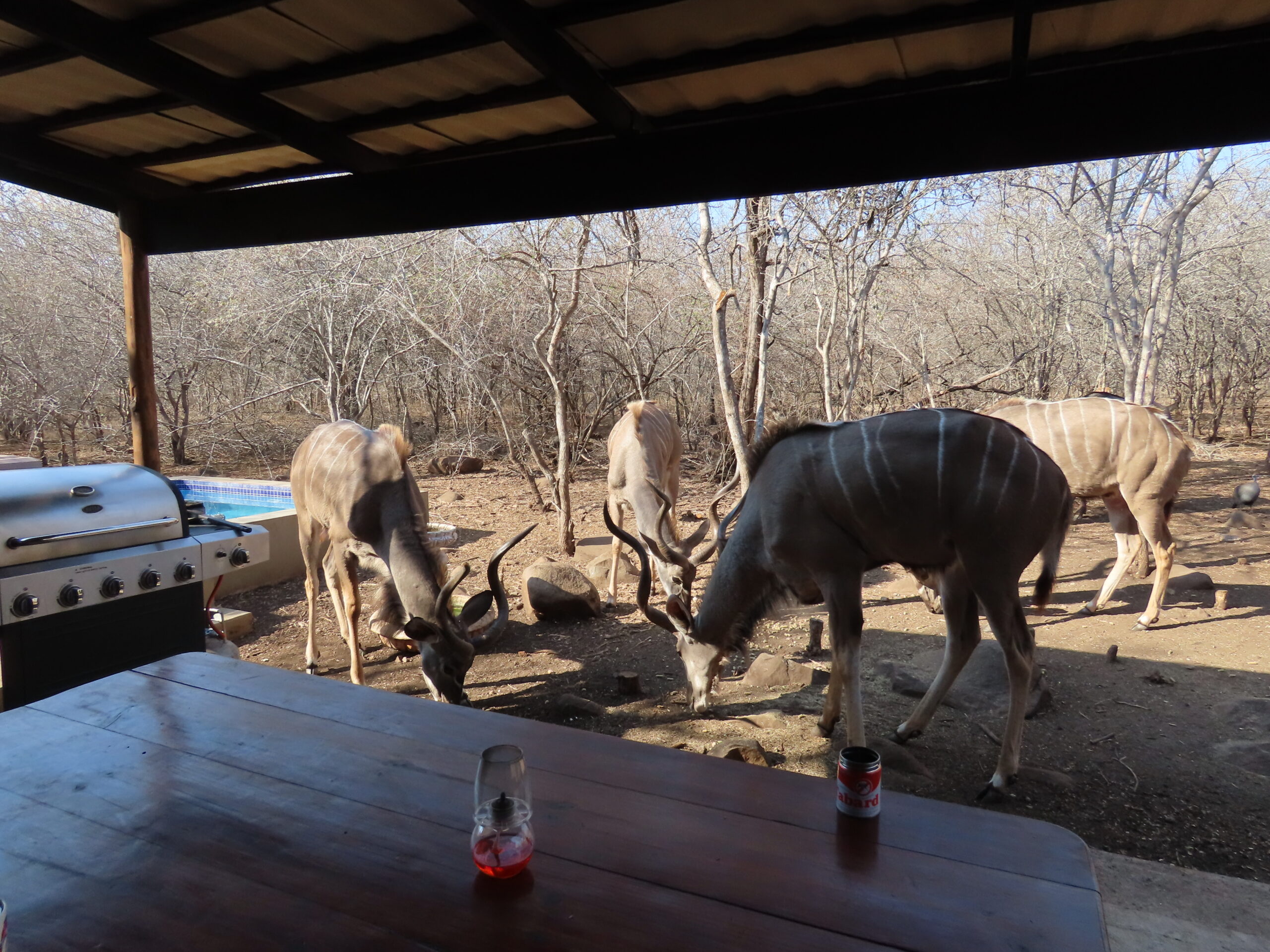 Quickly, I ran to the kitchen for the remaining carrots from the considerable bag we'd purchased at the market last week, and we both started tossing thick, whole carrots in their direction. They gobble them up in minutes, leaving us grabbing for pellets to throw onto the ground. As always, we never feed wildlife by hand, especially not Big Daddies with their enormous horns that could easily eviscerate a human in seconds.
Kudus are not violent animals, but they can startle easily, push one another, or lunge unintentionally. Besides leopards, the occasional lion, or warthogs with razor-sharp tusks, they are the most dangerous wildlife in Marloth Park. Even the adorable male bushbucks who visit us all day and night are extremely dangerous with sharp and long horns. One can never be too careful around any wild animal.
It was quite a delightful experience to be among them. We felt very fortunate to be privy to this amazing visit. And even if they never return together again, we are grateful for the opportunity to witness such magnificence.
Last night, our friends Fiona and Alan came for dinner. Alan is a prolific writer of outstanding published books on Marloth Park. He is a wealth of stories and information about this magical place after living here for 20 years, and the time spent with the two of them is rife with fantastic wildlife and human stories.
We had a lovely evening on the veranda with them, with our new speaker spewing out music to highlight the evening. We kept the speaker indoors (not too loud) to avoid making too much noise in the bush. The dinner turned out well, and the evening flowed with ease. As always, I was glad I'd prepared so much of the meal in advance.
We had various visitors while they were here, primarily warthogs, bushbucks, and many mongooses, who've been hanging around with us for days. Once they arrived, we savored the starters. We then put the meat on the braai, cooked the rice, reheated the roast vegetables, and tossed the salad with the homemade dressing. We sent them home with a "doggy bag" of leftovers.
Hmm…another lovely weekend here in Marloth Park. Tomorrow morning, I have an appointment with Dr. Singh to have that problematic tooth pulled. If we haven't posted before leaving here at 10:15 for the long drive, hopefully, I'll feel well enough to wrap it up when we return.
Have a fantastic day!
Photo from one year ago today. September 5, 2020:
We posted this photo one year ago while in lockdown in Mumbai, India, on day #166. We visited Blarney Castle as a port of call on a cruise in 2015. For more, please click here.