Locomotive and coach formerly used for tours of the Kilauea Sugar Plantation, now closed for many years.
Several days ago, I'd mentioned posting information about sugar plantations in Kauai. Unfortunately, under the weather the past several days has left me feeling a little less creative in the writing equivalent of an essay on the topic of which I knew very little, having visited only one plantation in Maui.
An abandoned sugar plantation from 1905.
We'd hoped to visit a sugar plantation before we left the island of Kauai to have our own photos and story to share. However, after considerable research, we discovered that all of them have closed, the most recent in 2007.
As a result, I've borrowed the following information and photos from this site which tells the story better than I could have, especially after not being able to visit a sugar plantation while here in Kauai. I've changed the font for easier reading.
"Sugar cane, or Ko in Hawaiian, is a perennial grass that can grow up to 20 feet high. Imported by the original Polynesian inhabitants of Hawai'i the plant was believed to have medicinal properties in addition to its sweet flavor. Once harvested the stalks are ground up and the liquid extracted by rollers to obtain juice, which is then slowly boiled down to create raw sugar.
The first commercial sugarcane plantation was started at Koloa, Kauai in 1835. Early sugar planters faced a multitude of challenges including shortages of water, limited labor, and due to their isolated location a lack of markets for their sugar.
It takes approximately 5 million gallons of water per acre to bring a crop of sugar ready to harvest during a two-year growing cycle. Just 20% of that amount comes from rain so the pioneer sugar planters solved water shortages by building irrigation systems that included aqueducts (the first built on Kauai in 1856), artesian wells (the first in 1879), and tunnels and mountain wells (the first in 1898).
 
The 1876 Treaty of Reciprocity between the United States and the Kingdom of Hawaii eliminated the major trade barrier to Hawaii's closest major market for its raw sugar and a new industry in Hawaii was born. In just 60 short years raw sugar production reached 225,000 tons and by 1932 had grown to one million tons.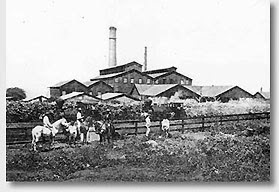 As the major commercial enterprise in rural Hawaii the plantations were cities unto themselves employing the majority of island labor force, providing housing, transportation, entertainment and later even electricity to the residents of Kauai through the power generated at their sugar mills. The first train came to Kauai in 1881 and served the Kilauea Plantation with 3 miles of track and five engines.
For over a century, sugar cane was the state's leading economic activity providing Hawaii's major source of employment and tax revenues. It takes approximately three feet of cane to produce one cube of sugar. On Kauai alone, there were over 70,000 acres dedicated to sugar with up to nine major plantations operating across the island at any given time from the Hanalei River to the Mana Plain. 
Former Kauai Sugar Plantations
Gay and Robinson
Established 1889 at Makaweli, Kauai
Grove Farm Plantation
Established 1864 at Lihue, Kauai
Kekaha Sugar Company
Established in 1856 at Kekaha, Kauai
Kilauea Sugar Plantation
Established 1877 at Kilauea, Kauai
Kipu Plantation
Established 1907 at Kipu, Kauai
Koloa Sugar Company
Established 1835 at Koloa, Kauai
Lihue Sugar Plantation
Established 1849 in Lihue, KauaiMcKee Plantation
Established 1877 at Kealia, Kauai
McBryde Plantation
Established 1899 Eleele, Kalaheo, and Lawai, Kauai"
It doesn't appear that the plantations closed due to a lack of good product, weather conditions or demand for sugar in the world's market. In researching online, we found these answers that make the most sense as to the decline of the plantations in the entire state of Hawaii, including Kauai:
Decline of plantations in HawaiiAs the prevalence of sugarcane in Hawaii deteriorated, tourism was promoted to take its place.
"Sugar plantations suffered from many of the same afflictions that manufacturing market segments in the United States continue to feel. Labor costs increased significantly when Hawaii became a state and workers were no longer effectively
indentured servants
. The hierarchical caste system, plantation managers had worked hard to maintain began to break down, with greater racial integrations as a result, ironically, of the sugar plantations. Workers began to discover they had rights, and in 1920 waged the first
multi-cultural strike
. Additionally, global politics played a large role in the downfall of Hawaiian sugar. Shifting political alliances between 1902 and 1930 permitted
Cuba
to have a larger share of the United States sugar market, holding 45% of the domestic quota while Hawaii, the Philippines, and
Puerto Rico
shared 25%.
The Big Five slowed the production of sugar as cheaper labor was found in India, South America and the
Caribbean and concentrated their efforts on the imposition of a tourism-based society. Former plantation land was used by the conglomerates to build hotels and develop this tourist-based economy, which has dominated the past fifty years of Hawaiian economics. [These statements are disputed and not verified or confirmed."
In Hawaii, tourism has taken over as the primary economy and rightfully so. As for Kauai, its inordinate beauty more exquisite than any island we've seen to date is evidenced by the number of travelers who continue to visit
The Lihue Museum houses considerable information about the sugar plantations of decades past.

Much to our surprise, Kauai doesn't have a feeling of tourists crowding every venue; it's easy to book vacation homes and hotels (except over the holidays) and reservations are seldom required at restaurants. Other than difficulty we experienced in gaining access to the Kilauea Lighthouse, we've never waited in a long line at any tourist attractions.
The only other difficult to access location has been the parking at the end of the highway heading northwest from Princeville to the Napali Coast and Ke'e Beach which we visited on several occasions. I'd love to return one more time to see if there's one more Hawaiian Monk Seal lying on the beach. Please click here to see the photos from the day Julie and I had "safari luck."
A special heartfelt thank you to all of our family members who contacted me yesterday to wish me Happy Mother's Day and all of our friends and readers worldwide wishing me good health. I received more email than I could count making an effort to reply to each and every one. 
Happy Monday!
Photo from one year ago today, May 11, 2014:
Today, I wouldn't post this blurry photo from one year ago today which was Mother's Day. My photo taking skills have improved a little since that time with much more learning on the horizon. For details from that day's post, please click here.