Note; In yesterday's post here, I listed a genet as a civet when it was a genet. Many Marloth Park locals and dear friends Kathy and Don, who are now at their home in Hawaii, heard that it was indeed a genet. This morning, I corrected yesterday's post with numerous references and facts about civets that now reflect facts about genets.
On last night's trail cam,ii t returned. Tonight's trail cam photos will likely reflect her visit once again. Tonight, we're having lamb (me) and pork chops (Tom) again, and will leave some meat and bones out for her after dark.
Last night, we had a great time at Khaya Umdani, where Rita, Gerhard, her sister Petra and her husband Fritz are staying for the upcoming three weeks. After Petra and Fritz leave, Rita and Gerhard will move to their favorite house on Hornbill, where we stayed during our first three months in the bush in 2013/2014.
Even with countless rhino beetles, as shown in the above photo on Rita's finger, flying around us, landing on our clothes, we didn't flinch. The drinks, the great food, and the conversation flowed with ease as always. Tom did a great job cooking the steaks and boerewors (sausages) on the braai. Rita and Gerhard served homemade potato salad, sweet corn, steamed green beans, and crusty bread. I brought a salad and Rita's low-carb birthday cake, as shown when she didn't want to eat sugar or gluten.
Tom was in heaven eating the bread, the corn, and the potato salad, although he picked at his filet mignon and salad. He can have steak and salad with me any day. But corn, potatoes, and bread are never on the menu when it's just the two of us.
If he can eat healthy low-carb foods with me, he's able to manage his weight and his health. But, he splurges when we dine out or dine at the homes of friends. It's a fair compromise, and I keep my mouth shut about what he's eating under those circumstances. Of course, my concern is for his health. But, he takes no drugs and has no medical conditions. Who's to argue with his desire for treats now and then? Not me.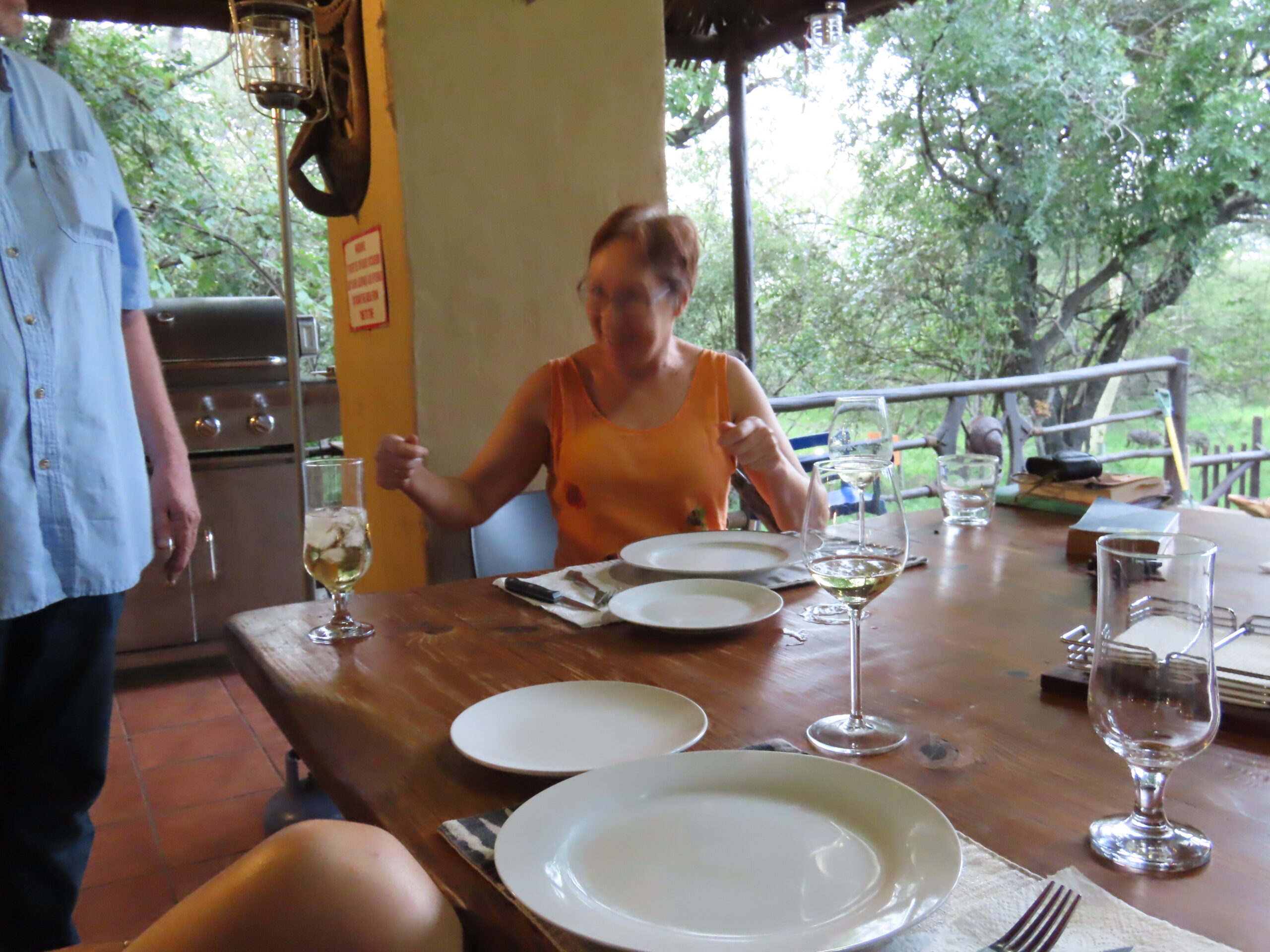 We enjoyed chatting with Petra and Fritz. Petra speaks better English than Fritz (they live in Germany). Still, we managed to easily communicate with them, either from their English, or translation in German by Rita and Gerhard. None of us missed a beat in the lively conversation.
We celebrated Rita's birthday, which is on Friday since we'll all be in Kruger National Park for a guided night game drive and dinner in the bush afterward. It made sense to make the celebratory first anniversary of their US citizenship along with her birthday on a special night.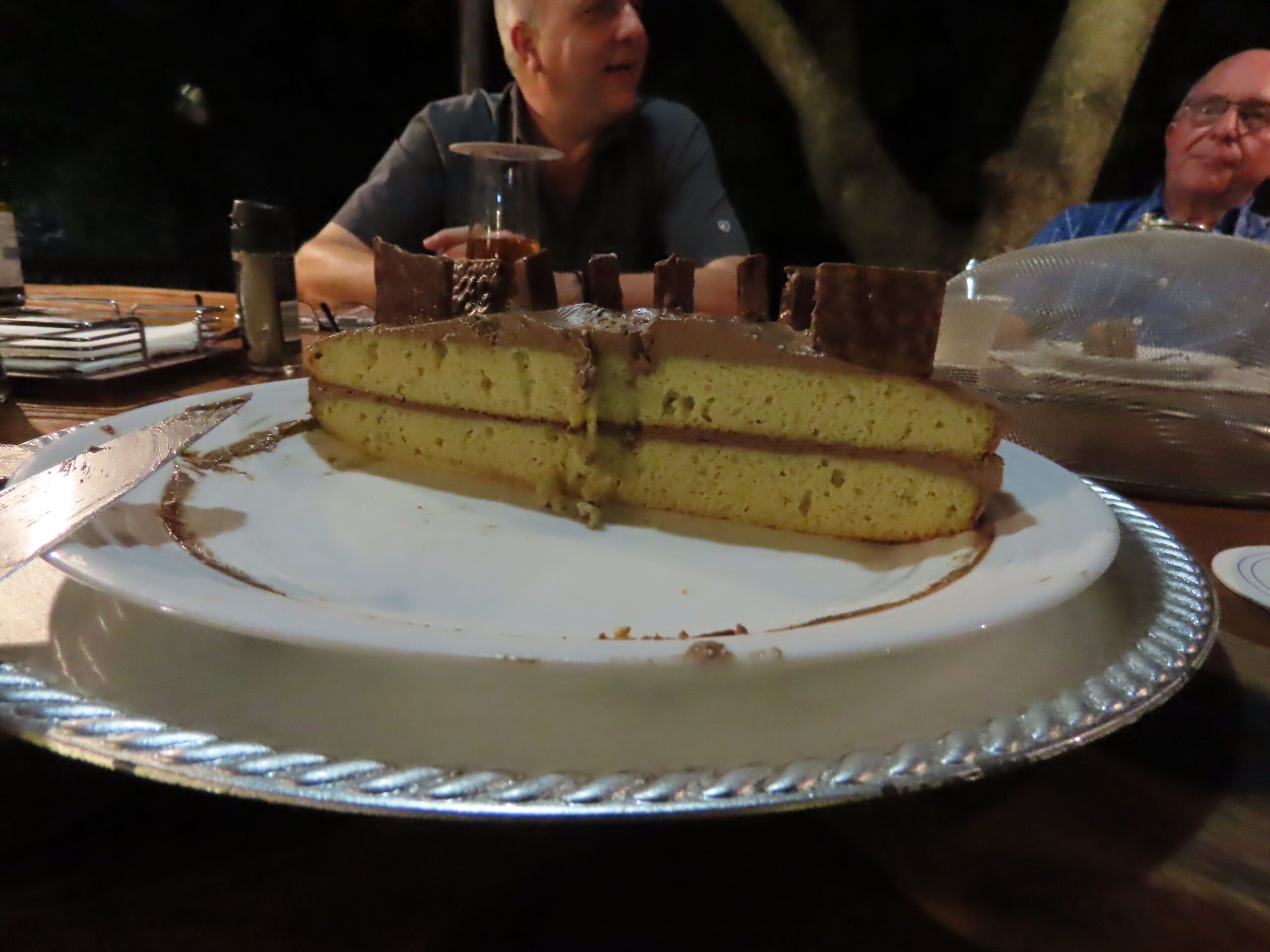 I didn't realize the birthday candles I'd bought at Spar were the type that doesn't blow out. We all laughed out loud when we had a terrible time trying to put out the fire on the cake.
Today is a quiet day. I am baking that exact cake for us and bringing an extra to Louise and Danie as a surprise. They will surely love it also. It will be fun to have a special treat after tonight's dinner.
We hope you are doing well in these crazy times.
Photo from one year ago today, January 13, 2021: