Note: I was so distracted by Tom returning I forgot to upload yesterday's post!  Here you go…
The only way last night could have been better was if Tom had been with us. We all missed him and spoke of him often. That aside, we had a wonderful evening. Louise and Danie certainly know how to turn a meal into a memorable event serving fantastic food, a wide array of options, and an ambiance one would only expect in fine dining.
Most people don't often invite half a couple for dinner. They wait until the partner has returned from wherever they may have been and then invite them as a couple. But Louise and Danie didn't hesitate to invite me by myself, never giving it a thought that cooking for one guest may be a lot of extra work. These two special people aren't afraid of work.
They'd been staying at the Khaya Umdani house, where my birthday party was held three weeks ago, since it has solar power, whereas their own home does not. Load shedding has been awful lately. I feel bad they put this massive inverter system in this house to ensure we are comfortable, yet they haven't put it in their own home.
Khaya Umdani is the most upscale of all their rental properties (although all of them are very nice) and has always been our favorite. From time to time, when it's not rented (a rarity), they use it themselves to get away from the annoyances of load shedding.
In 2014, we stayed at Khaya Umdani for about three weeks and cherished being there. We'd love to be able to rent it regularly, but it is out of the range of our budget, and we don't expect Louise and Danie to lower the price and lose money with us staying there for so long. The price is about three times more per night than we pay for this lovely house that fulfills all of our needs and expectations.
The evening started with adult beverages and keto starters of ham, cheese, and dill pickles, perfect for my way of eating. By the time we stopped chatting long enough to eat the main course, I already felt full. But, not surprisingly, when they put that huge slow-roasted lamb neck on my plate, I dug right into it, savoring every morsel, never thinking, as the meat melted in my mouth, about how full I was getting. I wasn't leaving a morsel behind.
Yesterday, I baked two keto cream cheese pies with almond flour crusts, which I know they both love, one to bring to them and another for me. I only tried a few tastes of side dishes, which were also delicious. If I'd had more room, I'd have also piled them onto my plate. (Tom doesn't care for it). I'd hoped to save space in my full stomach for a small piece when I got home.
They get up each day at 4:00 am and had another busy day working and prepping the lovely meal. They each had a small piece of pie and offered some to me, but I wanted to leave it all for them and also needed a little time for my food to settle down before I could enjoy the pie. Louise drove me home when  I insisted it was time to go around 9:00 pm, 2100 hrs.
The ride back was special when we saw a lot of wildlife hunkered down for the night along the dirt roads. It's incredible how they all look out for one another. They only looked up for a few seconds when we drove by to ensure they were safe. It's quite a sight to see.
Back at the house, no more than a minute after Louise dropped me off, I ducked when a huge bat flew over my head when I was in the lounge room. I thought I'd better quickly cut my little piece of pie and head off for the bedroom, knowing I'd never open the bedroom door again until morning.
Once I was settled with my pajamas on, I noticed a message coming in from Tom that his flight from Newark (where he was) had been delayed, which would cause him to miss the 16-hour flight to Joburg, which ultimately could delay him by as much as a day. He texted me at 2:00 am to let me know he'd be in the air before too long when the airline booked him on an earlier flight so he'd make his connection.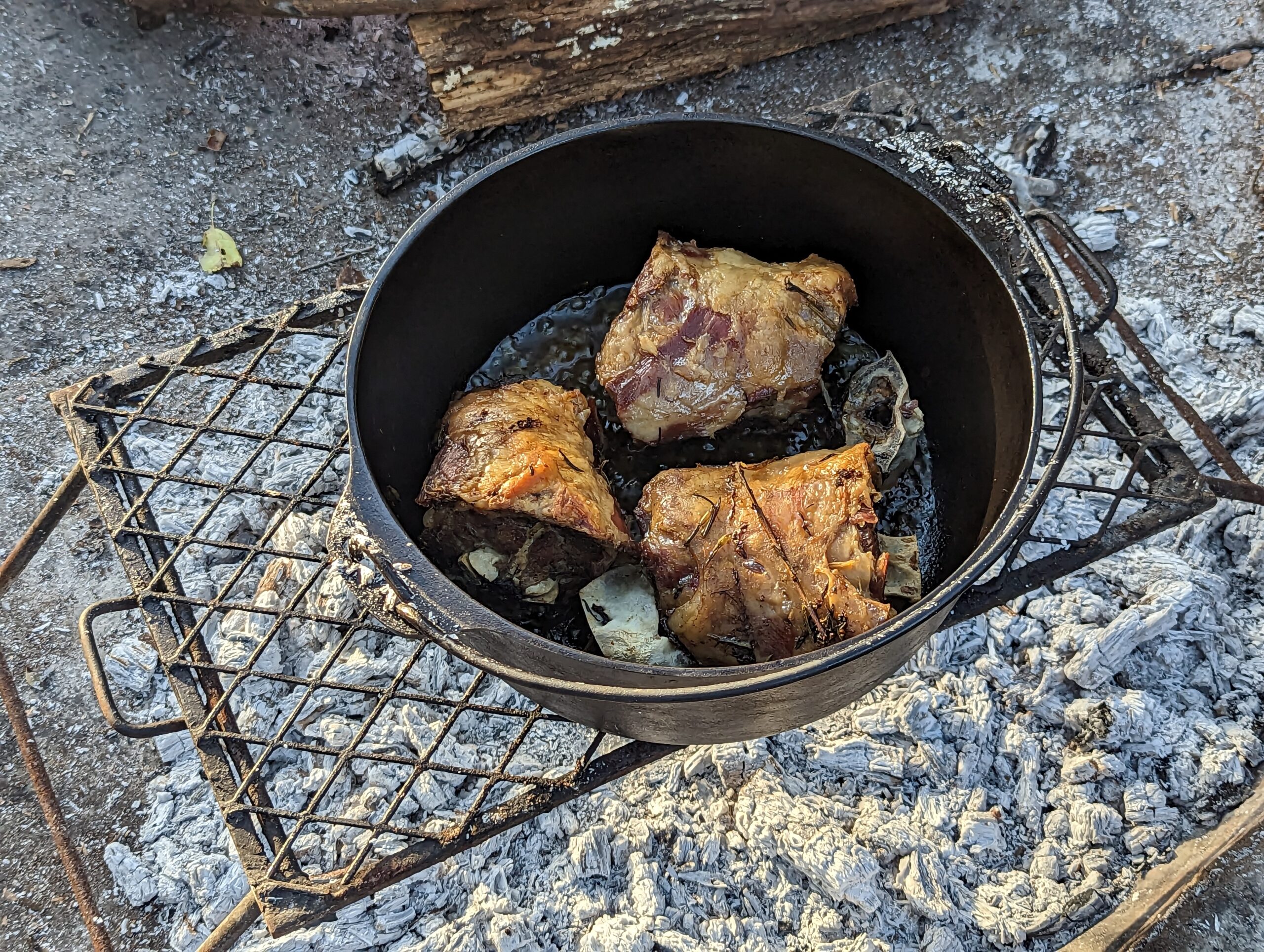 With that flight often taking 16½ hours, plus going through customs and immigration in Joburg, most likely, he won't arrive at the airport hotel until around  10:00 pm, 2200 hrs., or later tonight, where hopefully he can get some sleep and recover for his morning flight from Joburg to Nelspruit on Airlink. He still should arrive here by 1:00 pm, 1300 hrs., at the latest. Whew! What an ordeal!
Vusi is here now and hasn't seen the bat anywhere, either. I suppose it will appear tonight when it's dark. With the lions in the area, I don't feel safe leaving the doors open after dark, plus doing so would invite more nocturnal creatures into the house. We'll see how it goes. I am not panicking. I just don't like bats flying around the room.
Anyway, that's it for today. folks. Thank you for sharing these past long days and nights alone in the bush without my lover, partner, husband, and travel companion. Soon, he'll be home. I am in the process of planning a special dinner for him. I will post the menu tomorrow.
Be well.
Two "Go-Away" birds are enjoying the birdbath in our garden. Photo from one year ago today, March 14, 2022: