Nothing was spared in the design and decor of this enticing property.
There's no doubt our friend's home in Eden Prarie, Minnesota, has been an ideal location for us during our three weeks in Minnesota. As a long-time dear friend with whom I've stayed in close touch over the years, Karen didn't hesitate to invite us to stay with her and Rich.
The property is located in a tree-lined paradise allowing stunning views of the lake.
I knew this house years ago when we lived in Minnesota but hadn't stayed here in the past. Instead, we stayed in another of Karen's homes during our last several weeks in Minnesota in October 2012, when we had to clear out of our house for the estate sale.
The two-bedroom apartment, ideal for in-laws, nanny, or rental, is located above the four-car garage.
There are few people in the world with whom we'll stay in their homes. We have specific requirements and a routine that may interfere with theirs and our daily activities. 
Many exceptional parties have been held in this expansive home.
Also, we don't want any potential hosts trying to figure out what I eat and to go through the effort to make meals for us. It's just too much work for friends and family to muddle their way through this process. 
The dining room isn't a typical closed-off formal area. Instead, it flows into open spaces in this home, creating a perfect environment for entertaining or casual everyday dining.
Karen's diet is quite similar to mine, and thus when we've been around to share meals, we have no trouble making it work. Of course, we've been so busy, we've hardly been here at dinnertime.
The abundance of cupboard space, pantries, and unique storage spaces make this an ideal workspace and promising area for prepping meals and gathering for conversation.
As a small token of thank you, tonight we're all going out to dinner at Gianni's Steakhouse in downtown Wayzata, an upscale area on the famous Lake Minnetonka. Karen's birthday is on the 30th, and we'll celebrate tonight.
The family room or lounge is located conveniently next to the kitchen and veranda.
Tom and I spent many special romantic dinners at this dining establishment, and we're incredibly excited to share the experience with Karen and Rich, who've never dined at Gianni's.
A fireplace adorns this entertaining and lounging area with easy access to the outdoors.
Their gorgeous home on Duck Lake, where we've been honored to stay, is currently on the market for sale. We decided we'd like to share the information on this exceptional property with our readers who may be interested in this fine property or…know someone who is. 
One may be required to work at home, but this space makes it seamless and inviting.
To reach the listing company and agent for additional information on this beautiful home, please click here.
The top of the stairs at the second level is architecturally interesting in itself.
Having visited this home many times in our old lives (before traveling the world for seven years), its stunning ambiance and inviting appeal were familiar to us. Having the opportunity to stay here among such definitive beauty and elegance both in the house and on the grounds was an easy decision.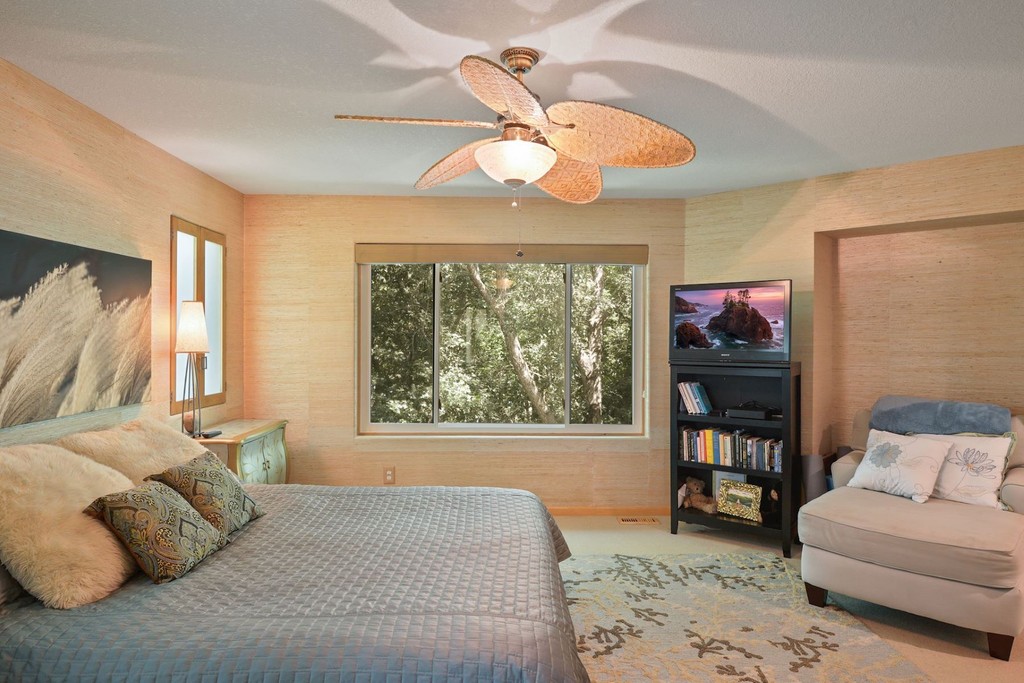 The master bedroom has many enticing amenities.
As you'd expect, we aren't being charged a fee to be here and are doing everything we can to say "thank you." That's our way. That's the way of our friends. 
What spectacular views from the soaking tub in the ensuite master bath.
But the magic of it all is the great fun the four of us celebrate almost every night when they return from work, and we return from our day and evening activities with family when we settle into the warm and enticing lounge and relax with this delightful, intelligent and highly conversational couple. 
Few homes possess a walk-in closet of this caliber. The ease of organization is evident in every space.
It couldn't be more wonderful. The surroundings inside the house and outside the property create a sense of calm and restoration each time we enter, a quiet and peaceful respite from our busy, action-packed days. Our ability to unwind with the two of them has been one of many highlights of our time here.
This is currently our temporary living room in the walk-out area. Note all the light that enters this huge and convenient space.
Minnesota has countless beautiful lakes, and owning a house directly located on the lakeshore is highly desired by most homeowners and potential homeowners. No, it's not always affordable, and let's face it, this price range isn't for everyone.
We are sleeping in this bright bedroom with a fireplace and intriguing design.
However, for those searching in this price range, they won't be disappointed when they wander through this one-acre, 6149 square foot lakeshore home with six bedrooms, five bathrooms, three floors of living space, plus an entire two-bedroom apartment with a rental income potential of approximately $1500 month, which can offset a portion of the costs.
Not only is this laundry area an easy and spacious workspace, but next door to it is another "freezer/additional refrigerator/mudroom suitable for any size family. 
With only eight days remaining until we depart Minnesota, we will continue to embrace the ease and comfort we're experiencing in this gorgeous home with our equally beautiful friends. 
The living room of the separate apartment is welcoming and bright.
The kitchen in the two-bedroom apartment.
Again, here's the link to the listing for pricing and further information.
A dock on the lake's edge for spring and summer boating. Wildlife abounds in this area.
Thank you for stopping by one more time. We'll be back with more tomorrow, including photos from our celebratory dinner tonight.
With only a portion of the 127 feet of lakeshore visible in this summertime photo, the grounds include a hand-crafted gazebo, many gardens, and pleasing landscaping.
Be well.
Photo from one year ago today, November 20, 2018:
Wildebeest Willie and a young Big Daddy kudu seemed to get along well while eating pellets in the early evening. For more photos, please click here.