The flowers in our yard are bountiful. Bougainvilleas are popular in Kenya.
Hesborn, locally referred to as a "house boy."  In an attempt to be pc,
we'd prefer
to
refer to this kindly gentleman as our "houseman" or "house-person."
One of the main reasons we decided to come to Kenya was the opportunity to see The Great Migration of over 1.5 million wildebeest crossing the river to the plains. We'd seen this on a news program a few years ago and we took out the "bucket" tossing it in.
With literally hundreds of options to see this momentous event requires careful planning and a willingness to pay for a quality experience. We budgeted well for this. We'll share the details once we book them.  Our hope is to go on both a local safari, a few hour drive from here and go to the point where the wildebeest will be at the time we arrive. Today, now settled in, we can begin the hunt.
Another view of the spiral staircase from the second level, which we'll seldom use.
Please keep in mind this is a photo taking, not hunting expedition. The animals in the parks are protected against "poaching" and consequences are severe. There are parks for hunting and killing animals that hold no interest for either of us. We love "life," both human and animal, and take enormous pleasure in seeing any wildlife in their natural habitat, as opposed to zoos.
A common flower, the hibiscus, always appealed to me
often growing them
in Minnesota's warm summers.  Plentiful in Hawaii, they grow like weeds, where
we'll be in 13-15 months, depending on future cruises we're yet to book.
Of course, we have a lot to learn as the tedious process of discovery begins with the same care and diligence we exercised in researching our worldwide travels. Even so, we've often found that we have much to learn as we enter a new country to live among their people, their culture, as is the case here in Kenya.
We're settling in.
These may be African roses.  The smell, amazing.
The bugs and mosquitoes; wear repellent and Africa pants at night. The heat; no problem. The dust and sand on our feet; wear shoes. The lack of TV;  play Gin, talk, read, watch movies on my laptop. Security; feel safe.  Malaria pills; no side effects. The language; English. The sights and sounds; breathtaking.
Tom surprises me. He's a person entrenched in familiar creature comforts. Witnessing him adapt to the unfamiliar and at times difficult surroundings we've experienced in our travels is both refreshing and fulfilling.Staying positive and optimistic as a couple is highly instrumental in our adjusting to a new environment. In this, we excel, always have, more now than ever.
Growing up in California, I recall these flowers but not the name. 
On Tuesday, upon arriving in Diani Beach, we were exhausted from 22 hours of traveling.  Hans had left us enough bottled water to last a day but we had no food except a one pound bag of coffee.  Without cream, neither of us would bother to make coffee. Hans kindly offered to pick us up at the grocery store, arranging a cab to take us. The original plan was to take us both ways but something came up and he offered to pay the cab fare. Of course, we insisted on reimbursing him. 
We had no Kenya Shillings, US $1 equals Kenya Shillings $87.38, we were unprepared to pay cab fare until we went to bank or cash machine. We've found that cabs worldwide, thus far, do not accept credit cards as they do in the US.
Lush greenery surrounds us.
The cab ride to the grocery store was an approximate 12 minute drive. Hans had told us the fare should be negotiated to KES 1200 (Kenya Shillings henceforth), US $13.73 round trip. As it turned out, we'd bought so many groceries that wouldn't fit in Hans' small car but he hung around while we shopped to ensure all went well. Good thing, he did!
Hans had to vouch for us when the grocery store cashier refused to accept a credit card without a passport, which we'd failed to bring. Knowing from past experience we weren't surprised we forgot to bring our passports in our tired state. 
Hans explained to the cashier that he knew us and not to worry. The cashier then accepted Tom's Nevada driver's license in place of the passport.  While I shopped, Tom hung out with Hans and a friend in an outdoor bar connected to the grocery store. Thank goodness they were entertained. It took me almost two hours to shop in my frazzled state of mind.
Care must be taken to avoid being hit in the head with falling coconuts from the
many trees in the yard.
The shopping? Interesting. Different than Italy and very different from the US. There was no charge for a grocery cart or the cardboard boxes they used to pack our stuff. A VAT tax of 16% was charged on the groceries, except on rice, flour, corn and a few necessities, none of which we purchased. The staff in the store was helpful and friendly as I wandered around aimlessly trying to find items we use. 
Our total bill including the VAT tax was KES $28,835, US $330, which we typically spend the first time we've shopped at each new location due to the necessity of purchasing paper products, soaps, repellent for the area, etc. With everything marked in KES, knowing Hans and Tom were waiting for me, I couldn't price shop. I purchased everything on my list that appeared to be the best quality.
The deli and meat department had the most aggressive yet delightful "salespeople" I've met in any grocery store. They freely pushed their products. Hungry from having eaten poorly in the previous 24 hours, I readily fell prey to their sales pitch. Only a few items prompted me to calculate the cost using the currency app on my smartphone. 
One great buy was a three meal for two portion of Fillet Mignon which the butcher carefully trimmed to ensure all fat and tendons were removed, ending up at US $4.50 per serving. Tonight, we'll make bacon (the bacon here was OK, not great) wrapped Fillet Mignon's with sautéed mushrooms and onions, side salad and fresh sugar snap peas. 
The produce department was lacking in variety and quality with no green beans (fresh, frozen or canned), and many other familiar fresh items.  Much of the produce looked old and wilted.  Needing some items for our meals, I selected the best I could find. Later, Hans suggested a nearby vegetable stand where we'll shop in the future.
The remainder of the store? Touch and go. The store was larger than any in Belize, smaller than in Italy with many items we frequently use unavailable. Much to my delight I found unsweetened coconut milk and coconut flour.  
Searching for coconut oil for my teeth cleaning and cooking, they offered me a bottle to which I jumped for joy. 
Tom will move the lawn chairs to a coconut tree free zone and into the sun.
Today, we look forward to recovering a little color by spending our typical
one hour of sunning and funning. The beach, not as close as we'd hoped,
has warnings about peddlers, vendors and possible

rough characters, leaving
little interest for us at this point.
Returning home, I swished the oil around my teeth for 10 minutes, experiencing a burning sensation that prompted me to spit it out, brushing my teeth over and over with toothpaste and baking soda in an effort to get the awful taste out of my mouth.  Reading the bottle after the bad experience, I noticed the words in tiny print "not fit for human consumption." 
Oh, good grief. Did I poison myself? It took several hours of repeating brushing and rinsing with purified water to remove to awful taste.  Apparently, this particular coconut oil was intended as a body oil. Into the garbage it went!  In my exhausted state and wearing my blurry contact lenses nonstop for 36 hours, I failed to see the tiny print on the label. I'd never seen inedible coconut oil. Usually, one uses the edible type as a body oil if they so choose.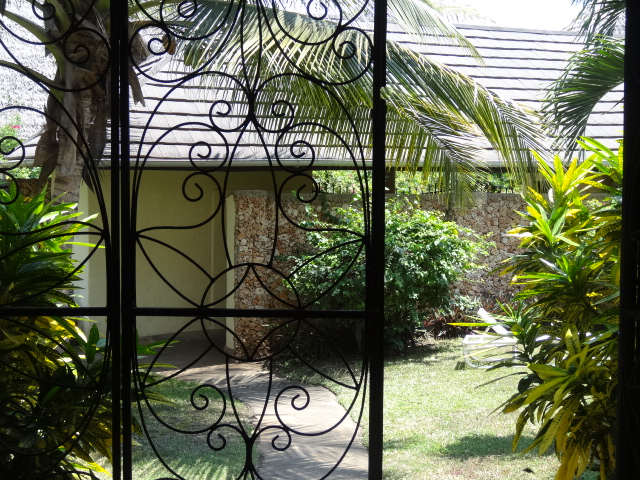 The gate looking out to the yard from our outdoor living room.
Overall, the prices weren't outrageous, as I perused the receipt the following day. Without a doubt, we'll manage to be able to cook healthful and tasty meals while we're in Kenya especially with freshly picked produce from the farmer's market.
After grocery shopping, our new cab driver, Alfred, drove us across the street to a bank's cash machine where we received enough KES to last us a for awhile, getting more cash as needed when we shop. 
We've decided to shop once a week negotiating with Alfred for a fee of KES $1000, US $11.44 plus tip for the weekly round trip on Tuesday mornings at 10:00 am.
Using the cab for shopping, banking and dining out should be no more than US $30 to US $45 a week, certainly less than the over US $800 a month we paid for a rental car in Italy. Plus, after reading several warnings by the US Department of State that recommended cabs over rental cars with the high risk of carjacking in many areas.  With the reasonable cab fares, we are satisfied with this option.
The locked garage and entranceway to the property.  At night, the guard Jeremiah, walks
this area and the perimeter of the property of both ours and Hans' house.
With little storage space in the kitchen and the necessity of no nonperishable items on the counter (monkey risk), putting everything away was a challenge. The galley kitchen requires that the kitchen door be shut in order to get into the undersized refrigerator.Tom offered to help but I threw him out, shut the door and got it done in no time.
Hesborn washed all the floors yesterday but our feet are still getting black. It may take several washings to get the soot-like dust off the floors.  He explained that recently the wrought iron gates surrounding the house had been sanded, resulting in the black soot. It was a relief to know that its not a permanent situation.
Once we find safaris that appeal to us, we'll share the links and information. The search is almost as much fun for us as the experience.
Be back tomorrow with fun photos we took yesterday!