At dusk, Tom shot this Kenya sky.  Rather impressive for the infrequent photographer.
Over a period of several days, we've read reviews, viewed photos and perused dozens of websites searching for what hopefully will be the perfect safari for us.
Yesterday afternoon, I pulled up a chair close to the open wrought iron weaving
(to keep us safe from the monkeys or other

larger animals)

surrounding our outdoor living room to take photos of the many birds singing in the yard.  In my impatience, I was unable to capture many birds instead focusing on items that caught my attention such as these branches in the shadows.
The prices for anything other than a basic tent in the bush are more than one would ever anticipate. If seeing The Great Migration wasn't what brought us to Kenya, most likely we'd have waited to see the Big Five when we get to South Africa on December 1st, living on the edge of Kruger National Park.
The red in the background is a bunch of flowers on the bush behind this palm.
But, the Great Migration has been one of the first items on our "must-see" list inspiring us to come to Kenya.  And, see it, we will! 
The tall pointed thatched roof of the house next door to us.
After narrowing our choices down to two separate camps in the Masai Mara where the herds are right now, we continue to weigh our options.  Realizing there was no way we would be able to experience this magical wonder of the world without literally spending US $1000's, our search has been intense and goal orientated.
Hidden in the fronts of the palm tree, this little yellow bird, the Golden Weaver, the male of the species
is noisy and feisty, providing much entertainment flitting about frantically. The male makes the nest and if the female doesn't like it, she goes on to mate with another
more nest building worthy colorful male.
This is the very noisy and particular female of the yellow bird, the African Golden Weaver, less colorful.  They are elusive, sensitive to movement, making photo taking a near impossibility for a novice such as I.  She seeks the colorful yellow male capable of building a satisfactory nest. She landed in our outdoor living room, enabling me to get this lopsided shot.
The criteria we've searched:
1.  Close as possible to the Masai Mara where the massive herds of wildebeest will be grazing after their journey over the river.
2.  An option to have breakfast overlooking the "hippo pool" on the river.
3.  All-inclusive: meals and beverages (including cocktails for Tom)
4.  Two daily game drives
5.  Meals optional in the dining room or in the bush, day or night
6.  Complimentary WiFi throughout
7.  Electricity (needed to recharge our digital equipment)
8.  Availability for dates in early October for a better opportunity to see the Great Migration in the Masai Mara
9.  Entrance fees to the reserve to be included (cost at almost US $100 per person/per day for a three-night stay)
10. Round trip airfare included from the local Diani Beach airport, a short distance from here.
11. Affordable based on our budget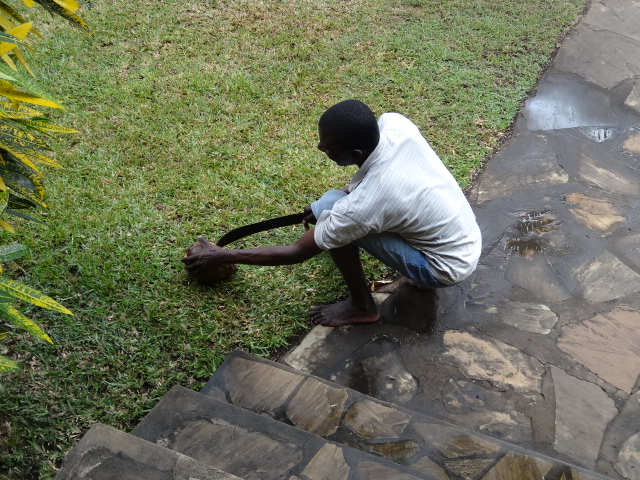 Hesborn offered to open a coconut that had just fallen from a tree.  They seem to fall throughout
the day.  We have to be careful when we walk under the coconut trees,
they cover
the entire yard, leaving only a few safe spots for sunning without a 
risk of being clobbered on the head.
The camps we've narrowed it down to meet all of our criteria. At first, the cost of such a three-day event has been shocking. After reviewing the inclusions, the cost at other camps, we've resigned ourselves that when it comes to safaris, you get exactly what you pay for and, if not careful, it could be much less.
Hesborn with his machete preparing to cut this thick stringy exterior off of
the coconut before releasing the stringy brown interior that we see for sale
at the grocery store.
Choosing either of these two options will put our minds at ease, both being highly rated by many booking sites including Trip Advisor, Booking.com, Hotels.com, and more, along with 100's of positive reviews, ensuring us that in either case, we'll make the correct decision. We'll decide today, posting details tomorrow.
This coconut meat was exceptional, the best I've had. Tom has no interest
in eating this without sugar so he passed it up. What a treat!
With all bookings sold out for September, our only possibilities haven been for October, still in the peak season, still at higher prices. If we waited until November, we'd increase the risk of not being able to see the Great Migration, a risk we just don't want to take.
As we're sitting in our outdoor living room this morning while writing, seven goats
jumped over their stone wall behind our yard directly in our yard only a few feet
from us. Waking up early such as we do, they decided to jump over the stone wall
separating us to dine on the lush leaves of the hibiscus bushes in our yard.
I wasn't able to get a photo of the seven of them together as they were jockeying for space
at the lush bushes in our yard. They were a little unnerved by my enthusiastic chatter.
They were in goat heaven munching on the flavorful leaves
when they usually
dine on boring grass. For them, this was a gourmet meal.
It's hard to believe it's Friday again, the time passing so quickly these days. We're waiting for a confirmation for our dinner reservation in a cave for Saturday night which we'll excitedly share on Sunday with photos.  Dining in a cave sounds interesting.
Notice the white two front legs on this young goat along with the
white tip on the left rear foot. Cute, eh? Hesborn came running into the yard
shooing them back up over the wall when
he'd realized they were missing from their yard when he brought them water this morning. We all laughed!
Hope all of our readers enjoy today's mishmash of photos we've taken over the past few days.  he number of surprises we continue to experience just "hanging around" makes each day rewarding and unique unto itself. 
BTW, as we wrote this morning, we received information that has prompted us to make a decision on our safari in early October. We'll post photos and information tomorrow. We're excited, to say the least!
Be well. Be happy. Check back!