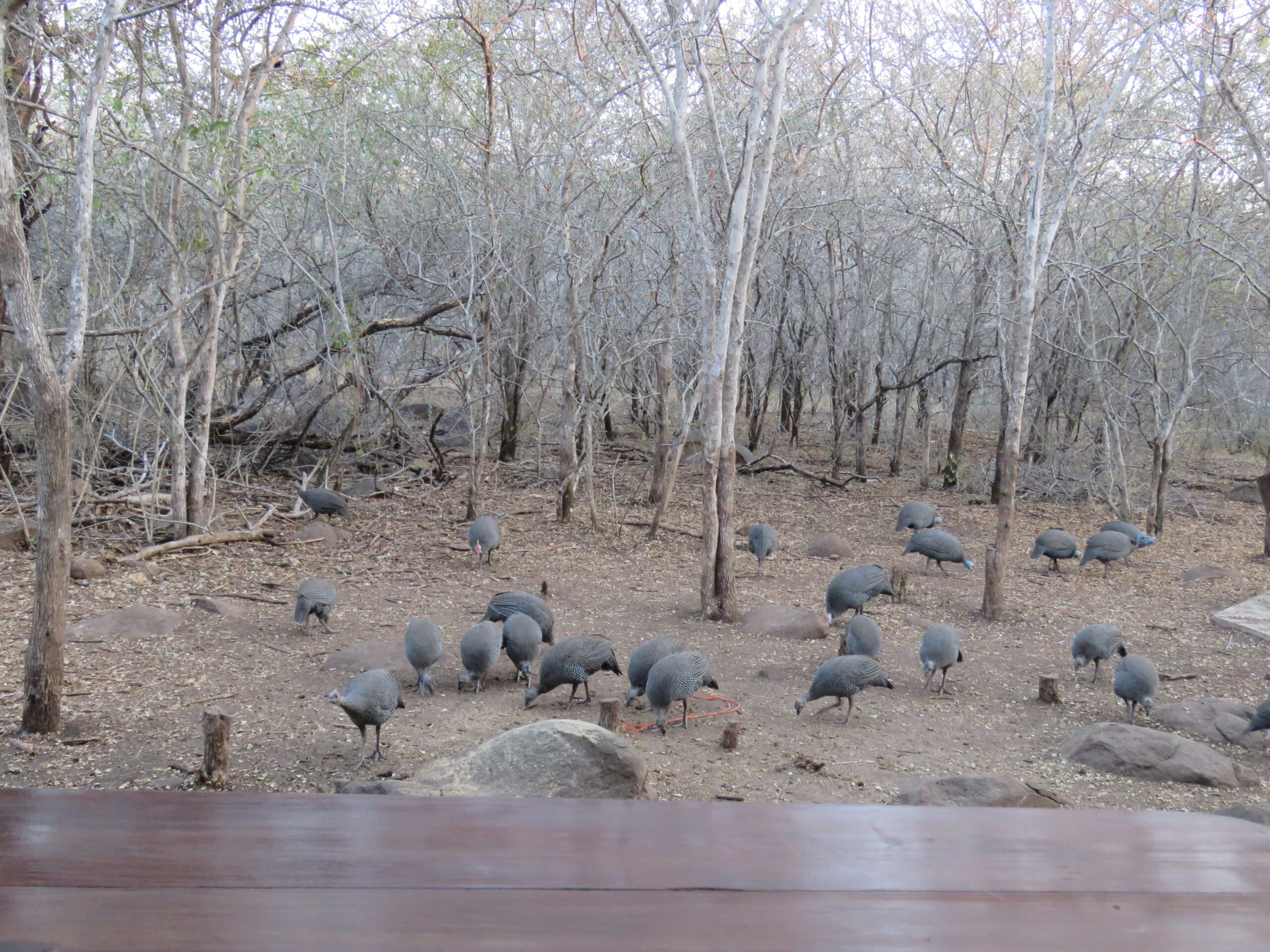 Who's in the garden this morning?
11 warthogs – inc. Little, Lonely Girl, Lonely Boy, Fred, and Ethel, Peter, Paul and Mary, Benny, Henny and Lenny
9 bushbucks – inc. Chewy, Thick Neck/Bad Leg, Spikey, and others
8 kudus – inc. Bossy, Notches, Little Daddy, Mom and Baby, and others
21 helmeted guinea-fowl
1 wildebeest – inc. Broken Horn
2 hornbills
1 grey lourie (go-away bird)
2 Frank and The Misses
When we received an email two days ago stating that our return flight from Las Vegas to Johannesburg on July 24th had canceled the leg of the flight with British Airways, we didn't panic. Instead, we decided to wait a few days to book anything in hopes of some additional flights opening up. Also, we didn't want to be on hold for two hours, as many have experienced when trying to rebook canceled flights.
But, today, for peace of mind more than anything, we'll rebook the return flight but may have to sacrifice price and convenience. We don't want to change our departure date when our hotel in Las Vegas is already booked at exceptional pricing.  Also, we got an excellent price on the rental car we'll be picking up upon arrival.
In this case, the car rental was a great price, a fluke with Dollar Rental at the Nelspruit/Mpumalanga/Kruger Airport when lately fees have been almost twice as much as we paid last January when we first arrived in South Africa. Rental car prices have been increasing this year, all over the world.
We weren't surprised to see the cancelation come through when our friend Kathy experienced several cancellations for her return flight to Marloth Park in mid-July. Therefore, when we rebook the flight today, we will not select British Airways for any legs of our flights, fearing this would transpire again.
It's scary enough traveling such a long distance in light of Covid-19, but at least by the time we return, we'll be vaccinated, easing a little of the concern of flying and waiting in airports. Several airlines are hesitant to schedule flights to and from Johannesburg when cases of Covid have been rising daily, especially in this hub.
New lockdown restrictions have returned in South Africa, as listed below from this site:
The new restrictions include:
The hours of the curfew are from 22h00 – 04h00
Non-essential establishments such as bars and fitness centers must close at 21h00
All gatherings will be limited to 50 people indoors and 100 people outdoors. Where the venue is too small to accommodate appropriate social distancing, 50% of the floor space may be used.
Attendance at funerals and cremation may not exceed 50 people.
Night vigils and after-funeral gatherings remain prohibited.
The sale of alcohol for off-site consumption is permitted between 10h00 – 18h00 from Monday to Thursday.
On-site alcohol consumption may continue until 21h00, subject to liquor licenses.
Alcohol in public is strictly prohibited.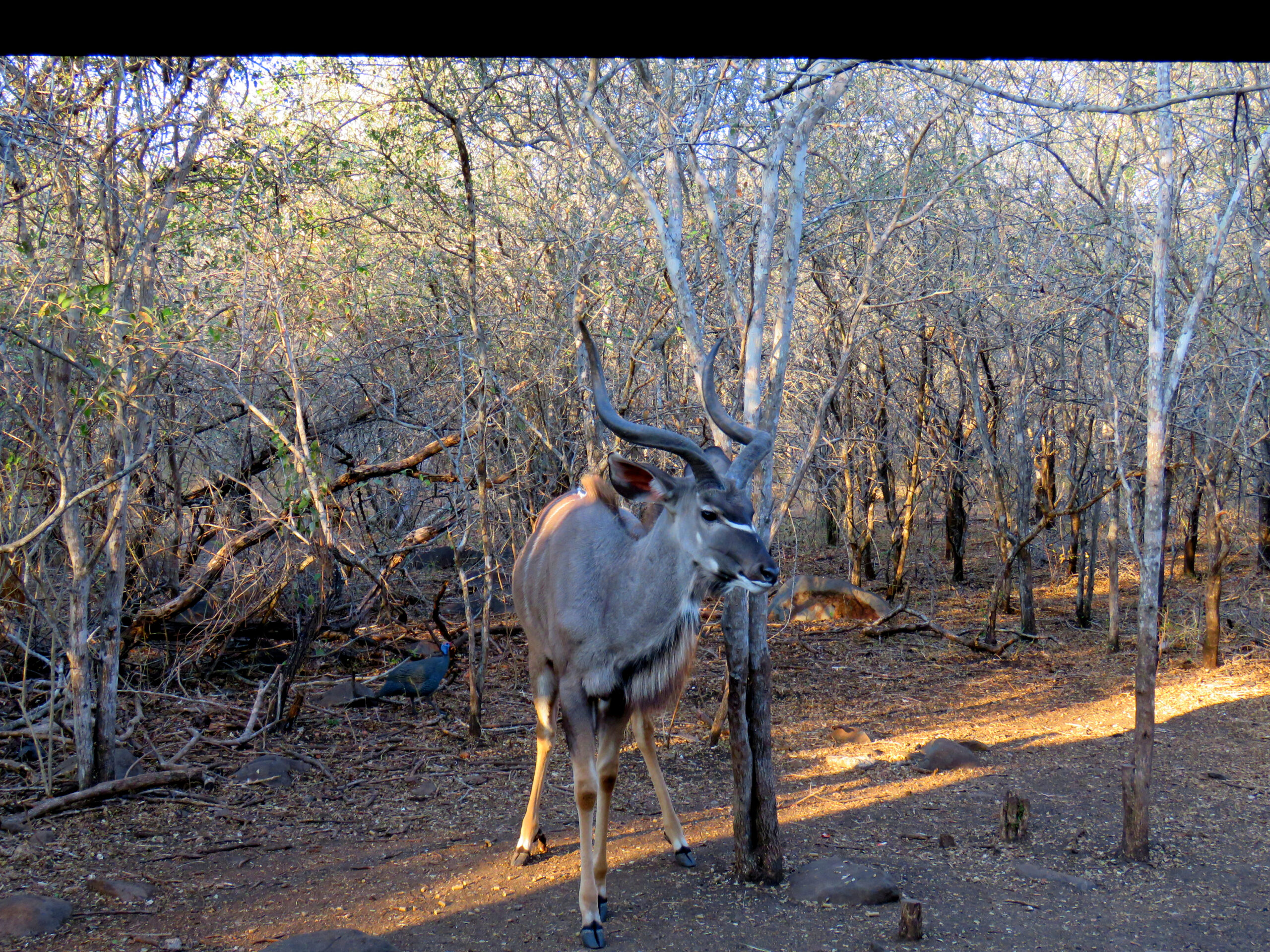 None of these restrictions impact us at this time, but the fact that there is more infection certainly affects everyone, and added caution must be exercised during this spike in cases. Of course, when we depart in 11 days, we will use every available resource we have to protect ourselves; masks, gloves, face shields, and hand sanitizer, as well as social distancing when possible.
No, we're not excited about traveling right now without having had the vaccine, but we feel we don't have many choices when our visas expire on June 30th. Once we arrive in Minnesota and get the jab, we'll be very relieved, especially after the waiting period has ended.
That's it for today, folks. I will head to the kitchen as soon as the floors dry (Zef and Vusi are cleaning) and make cheesy scrambled eggs for breakfast. We'll dine on the veranda, as usual, enjoying every visitor that wanders into the garden. At the moment, the two hornbills are banging on the kitchen window, an almost daily occurrence.
Happy day!
Photo from one year ago today, June 18, 2020:
The back of the 300-year-old stone property we rented in 2013 in Boveglio, Tuscany, Italy. For more photos, please click here.