Right now, there is nowhere in the world that appeals to us more than the countries we'll see on cruises we've never sailed on in the past. For us, visiting new countries adds so much to our worldwide experiences. During the pandemic, seeing countries via cruises might prove to be easier and more sensible than flying all over the world.
Although some cruise lines are allowing a certain percentage of unvaccinated passengers, looking at the future, that option may be a thing of the past. No vaccination? No cruise! The long delays at airports, layovers, and packed airplanes seem riskier than mingling about a cruise ship, especially if every passenger must be vaccinated.
In essence, whether we agree with this philosophy or not becomes irrelevant in today's world. The bigger question is; how badly do we want to participate in specific venues allowing us to experience a wide array of travel options? Or, would we rather stay put and let this pandemic dictate what we can and can't do regarding travel?
If we wanted to continue with our journey, we had no choice but to be vaccinated. We weren't going to deny ourselves the opportunity to continue with our travel dreams to make a social point that no one would care about anyway. As many stand firm, avoiding the jab, they may just be preventing themselves from engaging in the world's vast offerings. And for what? To rally for personal freedoms?
We'd feel more like prisoners if we weren't allowed to fly on an airplane, attend a concert, or, in our case, keep traveling the world. Life is short. We are old. We don't want to spend the "golden years" locked down, in quarantine, and unable to participate in the activities we've chosen in the past.
Are there risks in getting vaccinated? Yes, most certainly. But the risks for us are no more significant than the risks we've taken over our almost nine years of world travel, being vaccinated (along with boosters) for dozens of potentially lethal illnesses that could occur to us while traveling from country to country. Although minor, we had a few reactions to some of them that never required medical care. We never felt the government of anyone else was trying to "control us."
As my favorite motivational speaker, Anthony Robbins, always stated in his seminars and books:
"THE POWER OF REFRAMING
Perspective is a powerful thing. When you can reframe a particular experience or interaction, you can often change what happens as a result." 
This message hit home with me when I attended many of his seminars in the 1980s and 1990s. It's not always easy to change our perspective, but it becomes our only option if fulfillment and happiness are our primary objectives when we seek a different outcome.
So, as world travelers, we decided to toss aside the temptation to surround ourselves with conspiracy theories and do exactly what makes us the most fulfilled and happy. For now, it was being vaccinated and continuing our exquisite world journey.
With our changed perspective, we've decided that cruising provides us with the highest degree of satisfaction during times of Covid-19 and, as we've done most recently, spend precious time in one of our favorite places in the world Marloth Park, South Africa.
Thus, in achieving this perspective, yesterday we booked two more cruises, the second of which sails to Cape Town, South Africa, arriving on December 20, 2022, a mere 15½ months from now. From Cape Town, where we'll spend a day or two, we'll fly to Nelspruit/Mpumalanga/Kruger Airport and drive the 90 minutes back to Marloth Park.
No words can express how thrilled we are with this new plan. Yesterday, we informed Louise we'll be back before Christmas in 2022 and save this house for us. We hope to stay another six months, with only one side trip required to renew our visas. No, we don't know how the pandemic will roll out over the next few years. But we choose optimism. We choose hope. We choose not to allow this pandemic to hold us back any further.
Spending ten months in lockdown in a hotel room in Mumbai, India, taught us something that remains profound today…seek to live every day to the fullest, strive to accept situations over which we have no control, and seek to embrace each other and the gift of travel we've chosen as our fate during these waning years of life.
Tomorrow, we'll share the pricing, itinerary, and information on these two new bookings. Thank you for being here with us.
Photo from one year ago today, September 8, 2020: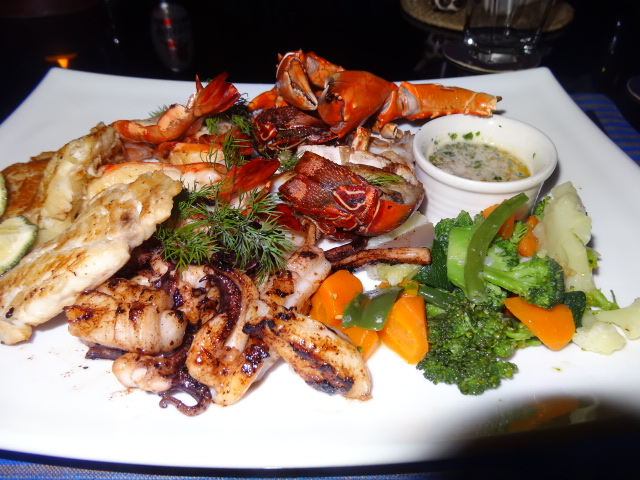 This photo was from Almanara Resort's restaurant in Diani Beach, Kenya, in 2013, posted one year ago while in lockdown in Mumbai, India, on day #169. This fantastic array of seafood was all grilled and seasoned to perfection. It contained lobster, prawns, octopus, squid, snapper, and a few chewy wormy-looking items I didn't recognize but ate anyway. Need I say that I cleaned this plate as well? For more photos, please click here.