Upon our arrival at Camp Olonana, now renamed Sanctuary Olonana, we were greeted by a Maasai warrior playing a welcoming tune on his flute while on the deck overlooking the Mara River. We knew we'd chosen the perfect environment to fulfill our dreams of safari combined with exquisite accommodations, service, and cultural experiences.
Today's photos are from the post on this date in 2013 while on safari, staying at Camp Olonana in the Maasai Mara, Kenya. For more on this date, please click here.
Reviewing the photos from seven years ago today from the luxury safari resort on the Mara River makes me swoon over the beautiful memories, open spaces, and mind-blowing cultural experiences. In the blissfully chilly mornings when we embarked on our first safari of the day. Usually, around 6:00 am, the air was crisp and fresh, free of pollution and sounds other than those in nature.
The fast-flowing Mara River is muddy due to erosion and lack of man's intervention. The local Masai tribes are dependent upon its waters as well as the wildlife and vegetation. This river that the Great Migration crosses over and again as it makes its way from the Serengeti to the Masai Mara. We missed the crossing of the millions of wildebeest, but we traveled to Tanzania in the safari vehicle to see the tail end. By the time we made that journey, we were so satisfied with our safari experience that we hardly gave it a thought.
At 5000 feet, 1524 meters, above sea level, we were embraced in a world unlike anywhere else we'd ever been at that point. This was without a doubt, "the bush," "the savanna," the place one who loves wildlife can dream of exploring, and exploring we did with a passion, a fervor with a sense of excitement unlike any other we'd ever known.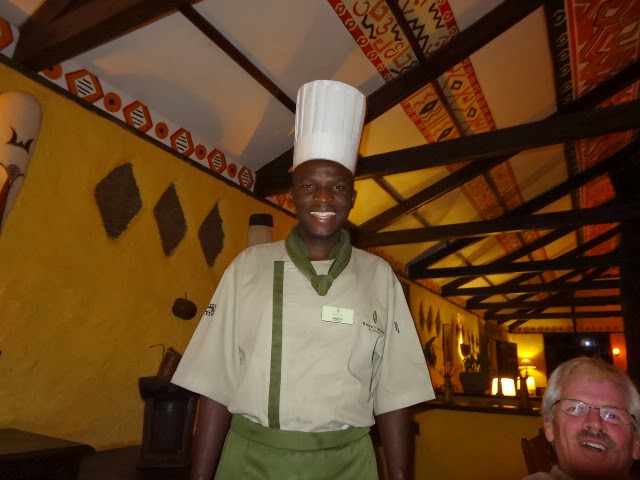 Ambrose, our well-trained chef, made meals perfect for me, an appropriate version of whatever Tom and the other guests were having. The food was fresh, hot, and delicious on every occasion.
The unfamiliarity of what was to come was tinged with a bit of fear and apprehension, which was easily surpassed by our enthusiasm. After the first early morning safari in the open-sided vehicle, all of our apprehension wafted away, replaced only by a hunger for more, more, more.
The all-inclusive camp consists of three meals daily, appetizers, snacks, beverages, high tea in the afternoon, and alcoholic drinks at any time of day or night. Glass bottles of purified water were presented at our table at all meals and in our tent for drinking and brushing teeth. I was so excited I failed to take a photo of our delicious GF chicken curry lunch.
The WiFi-only worked in the camp's main lounge room, and the signal was weak, making uploading photos, let alone an entire post seem less of a concern than under normal circumstances. We hoped our readers would wait patiently for the time when we could begin sharing our photos, days later.
All produce at Camp Olonana was organically grown in their on-site garden. A certified ecologically friendly resort, the care was given to the food, and water, fuel, and electricity was refreshing in this distant setting. For example, all electrical outlets were shut off (lights stayed on) from 10:30 am to 6:30 pm and off again during the night. Considering our need to recharge our equipment, we were given a power strip connected to the generator that was available 24 hours a day. Many more measures were implemented to maintain the ecological integrity of the camp, which consisted of 14 tents, a spa tent, the lodge, a gift shop, offices, and housing for staff.
Somehow we managed to eke out a few posts while we were thereby making our way to the lounge room immediately after dinner, while still wearing our dusty safari clothes for the day, which we had no time to change before dinner. We didn't return from our afternoon safari until almost 7:00 pm each evening, with no time to freshen up and change.
Camp Olonana was cool at night and had few mosquitoes and insects. The cool nights were heavenly, requiring a down comforter to keep us warm. That was a rather pleasant sensation! Our tent was #4, a short jaunt down this stone-paved walkway.
But, this wasn't an experience of "dressing for dinner," looking fresh and perky to socialize with others. The only socializing we did at Camp Olonana was with the friendly staff, our guide, and our "safari-mates," the four other people in the six-passenger vehicle we shared each time we ventured out.
The veranda to our tent.  Approaching, it took our breath away.
Anderson, our guide, treated us to a hot breakfast in the bush, all prepared suitable for each passenger's taste and desires. A cooler of canned and bottled beverages, including beer, was available at any time. During this period, I didn't drink alcohol and stuck to small sips of bottled sparkling water in an attempt to avoid having to stop too often "to check the tire pressure," as Anderson referred to as a bathroom break, behind a big rock or bush.
The comfy furnishings made it tempting to lay here and watch the wildlife stroll or swim past from time to time. We only had time to sit here for one hour during the three days.
It was there I learned to gingerly "go," knowing full-well a snake could be in close proximity. But it was a task that presented itself in many other parts of the world, especially the Middle East, Asia, and Indonesia, where toilets are merely a hole in the floor, not the most straightforward scenario for women wearing pants. It's so much more difficult for women to wear pants than men.
Although we were escorted to our tent the first time, Tom wanted to handle the long, sturdy zipper to ensure no issues. Of course, it was a breeze, opening to a virtual paradise of tent interiors.
But, like everything else in our almost eight years of world travel, we adapted and embraced our surroundings, all the while cajoling ourselves that it all was a part of the adaptation we had to accept as we've continued to travel the world. Has that all changed now in light of Covid-19? Only time will tell.
With no Internet connection in the tent and neither of our WiFi devices able to connect, we comfortably sat in the lodge to go online to post. As we'd mentioned, the connection was poor, preventing us from posting many photos until returning to Diani Beach, where still the connection wasn't strong. We slept in the bed on the left, keeping our electronics plugged in on the bed on the right. We unpacked, with our equipment plugged in, anxious to write here to begin sharing the experience.
Certainly, the adaptation required for us to remain in lockdown in a hotel in India for 201 days has been a true test in itself. As I've mentioned in past posts, I am not certain about the lessons we've learned in lockdown, but when and if we discover them, we'll certainly share them here.
Stay safe and healthy.
Photo from one year ago today, October 10, 2019:
John and Renate's 500-year-old farmhouse in Witheridge, Devon, England, has been appointed with authenticity in mind. For more photos, please click here.