It's another late start to the day. It's almost 1:00 pm, and we've been busy this morning, leaving little time to post. Now that we have power, once again, and I am feeling better, I've been able to resume working out on the borrowed/rented treadmill. It feels good to be working out.
Each hour, I set my phone's timer to remind me that it's time to go into the second bedroom, turn on the AC five minutes in advance and get back to work. It's comparable to the walking I did in Mumbai during those ten long months, striving for 10,000 steps, 5 miles, 8 km, per day.
Unfortunately, my Fitbit doesn't read how many steps I have been doing on the machine since I don't swing my arms. I keep my hands on the rails to record my heart rate to ensure it doesn't go too high. The reading seems fairly accurate when I compare it to the reading on the Fitbit.
Another reason to keep my arms on the rails is for safety. Since the two operations on my legs 22 months ago, I am not as steady on my feet as I used to be. It's for that reason we don't walk on the dirt roads in Marloth Park. They are uneven, rocky, and riddled with potholes that could easily result in a fall.
Then, this morning we headed out to the little market in Marloth Park for a few items for tomorrow night's dinner when Linda and Ken will be joining us. Before we made our way to the market, we drove around the park, searching for wildlife sightings. We were able to spot only a few and jumped at the opportunity for a few new photos.
A short time later, gingerly, I made my way around the crowded little market, trying desperately to avoid getting too close to other shoppers. They didn't have a few items on my list, so I had to do what they had on hand. One of the items I was looking for was toothpicks for the few bite-sized starters I'm serving with our sundowners.
Appetizers, called "starters" here in South Africa, are traditionally served with cocktails before dinner to avoid drinking alcohol on an empty stomach. I suppose this is the reason. This is also a common practice in the US. Tom and I, when it's just the two of us, never have starters, fearful we'd get "full" even before the main meal is served.
But, over the years, we've made an effort to repeat this tradition with our dinner or sundowners/happy hour guests. Also, for just the two of us, we didn't/dodon't need to consume any more food than what we had on the night's menu, which would ultimately result in added weight we always struggled to avoid.
This morning, Tom weighed the same as he had when we were in Belize in early 2013. We've both been striving to take extra care of ourselves and to drop some unnecessary poundage. It's been going well. I'd still like to level 2 or 3 more kg, five to six pounds, and this last bit is going very slowly. The number on the scale won't budge for me, but my clothes fit, so I'm not complaining.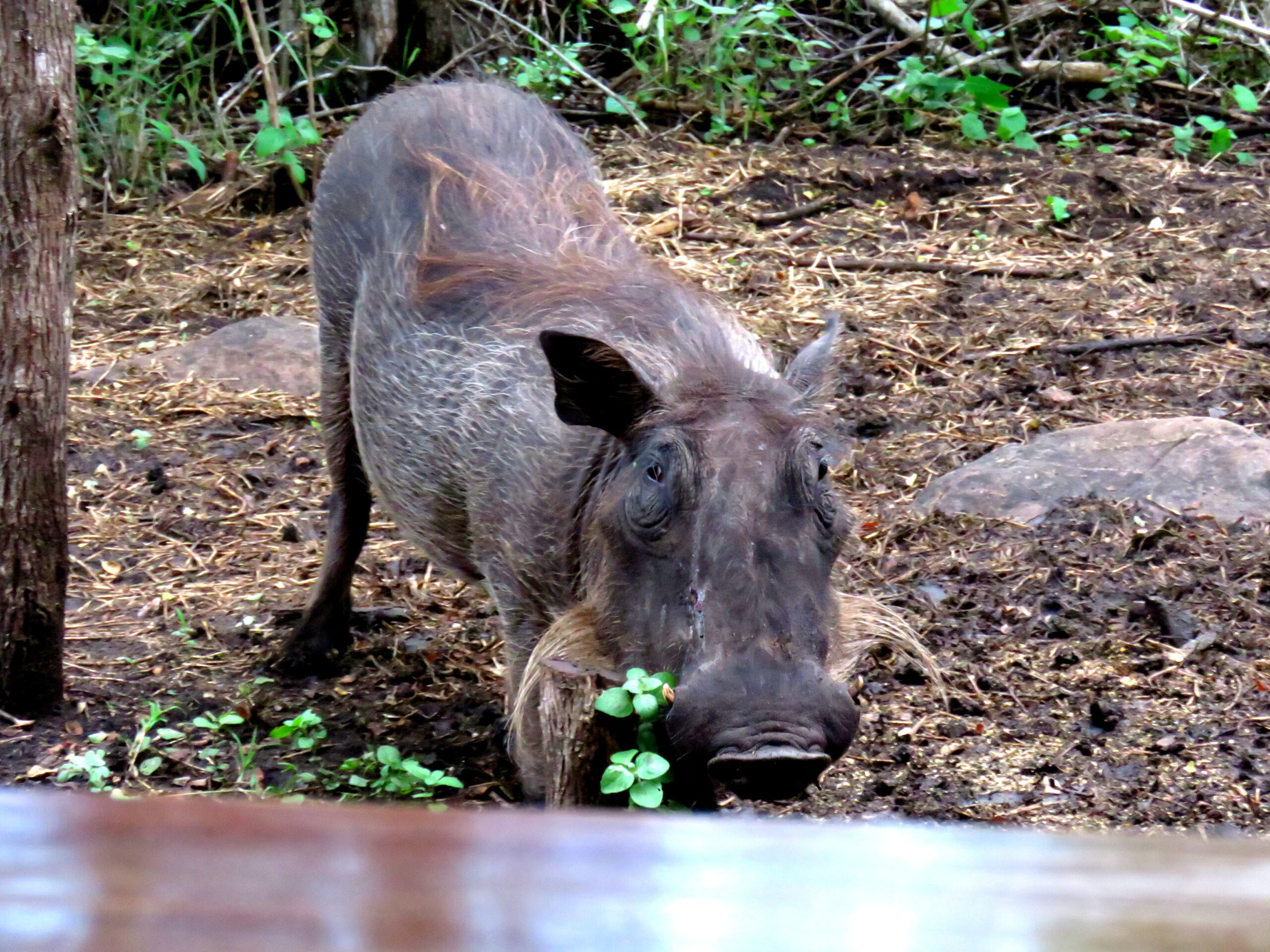 Tonight, the two of us are returning to Jabula Lodge and Restaurant for another dinner after last Saturday night's birthday dinner. When we saw how careful they are regarding Covid-19, we felt comfortable returning so soon. We'll sit outdoors on the main veranda and avoid spending any time sitting at our favorite spot, the bar.
Those days of gabbing while standing or sitting at a bar may be long gone, not only for us but for others all over the world, at their favorite pubs and dining establishments. We've always found bars a great place to commiserate with the locals in any giver town or city. It's no different here in Marloth Park. Sadly Covid-19 has changed many forms of entertainment for all of us.
That's it for today, folks. We'll be back with more tomorrow. Stay safe.
Photo from one year ago today, February 26, 2020:
This baby elephant was being prepped for humans to ride him in search of tigers. Riding an elephant is a custom in India, but as most of our readers know, we wouldn't ride one, nor do we approve of elephants in captivity (or other animals, for that matter). For more, please click here.